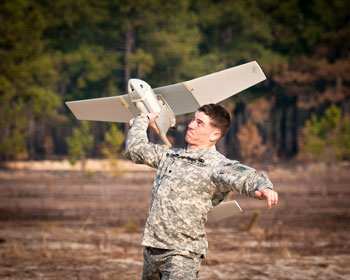 US Army soldier deploys Raven UAS
The Indian Army is looking for 49 man-portable hand launched unmanned air systems specifically designed for tactical surveillance in the border areas of Jammu & Kashmir. The Army's Udhampur-based Northern Command has floated a tender specifying the need for a system that is capable of over-the-hill reconnaissance and imagery surveillance aimed at tracking movement of terrorists or infiltrators, incursions, human movements and to battlefield intelligence.
The Indian Army currently operates a small fleet of Searcher Mk.2 drones of Israeli origin, but requires unmanned systems deployable at the platoon and company level for tactical unit-level operations. In 2009, the Indian Army got a taste of such systems at Babina during Exercise Yudh Abhyas with the US Army, when the Raven UAS was deployed. The Indian Army has also got a chance to see indigenous hand-launched platforms like the NAL SlyBird and ADE Imperial Eagle, both of which are still currently in development.