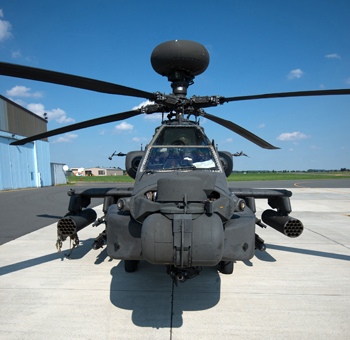 Photo Credit: US Army
October 12, 2015: The AH-64E Apache Longbow attack helicopter that India has contracted 22 of is possibly the world's most advanced helicopter of its kind. The re-designated AH-64D Block III will be arrive in an unspecified mix of Longbow and non-Longbow configurations and will form two helicopter units within the Indian Air Force. The stand-out features of the Block III as compared to earlier variants of the legendary platform include an all composite rotor (with a 6-inch extension), which provides a life-saving increased hover out of ground effect (HOGE) capability. The IAF has been shown that this principally translates into a 540 lbs higher payload carrying capability during HOGE. Sporting unprecedented blade tip erosion protection, the composite blades come with increase reliability of 10,000 calculated fatigue life and a 4,000 MTBR — all qualities crucial to the IAF.
The AH-64E a modernised target acquisition and designation system (MTADS) that includes a day/night sight and laser designator. It's pilot night vision sensor has a helmet-mounted infrared view with full pilot symbology — gear so far never used by Indian chopper pilots. The Block III, of course, comes with a full in-flight refuelling capability — the Apaches will be refuellable even from the IAF's C-130Js if necessary. Crashworthy external fuel tanks beef up the Block III's endurance and time on operation in addition to auxiary internal fuel tank. This internal fuel tank replaces a 1200 round ammo pack with an additional 100 gallons of fuel and 300 rounds of 30mm for the M230 chain gun. Add to that range some extended brute force: four wing-mounted weapons stations for up to 16 Hellfire missiles, upto 76 rockets and the capability to add laser designated rockets too.
The AH-54E that India will induct sports a combat mission speed of 164 knots and combat range of 260 nautical miles. It has a combat endurance of 2.5 hours. Crucial to the new 'E' is an improved, souped up engine. The T700-GE-701D engines now sport an enhanced digital electronic control unit (EDECU), which brings with it improved system reliability and reduced operating costs. The new arrangement is dual engine contingency capable and brings increased power at 95 degrees Fahrenheit. A new firewall data cable is incorporates, while engine indications are now multiplex signals. A significantly improved hot and high performance as a result of the rejigged engine assembly means the helicopter's performance could be well-tuned for tropical clime operations. The split torque face gear transmission is the heart of a hugely improved drive system on the E variant of the Apache. Apart from contributing to the boosted hot and high performance, it also brings with it an increased power capability to 3,500 shaft HP and a reliability jump of a meaty 130%. An improved nose gear box and improved overall component performance translates into increased MTBR, according to Boeing that will build the choppers for India at its Mesa, Arizona Apache facility.
New and improved open systems architecture translates into a highly configurable helicopter custom tailored for each mission. The radar electronics unit that sits atop the main rotor, which replaces the programmable signal processor (PSP) and low power radio frequency on earlier models, saving about 85 lbs in weight. The new configuration brings with it range extensions, air to air improvements and a crucial maritime mode. A dozen, reportedly, of the 22 Apaches that India has ordered will come in the formidable Longbow configuration — principally fitted with the Northrop-Grumman/Lockheed-Martin AN/APG-78 fire control radar that, among other things, delivers Hellfire missiles with devastating accuracy. According to Northrop-Grumman, "The Longbow Fire Control Radar and its weapons counterpart, the radar-guided, "fire and forget" Longbow Hellfire missile, enable the potent Apache attack helicopter to detect, classify and prioritize ground targets day or night, in poor weather and obscured conditions; then attack those targets with pinpoint accuracy from ranges that safeguard the lives of the aircrew. The radar provides high performance with very low probability of intercept. High system reliability and two-level maintenance provide high operational availability with low support costs."
The IAF has also been most impressed during trials with the AH-64E's advanced crew stations (trials were conducted on a modified Block II platform with Block III features), which includes multi-purpose colour displays that the IAF is now accustomed to on its machines, digitally shared graphics, management by exception, common cockpit configuration, automated data input/output, voice and aural cues, embedded training and, crucially, hands on collective and stick. The new layout also includes a useful secondary flight display system for both the pilot and co-pilot/gunner stations. Clearly laid out graphics provide an advanced situational scenario, clearly separating enemy entities from own troops or units.
Over 150 AH-54E choppers have been built and delivered so far, with the Indian government itself expected to exercise options for more aircraft. As of December 2014, the AH-64E program of record involves 690 aircraft with a total delivery schedule stretching from 2011 till 2026. Total US Army flight hours on the AH-64E is 26,934, with over 10,000 combat hours and mission capable rates reported by the US Army at an impressive 88%.