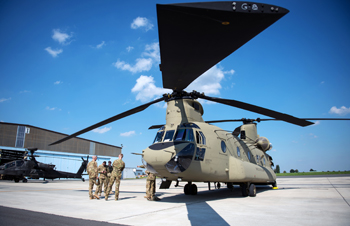 Photo Credit: US Army
October 12, 2015: The CH-47F Chinook being configured to Indian Air Force specifications is all set to be a formidable special heavylift capability helicopter. The 15 choppers, once delivered will be part of a single helicopter unit, with the country expected to exercise options for more helicopters from Boeing's Philadelphia facility where the Chinook is built.
The CH-47 'F' programme begin officially in the mid 2000s and involves a mix of a brand new aircraft as well as renewed older airframes to the F standard. India's choice of the CH-47F was a considered one, given it had formidable competition from the Mi-26T2, a modernised version of a platform the IAF already deploys from Chandigarh. For starters, the CH-47F involves all new components across the board, new machined frames, corrosion protection and airframe tuning of the kind not done on any earlier variant. These changes have been principally a result of feedback from combat units operating earlier variants of the Chinook in combat theatres in Iraq and Afghanistan from 2001-2002 (The first combat-ready CH-47F was deployed in July 2007.) The improvements and changes to the helicopter, therefore, are almost singularly in keeping with a warfighter requirement. For instance, the F variant includes improved jettisonable doors, soldier-focused logistics, improved avionics and improved flight controls.
The CH-47F is built around a newly designed, improved monolithic-machined airframe. It's powered by twin Honeywell engines, each generating 4,733 horsepower. These engines and tandem rotor design allow the Chinook to operate at speeds of more than 175 mph (280 kilometers per hour) and give it the ability to transport more than 21,000 pounds (9,525 kilograms) of material and soldiers. Along with more brawn, the F-model features new brains compared to the earlier CH-47D. Apart from the new Rockwell Collins Common Avionics Architecture System (CAAS), there's a BAE-designed Digital Advanced Flight Control System which will give IAF crews vastly improved situational awareness and substantially better flight-control capabilities. That translates into improved performance and safety in the harshest operating environments. CAAS also incorporates an advanced digital map display and a data transfer system to allow for mission management and mission changes in flight.
Several engineering improvements exist on the CH-47F too: a redesigned aft pylon, redesigned 46 section and ramp. The electronic warfare suite includes improved countermeasures and a common missile warning system. Situational awareness, low-speed handling and enhanced survivability features built into the system architecture of the CH-47F as well as flying qualities make it one of the most capable and safe special operations and transport helicopters in the world today. Boeing and the US Army, of course, never fail to remind the Indian Air Force that the CH-47F dwarfs other comparable platforms in terms of combat experience and flight hours in hostile territory.
It contains a fully integrated, digital cockpit management system and advanced cargo-handling capabilities that complement the aircraft's mission performance and handling characteristics, Boeing says. High mission flexibility and high-altitude/high-temperature performance make it a workhorse of US Army aviation, quite a bit on the lines of what Mi-17s do for the Indian Air Force. The IAF is hoping that the flexibility that the CH-47F brings to bear provides a paradigm shift in even heavylift operations. The IAF's Mi-26 fleet (only three aircraft currently exist) has been beset with troubles for long, including low availability and chronic turnaround issues.
The IAF is likely to integrate certain bits of equipment to the CH-47F itself, like the Indian Navy has with the P-8I. These may include Indian-built IFF transponders/interrogators, speech secrecy systems, mobile SATCOM for special operations configuration and data links. Fitted with a new Extended Range Fuel System, the Chinook can operate at ranges of over 400 nautical miles (740 kilometers) and offers a combination of lift and "legs" for nearly any mission. The CH-47F also offers the warfighter improved survivability thanks to the Common Missile Warning and Improved Countermeasure Dispenser systems. These systems work in tandem tohelp protect aircraft and crew from anti-aircraft missiles by detecting incoming warheads and dispensing a mix of chaff and flares to help avoid them.
"The Chinook has been in U.S. Army service since 1962. The CH-47F/MH-47G modernization program is now in full-rate production, and will ensure this tandem rotor medium-lift helicopter remains in the Army fleet at least through the 2030s. It is conceivable that Chinooks will be Army Aviation assets for a century or more. In addition, Chinooks have served the armed forces of more than 15 international customers and performed in commercial service around the world," says.
In IAF service, the CH-47F will perform missions that include transport, air assault, special forces and combat re-supply, humanitarian relief, Army para operations and search and rescue.