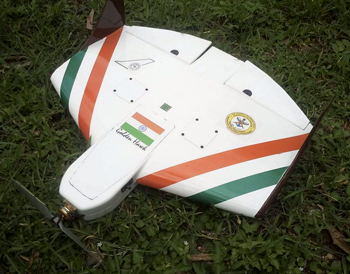 NAL Golden Hawk 450 MAV
October 28, 2013:
Overcoming planning delays that saw the programme cancelled this year, India's National Programme on Micro Air Vehicle (NPMICAV), a Department of Science and Defence Research and Develoment Organisation (DRDO) joint effort, has finally announced fresh dates for its countrywide competition MICAV2014 competition organised by the National Aerospace Laboratories (NAL) and Aeronautical Development Establishment (ADE) where national labs, companies and industry, and students will build micro-air vehicles and demonstrate their capabilities.
According to competition literature, the competition seeks to "bring out the capability of vehicles and technologies being developed in the country for performing a defined mission using multiple MICAVs (fixed-wing, rotary-wing, flapping-wing and combinations) and unmanned ground vehicles (UGVs)." It goes on to add that the objective of NPMICAV is to indigenously develop micro air vehicle (MICAV) technologies at sub-system as well as system level. "These vehicles are meant to address a large number of civilian and military applications including search and rescue, disaster management, traffic monitoring and management, remote sensing, terrain mapping, etc." The focus and thrust areas for the competing MAVs will be communication, precise navigation, sensor capabilities, video transmission, multi-vehicle coordination, cooperative flying and vision based manual flying through windows.