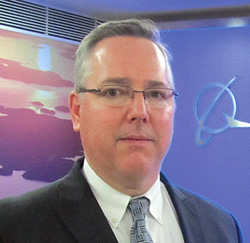 SP's Aviation (SP's): Congratulations on being appointed Vice President of Defence, Space and Security Unit in India. Could you define what would be your role (s) in the new assignment?
Dennis D. Swanson (Swanson): I was put in this position back in April 2011 with the objective of growing and repositioning Boeing's defence, space and security business in India. As part of my role, I am also responsible for new sales opportunities, ensuring delivery on customer commitments and strengthening engagement with our industry partners. I do believe that Boeing can provide great value not just within the platforms we can sell but the relationships that we can invest in. This is going to be a time of tremendous growth for the Indian aerospace sector and Boeing is privileged to partner with India for the long term.
SP's: Although Boeing's presence in India dates back more than seven decades, its entry into India's defence sector has been relatively recent. Could you briefly cover Boeing's ongoing programmes related to the defence sector in India?
Swanson: Boeing enjoys a long-term relationship with India and has had a presence in the country for 70 years. Boeing Defense, Space & Security (BDS) started pursuing opportunities six to seven years ago. In that short time, BDS has enjoyed successes with the sale of eight P-8I aircraft to the Indian Navy, 10 C-17 Globemaster aircraft to the Indian Air Force and business jets. We have fielded Boeing's AH-64 Apache in India's attack helicopter competition and if selected, India will receive the latest technology in the form of the Block III AH-64 Apache. The US Army took delivery of the Block III aircraft in November 2011. The CH-47 Chinook is positioned in the heavy lift helicopter and we believe its ability to carry high payloads in high altitude areas will make it an ideal choice for India.
The Defense, Space & Security portfolio also extends to C4ISR platforms, airborne early warning and control systems, unmanned airborne systems, and services and support.
Our long-term business strategy is to work closely with our customers on their defence and security requirements, execute flawlessly on our current campaigns and deepen our presence in the country through long-term and strategy partnerships.
SP's: Could you give an update on the Indian Navy's P8I project? When would the Navy be able to field its first 'Poseidon'? Are there any indications of a repeat order?
Swanson: The P-8I programme is progressing very well and we are on track to deliver the first aircraft to the Indian Navy in 2013.
In July this year, we witnessed two key milestones of the P-8I programme. The first flight of the second aircraft that India will receive took place in Seattle. The first P-8I aircraft for the Indian Navy began its official flight test programme, which includes mission tests of sensors and communication systems.
The team will transition to 'stores' tests during which the P-8I will carry inert weapon shapes under its wings to demonstrate that the aircraft is capable of carrying all the weapons the Indian Navy will use during regular missions.
P-8I flight and weapons testing follows on the heels of similar testing for the US Navy's P-8A Poseidon. P-8I is a variant of the Poseidon.
In order to efficiently design and build the P-8I and the P-8A, the Boeing-led team is using a first-in-industry, in-line production process that draws on the company's Next-Generation 737 production system.
The P-8I features open system architecture, advanced sensor and display technologies, and a worldwide base of suppliers, parts and support equipment. The P-8I aircraft are built by a Boeing-led industry team that includes CFM International, Northrop Grumman, Raytheon, Spirit AeroSystems, BAE Systems and GE Aviation.
We are proud that a series of Indian suppliers such as Hindustan Aeronautics Limited (HAL), Bharat Electronics Limited (BEL), Avantel, Electronics Corporation of India (ECIL), Dynamatic Technologies and Tata Advanced Materials Limited (TAML) are contributing to components that will be integrated on P-8 and P-8I.
HAL builds P-8I weapon bay doors, identification friend or foe transponder (IFFT) and tail cones.
BEL builds data link, identification friend or foe interrogator (IFFI) and finger printing equipment for the P-8I.
Avantel delivers the mobile satellite systems for the P-8I.
ECIL builds speech secrecy systems for the P-8I.
Dynamatic Technologies (DTL) provides P-8I power equipment cabinets and mission equipment cabinets. TAML is a sub tier supplier to DTL and provides composite materials.
TATA builds APU door fairings and radomes.
Boeing was selected to provide eight P-8I long-range maritime reconnaissance and anti-submarine warfare aircraft to the Indian Navy in January 2009. India is the first international customer for the P-8 and Boeing believes that there are numerous other opportunities for international sales to countries currently operating P-3s or similar maritime patrol aircraft.
On follow on options, the P-8I's baseline contract had a provision for four follow-on aircraft. Any additional information regarding contract negotiations for the four additional aircraft will need to come from the Indian Navy at this time.
SP's: The IAF's acquisition programme for 10 C-17 Globemaster III aircraft appears to be in full swing from what appears from reports emanating from Boeing's aircraft manufacturing facility in Long Beach, California. Could you provide first-hand information on its progress? Are there any firm indications of a repeat order from the Indian side?
Swanson: Boeing recently announced that it has completed the major join of the C-17 aircraft which involved the integration of the forward, centre and aft fuselages and the wing assembly. On July 31, the embassy, senior Indian Air Force and local elected officials drove ceremonial rivets into the first C-17 aircraft for India as they celebrated the achievement of this key programme milestone.
The C-17 programme for the Indian Air Force is on track for the deliveries in 2013 and 2014. The teams are working on aircraft build, sustainment and site activation, training and offset commitments.
India's Ministry of Defence signed an agreement with the US Government on June 15, 2011, to acquire 10 C-17 airlifters, making India the largest C-17 customer outside the US.
On a follow on order, I would not like to make any comments as it would be more appropriate for our customers to comment.
SP's: What is the latest on the IAF's programme to acquire 22 Apache Longbow AH-64D attack helicopters from Boeing? Could you give details of the programme including delivery schedules, etc?
Swanson: Boeing responded to the RFP by the Indian Air Force (IAF) for 22 attack helicopters. If India selects the AH-64 Apache, the IAF will receive the latest Block III configuration. This is the configuration that the US Army took delivery of in November 2011. The Block III has the latest technology insertions that make it a lethal attack helicopter. The AH-64 Apache is the only available combat helicopter with a spectrum of capabilities for virtually any mission requirement. It is uniquely suited to meet the commander's needs, including reconnaissance, security, peacekeeping operations, and lethal attack—in both land and littoral environments—all without reconfiguration.
Boeing is deferring all questions about the status of the competition and delivery schedules to the Ministry of Defence for comment.
SP's: Could you give details of the Boeing's endeavours for creating opportunities/partnerships in India to effectively discharge its responsibilities towards offsets, if any, in the ongoing defence deals as well as future programmes?
Swanson: Boeing has an unmatched reputation for delivering world-class industrial partnership programmes. We have brought benefits valued at more than $42 billion to nearly 40 countries over the past 30 years. We will leverage this success to deliver offset programmes to India that are in line with India's defence procurement policies and that meet the Indian Government's goals to strengthen indigenous aerospace and defence capabilities, enhance its self-reliance and national security, and position Indian industry for growth in the global market.
We continue to work with private sector, government sector and industry to expand our partnerships. Boeing sees great value in partnering with India. HAL is currently contracted to manufacture the F/A-18 gun bay door, F/A-18 wire harnesses, P-8I weapons bay doors, P-8I tail cones, and P-8I identification friend or foe transponder (IFFT). Bharat Electronics Limited (BEL) has delivered the Indian-designed Data Link II for the P-8I, a communications system that will enable exchange of tactical data and messages between the Indian Navy aircraft, ships and shore establishments. BEL has also delivered the identification friend or foe interrogator (IFFI), a battle management system that will enable P-8I aircraft to distinguish friendly aircraft and forces. Finally, BEL is on contract to provide F/A-18 cockpit panels and has already started delivering on that contract.
Boeing has also partnered with BEL to establish the Boeing Analysis & Experimentation Centre (A&E Centre) in February 2010. Based in Bengaluru, the centre provides defence experimentation and decision support services to understand the future warfighting needs of the Indian armed forces. The centre is staffed with former Indian military personnel and modelling and simulation engineers from Boeing. The Boeing team works hand-in-hand with BEL personnel, with plans to create a BEL node in the future.
In addition to defence public sector undertakings (DPSUs), private industry companies play a large role in Boeing's industrial strategy. Dynamatic Technologies and Tata Advanced Materials Limited (TAML) have already delivered P-8I power and mission equipment cabinets and TAML is on contract to provide P-8I auxiliary power unit (APU) door fairings. Avantel has delivered the P-8I mobile satellite systems.
Beyond direct work placement, Boeing collaborates with Indian industrial partners on lean manufacturing techniques and Boeing's programme management and supplier management best practices. Boeing also is looking at ways to partner with several small and medium enterprises throughout India.
SP's: What is your reaction to the Indian Government's recently announced revised guidelines under the defence offset policy; making transfers of technology or acquisition of technology by Indian companies eligible for offsets? Are you satisfied with the changes or do you feel lot more needs to be done to make them more user-friendly from the foreign vendors' point of view? Please comment.
Swanson: Boeing supports the Indian Government as their offset policy continues to evolve. Boeing remains committed to delivering offset programmes that are in line with India's Defence Procurement Procedure (DPP) and that meet the Indian Government's goals to strengthen indigenous aerospace and defence capabilities, enhance its self-reliance and national security, and position Indian industry for growth in the global market.