Bharat Electronics Limited (BEL) is engaged in manufacture and supply of electronic products primarily to defence services. BEL's segments are radars, military communication, naval systems, weapon systems, electronic warfare, avionics, C4I Systems, electro-optics, tank electronics, gun upgrades, etc. The company is aggressive in its expansion and giving details of its forays is the Chairman and Managing Director S.K. Sharma.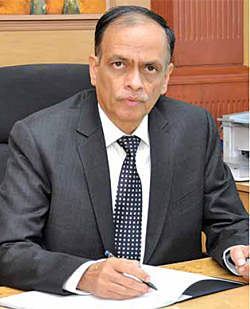 SP's Aviation (SP's): Could you give us an overview of the new products BEL unveiled in the past one year?
S.K. Sharma (Sharma): Some of the important new products introduced by BEL in the past one year are – Bharani, a low level lightweight radar; Hullmounted sonar (detecting subsurface targets in sea); New electronic voting machine (EVM); Voter verifiable paper audit trail, a printing attachment to the EVM; and radio for LIC EW system, a direction finding subsystem of low intensity conflict electronic warfare.
SP's: Share your thoughts on network-centric warfare (NCW) systems developed indigenously for the Indian defence forces.
BEL has been designing and developing various NCW systems for the last 10 years. BEL has invested significant time and effort in understanding the operational requirements (ORs) of NCW systems of the armed forces (users) and converting these ORs into specifications and realising solutions. BEL recently inaugurated a Software Development Centre at Bengaluru to house about 500 software engineers specialising in various net-centric technologies and projects for the armed forces.
IACCS: Integrated Air Command and Control System (IACCS) is an automated air defence command and control system for controlling and monitoring of air operations by Indian Air Force over an IP based wide area network. This C4I (Command, Computer, Control, Communication and Intelligence) system offers seamless air operations across AOR (Area of Responsibility) for the entire air space of the country.
ADC&RS: Air Defence Control and Reporting System (ADC&RS) is a tactical command, control, communication and intelligence (TAC C3I) network for Army Air Defence to detect hostile targets far off from the assets of national interest and neutralise them through optimal weapon assignment. The programme is being developed and implemented in a phased manner. The technologies involved in this programme are multi-sensor tracking, point to multi-point VHF/HF communication and real time GIS.
SP's: BEL has just completed firing trials of Akash Air Defence system. What's the road map now for the project?
Sharma: The Akash Air Defence system has been designed to defend and protect the nation's assets from penetrating aerial attacks. It is meant for defending vulnerable areas / points against medium range targets penetrating from low, medium and high altitudes. It is supposed to protect against air threats like aircrafts, helicopters, UAVs, remotely piloted vehicles (RPV) and cruise missiles.
BEL integrates the overall system and manufactures all major systems such as the 3D Surveillance Radar Sensor, Group Control Centre (GCC) and Multi-function Phased Array Radar. The missiles are manufactured by Bharat Dynamics Limited (BDL) and the launchers are manufactured jointly by L&T and Tata.
The Akash missile can fly at supersonic speed. At the latest firing trials, the systems were tested successfully under extreme flight condition of near boundary, high altitude and multi-target / multi-missile scenario. The flight trials were carried out on unmanned aerial target Banshee jet and para-flares. The targets were repeatedly destroyed by the Akash Missile System. This is the last in the series of flight trials carried out on the production version of the Akash Air Defence System for the Indian Air Force to validate complete intercept envelope of the Air Defence System.This programme has two variants – one for Indian Air Force and the other for Indian Army. Both systems are currently under production. BEL is expecting more orders for Akash Missile Systems.
SP's: What is the size, scope and cost of the upgrade project of the Schilka air defence system?
Sharma: BEL handed over the first Upgraded Schilka Weapon System to the Indian Army in November 2014. Schilka Upgrade is an all-weather, self-propelled, tracked, low-level Air Defence Weapon System. It involves upgradation from analog Radar system to state-of-the-art Search-cum-Track Digital Radar with electro-optical fire control system. Also, Main Engine, Auxiliary Engine, Integrated Fire Detection and Suppression System, NBC (nuclear, biological and chemical) filter and communication system have been upgraded, providing drastic improvements in operational performance, accuracies, power consumption and Mean Time Between Failures (MTBF). The system can engage enemy aircraft during day or night and in all-weather conditions. 48 numbers of Schilka Weapon Systems are to be upgraded by BEL as per the contract.
SP's: Could you tell us what BEL is doing for LCA?
Sharma: BEL has supplied Radar Warning Receivers (RWRs) for the LCA – for both the Air Force and Navy versions. BEL is also associated with DRDO for development of new version of EW suite with Digital RWR and Active Phased Array based Jammer system for LCA Mk II. BEL has also supplied Avionics grade LRUs for the LCA programme like DFCC (Digital Flight Control Computer), Air Data Computer and Weapon Control systems like Stores Interface Box (SIB) and Pylon Interface Box (PIB), Head-up Display and Night flying LRUs.
SP's: What's the update on building ATAS/ ACTAS systems?
Sharma: BEL is in discussion with OEMs for co-production of ATAS Systems for the Indian Navy. A broad understanding on the work share has been arrived. BEL is also partnering with DRDO for developing indigenous version of ATAS system and necessary manufacturing facilities have been set up in our Bengaluru plant for assembly, integration and testing.
SP's: What is going to be BEL's role as the Engineering and Life Support Agency (ELSA) for the IAF's Airborne Early Warning and Control System (AEW&CS) project?
Sharma: BEL as an ELSA for AEW&CS programme of Centre for Airborne Systems (CABS) will be responsible for integration of mission systems on the ground rig and in the aircraft and also to provide support for the mission systems. BEL will also be responsible for preparation and updation of engineering and technical documentation.
SP's: Could you discuss some of BEL's other major orders?
Sharma: Radars: We have on order a wide range of 3D Radars in mobile, Static, Ship-borne and Light weight Transportable configurations which are deployed for surveillance and air defence role on land, sea and coastal zones. We also manufacture multifunction active/passive phased array radars as the major component of weapon systems for surveillance, tracking, missile guidance and fire control applications as well as for anti-aircraft weapons.
Naval Gun Fire Control System: It is a Gun Fire Control System for the Navy and consists of X Band radar, laser range finder, thermal imager, CCD sensors, servo system and weapon control modules (WCM) for control of 76mm and AK630 guns.