Air Chief Marshal Birender Singh Dhanoa took over as the 25th Chief of the Air Staff (CAS) on January 1, 2017. In a brief interaction with SP Guide Publications soon after taking over as the CAS, the Air Chief Marshal shared his vision for the Indian Air Force, the daunting challenges confronting the organisation and elaborated on some of the measures in hand to deal with these.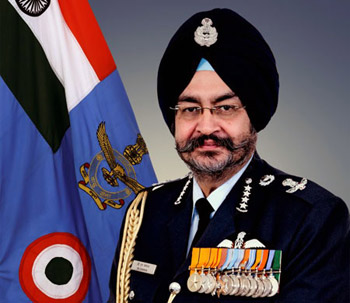 SP Guide Publications (SP's): What is your vision for the Indian Air Force (IAF) vis-à-vis the emerging regional power status of the nation? What steps need to be taken in broad terms to enable the IAF to match the aspirations of the nation?
Chief of the Air Staff (CAS): With the growing regional power status of the nation comes increased economic and energy needs and ever expanding geopolitical space of interest. The Indian Air Force should be in a position to ensure that these interests are safeguarded. A larger expanse presents with it greater number and types of threats, for which the Indian Air Force will have to build its capabilities. The vision of the Indian Air Force includes growing to be a multispectral strategic force capable of addressing both the current and anticipated future challenges. Aerospace power is likely to be both the first responder to a crisis and the lead agency to prosecute war and hence the Indian Air Force needs to be strong and ever adaptable to a changing environment at all times. Our capability development plans are continuously revised to factor in these realities. Our current force levels are below the desired state; but we have optimised our force application plans with available resources to protect our national interest. With implementation of our acquisition plans, this capability will significantly improve.
SP's: Recent wars have shown that air power is the most predominant tool in war-fighting and it is also becoming the 'weapon of first choice'. In your view, is the IAF receiving adequate funding to meet its requirements for building the requisite capability?
CAS: Air power needs to be in a position to dominate the entire spectrum of conflict in an expanded area of interest. However, these aspirations need to be prioritised given budgetary constraints that are bound to arise for the nation for the next many years. Though there has been a declining trend in percentage of GDP being allocated for the defence forces, the IAF, through its proper planning and prioritisation, has ensured that capacity building is not adversely affected and our operational edge is maintained while limiting the expenditure to within the boundaries of the allocations made in the annual defence budget for the IAF. The government has assured the IAF that the necessary funds will be made available to ensure credible deterrent capabilities at all times and against all adversaries.
SP's: What are your views on the establishment of a Space Command? Should this organisation remain with the IAF or acquire a Tri-Service character?
CAS: The Ministry of Defence (MoD) has conveyed that creation of Space Command would be considered only after 2020. As an interim measure, a Defence Space Agency (DSA) has been formed to address the issues related to the Services. The DSA would exercise control over space-related joint defence assets and units. The IAF will be the main contributor to the DSA with its inherent expertise; but to achieve an all-encompassing defence oriented capability and exploitation, a Tri-Service structure would be essential.
SP's: Despite the huge investments in efforts at indigenisation of the Indian defence industry, the nation continues to be heavily dependent of foreign sources even for basic equipment. What new steps are needed to strengthen indigenous capability?
CAS: The Indian Air Force is very keen on building capabilities at home and is contributing towards strengthening the indigenous defence production base. The Defence Procurement Procedure 2016 (DPP 2016) includes a number of provisions to encourage local research and development and enhance indigenous content in all our defence procurements. As part of indigenisation and the drive to obtain key technologies, efforts have been made to include private sector in the production of defence equipment. Indigenously-built advanced light helicopter, light combat helicopter, light utility helicopter and ground-based systems are planned for induction in the future.
SP's: The development of the armed forces in India has been somewhat Pakistan-centric. How do you see the equation with China in the event of a military confrontation in the future?
CAS: Our capability building is not specific to any country, but is based on our requirements to protect national interests in an expanded geopolitical space. In this expanded space, we carry out a threat assessment and update our strategies accordingly. Right now, we assess that to tackle a conflict with both our adversaries simultaneously, we need a specific number of squadrons which we are well short of. It does not mean that we cannot tackle the situation if it so arises, but we will have to curtail some of our missions to levels below what we desire optimally. We are progressing towards filling these voids and when we do so, we will be primed to carry out full spectrum of operations against any threat to our interests.
SP's: What steps do you propose to initiate to upgrade the quality, capability and competence levels of human resources in the IAF?
CAS: The IAF has laid down certain standards for the induction of human resource to serve the organisation. They are put through a tough training schedule. This ensures that the quality of the human resource in the IAF is good. With new inductions and technology coming in, we need to have an adaptable force that is capable of switching skills from one to another easily. One big change that has taken place is the acquisition of simulators for all types of aircraft that we fly and embedding our simulator training in our flying training syllabus. Our basic training is focused on building up the fundamentals and this has stood us in good stead and will continue to do so. Our core values, viz Mission, Integrity and Excellence, are very important to us in the IAF and we endeavour to instil these values in every one of our human resource. Being adaptable is not only on the human being, but for our organisation which was evident after the attacks at one of our bases in the recent past. We immediately set in the process of training our officers and men in this field and it is now bearing fruit. So I believe our training curriculum and mentoring process is good in units and we continuously endeavour to be contemporary in our training philosophies. So, polishing our people in combat fundamentals, training them in use of latest technologies and inducting current and latest weapons, will ensure that our defensive measures to safeguard vital assets on ground are never found wanting at any time.