Memorandum of Cooperation (MoC) signing ceremony was witnessed by Serbian President Aleksandar Vučić and German Minister for Economic Affairs Peter Altmaier
MTU plans to grow its Serbian facility's headcount to around 440 employees by 2027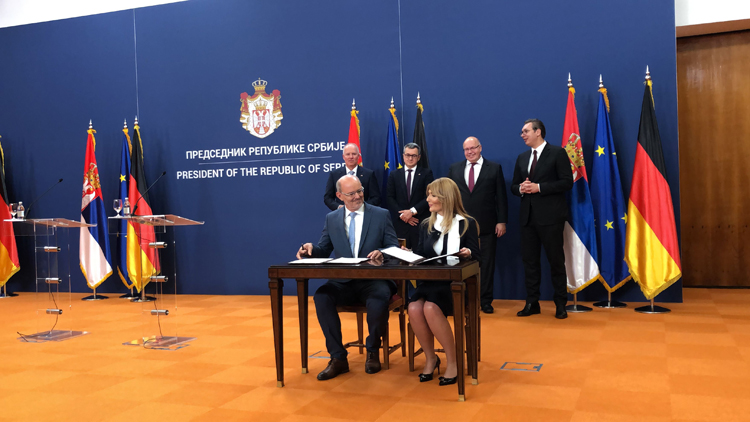 Memorandum of Cooperation (MoC) signing ceremony
MTU Aero Engines AG and the government of the Republic of Serbia inked a Memorandum of Cooperation (MoC) establishing their close cooperation in the field of training of skilled labor. The aim is to effectively address the specific needs of the aviation industry in the curricula of vocational and trade schools. The move clears the way for an adoption of a training scheme based on the proven dual system of classroom and work-place learning for teaching people the ropes of the aviation industry.
The decision to step up cooperation comes against the backdrop of MTU's plan to open a dedicated engine parts repair facility in Serbia. MTU's new shop will be located in Nova Pazova near Belgrade and is scheduled to be up and running in the course of 2022. In support of the project, a Serbian subsidiary, dubbed MTU Maintenance Serbia d.o.o., has been set up, and first employees have already been hired. Their focus over the next few months will be on developing a workforce to meet the company's needs. While the construction of the new facility is under way, MTU will be training people for the skilled positions to be filled. This training will take place at local vocational and trade schools in Serbia and on site at MTU's facilities in Germany along the lines of the MoC now signed.
"Plans are to grow the workforce of our facility in Serbia to around 440 employees by the year 2027, with the clear goal in mind to accomplish this increase from within Serbia," says Michael Schreyögg, MTU Aero Engines Chief Program Officer. "We are convinced that we will find motivated skilled peoplein Serbia wishing to work in the aviation industry. What is essential is to have a firmly established dual system of vocational training in place to ensure the training imparts the relevant knowledge and skills needed in a high-tech industry like aviation."
Maintenance, repair and overhaul (MRO) for commercial aircraft engines is growing continuously, this market being a major driver behind MTU's business success. The additional facility in Serbia will provide flexibility and strengthen the company's global competitiveness in this promising market segment. MTU clocks up around 1.9 million repair hours per year at its existing facilities. The additional facility is expected to add approximately 400,000 annual repair hours.