The company will also introduce its new line of Display Head Assemblies (DHAs) for avionic displays.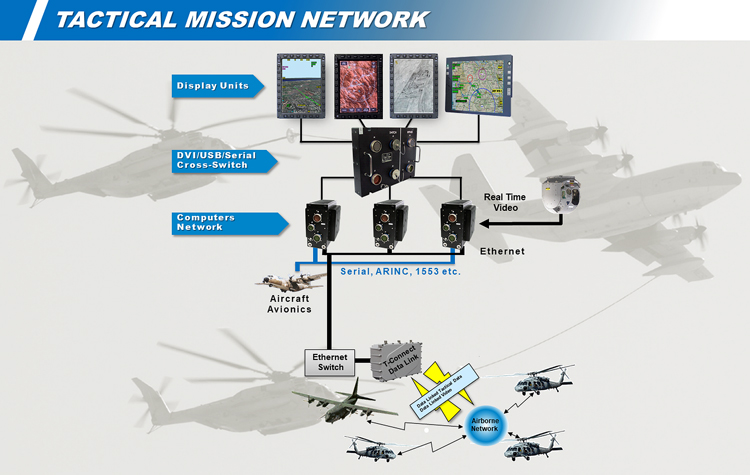 Astronautics' Tactix system
Astronautics C.A. Ltd. a supplier of airborne, naval and land civil and defence systems and solutions - is to highlight Tactix, a tactical mission system for airborne missions (helicopters, transporters and mission aircraft fleet). The company will also be highlighting its Display Head Assemblies (DHAs), COTS building blocks for suppliers wishing to build their own airborne display solutions.
Tactix is a tactical mission system for airborne applications, which provides full situational awareness and enhances flight safety. The system provides a combined presentation of route, threats, avoidance zone, targets, terrain-related information, safety alerts (ground proximity, entering no-fly zone, entering threats kill coverage) and a full airborne tactical view of the combat arena, based on the platform's own sensors. In doing so, Tactix gives the team comprehensive navigation, situational awareness and safety-related alerts, taking full advantage of a modern 2D/3D digital map, onboard sensors such as FLIR.
"At Astronautics, we are committed to developing solutions that help airborne crews to successfully complete their missions," says Menachem Donner, Astronautics' director of business development. "The Tactix system allows the air-crew managing tactical airborne missions of the platforms facilitating the creation ofa flexible, ad-hoc, instantaneous airborne system, enabling all teams to exchange tactical information and live video streaming, thereby forming a powerful mission-support system.
Our display head assemblies (DHA) product line allows any military/avionics electronics company to develop quality avionics displays, making this complex front-end display optics module an affordable COTS, with the ability to develop the back-end electronics facilitating a high-performance avionic display."