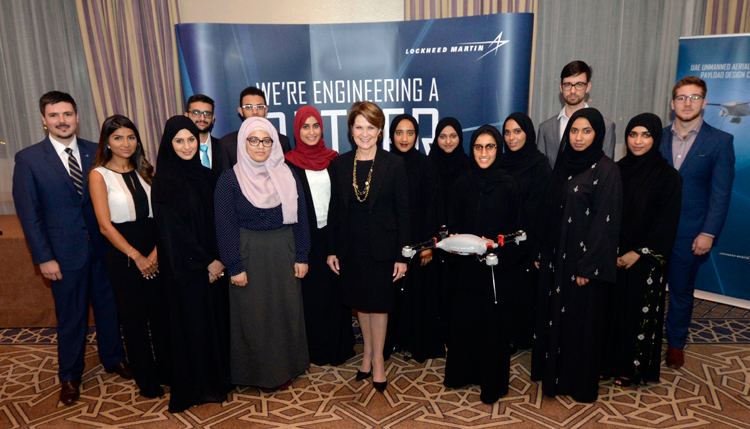 Marillyn Hewson, Chairman, President and Chief Executive Officer of Lockheed Martin with student finalists of the UAE UAS Payload Design Challenge.
Lockheed Martin Chairman, President and Chief Executive Officer, Marillyn Hewson, met with finalists of the UAE Unmanned Aerial Systems (UAS) Payload Design Challenge in Dubai today. The year-long program targets the best ideas in Science, Technology, Engineering and Mathematics (STEM) from UAE-based university students.
A joint initiative between Lockheed Martin and Mubadala Investment Company, the program challenges university students to design, develop and integrate civilian and industrial applications for Lockheed Martin's Indago, an unmanned aerial system that is recognized for its endurance and adaptability in different sectors.
To date, the program has shortlisted six teams who have developed a variety of payload solutions, to include climate change, water management, oil and gas, and emergency response systems. Engineers from Lockheed Martin are currently mentoring the students to support their projects.