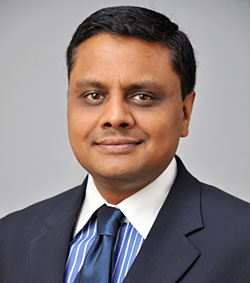 As the new Indian government tries to transform the Indian economy from services-led to a manufacturing plus services economy, we know that it's not really a question of why but how. Without the shift, the menace of growth sans job creation will stifle our economic progress within the next decade. To address the how, the "Make in India" campaign is a significant and timely step by the new government to raise the manufacturing workforce overall, and the engineering workforce in particular. There again, while China's growth rate may be waning, there are other economies that are competing fiercely for a larger share of global manufacturing investment- from ASEAN countries like Vietnam, Indonesia etc. to Latin America to even countries in Middle East. The landscape is very competitive as each country is trying to leverage its strengths to attract investment in manufacturing. So we're not just competing with China but also with the rest of the developing world. We all know that in a free market capital flows to places which provide best return on capital.
Why the Emphasis on Aerospace Manufacturing
The context of manufacturing in aerospace is multi-fold - it not only helps generate jobs but also helps countries achieve technological superiority andincrease indigenous capability to become self-reliant. Since the entry barriers are so high - once the aerospace industry matures, the country's global competitiveness improves and exports grow. Besides, for a country that is projected to be the third largest aviation market by 2020, can we afford not to focus on aerospace manufacturing? China is a case in point - it has been focused on aerospace manufacturing right sincethe 1970s - initially as a supplier of parts to global industry but now launching its own aircraft programs after having achieved success in civil aviation and defense aerospace.
Since the new government came to power - there has been a renewed focus on manufacturing in aerospace through policy interventions like raising FDI caps to 49% and decisions of converting procurement programs like Light Utility Helicopter (LUH) into "Make in India" programs. These are welcome steps as India can only realize its dream of becoming a credible aerospace player by first relying on the large domestic modernizationdemandand then on maturity pushing exports growth. However, to realize the dream, India needs to overcome significant competitive disadvantages like skilled labour, high cost of power, high cost of capital, lack of scale, infrastructure bottlenecks and lack of core technology which impacts the viability of aerospace manufacturing in India.
Growth Model
The key drivers for globalization of aerospace industry are growth through new geographies as home market demand stagnates, increasing competiveness and strategic alignments. For growth to happen market access is critical while competitiveness is driven by lowering costs of production. As for strategic alignments, aerospace is a very technology and capital intensive industry. To manage growth and bring new programs to life global aerospace companies typically create risk sharing partnerships and leverage each other's technology strengths as building all the capability within one company is not viable.
India as the world's largest defense and aerospace importer, does offer significant growth opportunities to global aerospace companies combined with some cost advantages which can be realized over the long term. Given the current levels of maturity of Indian aerospace industry - risk sharing models may take some more time.
Getting the Eco-system in place
For success inmanufacturing in aerospace in India, the industry needs to work on multiple fronts viz. develop a strong supplier eco-system, innovate and develop new technologies and acquire expertise by partnering with global companies. The supplier eco-system will develop when the Indian supply base scales up its supplies of components and parts to global companies. To become Tier 1 and Tier 2 suppliers to global OEMs Indian supplierswill have to compete on a global level against countries like China and Taiwan. Policy interventions like offsets are already driving growth in this area.
Further, to become program integrators Indian companies will have to partner with global OEMs and bid for upcoming "Make in India" defense programs like LUH. The benefit of this model is the faster ramp up due to shorter new product introduction cycles thus improving viability of the investments. However, one key success factorfor such alignments will be government's commitment to procurement both in terms of volume and timelines as well as how these investments are managed beyond the tendered procurement.
The Indian aerospace industry is going through an exciting phase of steep learning and growth. The new government's push on "Make in India" is providing it the right tailwinds from a demand standpoint. The government policy is evolving in the right direction - but a lot needs to be done on both fiscal and infrastructure front to improve competitiveness. On the Indian industry front, things have progressed with some significant investments in recent years using some of the models discussed above. With the world keenly watching India, the opportunity is clearly ours to leverage. The key is to have a long term vision and create a policy environment which motivates the private sector to act as a catalyst for growth.
Note: The views expressed herein are the personal views of the author.