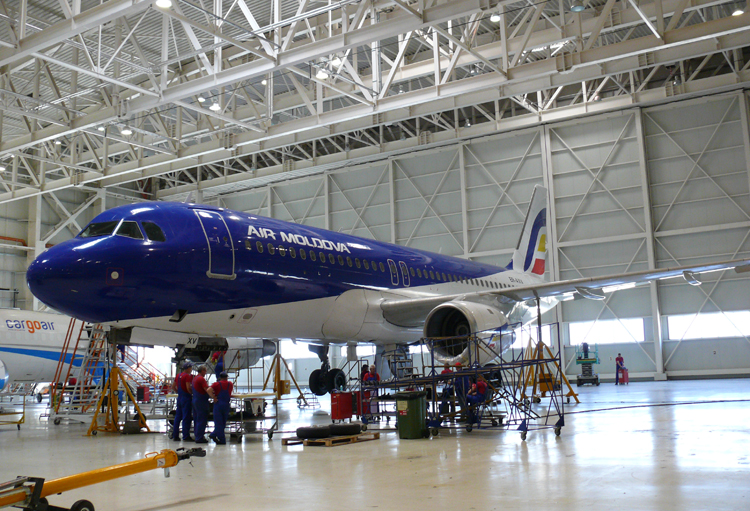 Aerostar S.A. — the leading Romanian aerospace company — is exhibiting at MRO Europe (October 3-5) with two senior company representatives — Mr. Ovidiu Buhai Director Aviation MRO & Upgrades Division, and Mr. Cristian Korenschi, Civil MRO-Business Development — in attendance.
Aerostar comes to MRO Europe on the back its next step to expand its civil aircraft MRO capacity. It has signed a 49-year lease agreement with the local authorities at Iasi in northeast Romania for 16,000 sq.m. of land at Iasi International Airport to enable it to build a new MRO facility.
This new 4-bay MRO hangar, which is expected to be open for business in the summer of 2019, will increase Aerostar's throughput of Airbus A320 family and Boeing 737 Classic and New Generation overhauls by up to 40 percent.
The planned new facility lies 130km north of Aerostar's existing business operations at Bacau where two dedicated hangars provide six-seven aircraft bays which are invariably full during the peak maintenance periods.
During 2016 a total of 80 aircraft completed 'C' and 'D' checks at Bacau and so far in 2017 53 aircraft have been maintained. Since the company moved into commercial aviation MRO activities 13 years ago over 500 aircraft from some 50 airlines have been overhauled at Bacau.
Ovidiu Buhai stated that overhaul activity on Airbus A320 family aircraft is steadily increasing and added:
"In April 2018 we will overhaul our first A320NEO and we believe this to be the first contracted overhaul of an A320NEO in Europe. This follows a period of theoretical and practical training to extend the scope of our EASA Part 145 approval which will be in place by 1 April next year".
Aerostar also announced today two further developments:
Aerostar's approvals have been boosted by the awarding of FAA Air Agency Certificate No 4BRY 586 C on 20 September 2017. This will allow Aerostar to bid for overhaul work from customers whose aircraft are leased from US-based lessors and under FAA jurisdiction.
Aerostar has also developed its capability for aircraft cabin interior items using SATTO Rapid Repair Systems on commercial aircraft and which is fully compliant with European Union REACH (Regulation, Evaluation, Authorisation and Restriction of Chemicals) standards and Material Safety Data Sheet (MSDS) requirements.