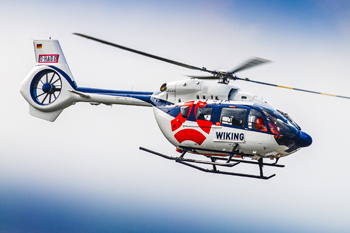 Today, WIKING Helikopter Service GmbH took delivery of the first of two H145 helicopters ordered in the offshore configuration. The company is thus adding an Airbus product to its fleet for the first time. The second aircraft is to be delivered in October 2017. The two helicopters will be used to drop off harbour pilots, fly air rescue missions over the North Sea and transport service technicians to offshore wind farms. WIKING Helikopter is the first to have an H145 configured for offshore use.
"We are very happy with the H145. It is the first Airbus Helicopters model in our fleet. This helicopter perfectly meets market requirements for hoist operations by two pilots flying to wind farms and ships in the North Sea," said Alexander von Plato, Managing Director of WIKING Helikopter Service GmbH.
The enhanced engine performance in single-engine operation (Single Engine Hover Performance, two minutes OEI HOGE) enables the H145 to bear up to 200 kilograms more payload during winch operations. The aircraft thus fulfils the strict regulations for transporting people by winch (Human External Cargo, HEC). Furthermore, the H145 in the offshore configuration is equipped with an emergency flotation system certified for Sea State 6, weather radar, an underwater emergency egress lighting system and a floating emergency locator transmitter.
"Before signing the order we examined this aircraft in detail, and we were impressed by what we found. We're looking forward to using these aircraft in our demanding missions and benefiting from the many technical innovations," explains Holger Stockmeyer, Managing Director of WIKING Helikopter Service GmbH.
For over-water use, the H145 is capable of seating up to eight passengers in compliance with international offshore regulations. A combination of compact external dimensions, a comparatively small rotor diameter, the largest interior in its class and maximum power-to-weight ratio make the H145 ideal for offshore operations. The new Helionix® cockpit with 4-axis autopilot and auto-hover functions are further advantages for such demanding missions.
"The H135 has long proved itself in offshore missions over the North Sea, and we're proud that the H145 is now being used there as well," said Wolfgang Schoder, CEO of Airbus Helicopters Germany. "Servicing of wind farms in particular is a promising market with growth potential. In the medium term, we estimate the global demand in this segment to be comparable to that of the oil and gas business, meaning more than 1,000 aircraft, and we expect a market share of at least 50 percent."
WIKING Helikopter Service GmbH focuses on the transfer of harbour pilots via helicopters in all weather conditions, all year round. The winch of the H145 with its adjustable arm and a capacity of 270 kg is perfectly suited for those requirements. The company also specialises in Helicopter Emergency Medical Services (HEMS), i.e. air rescue operations over water, for example in wind parks in the German Bight. The aircraft are equipped with medical equipment and staffed with one doctor and one rescue assistant, and can respond extremely rapidly to emergency calls. The helicopters are also used in the offshore wind energy sector to transport service technicians to wind farms. Crewed by two pilots, the aircraft transports two three-man service teams at once to the wind farm and lowers them using the winch.
The H145 is the most modern member of its family. Since delivery of the first aircraft in July 2014, the world-wide fleet of all customers has accumulated around 35,000 flight hours with an average availability of over 90 percent. At present, over 100 machines are in service in more than 14 countries. With a maximum take-off weight of 3,700 kg, the H145 allows highly efficient helicopter use in the high-growth offshore business, which will show considerable growth over the coming years. Airbus Helicopters anticipates a market potential of up to € 9 billion over the next 20 years.