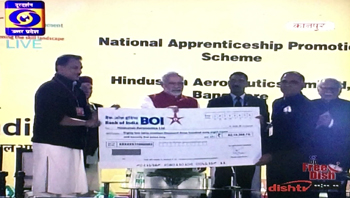 The Prime Minister, Narendra Modi presenting a NAPS cheque to HAL CMD, T. Suvarna Raju (second from right) at a function in Kanpur on September 19, 2016
The Prime Minister, Narendra Modi presented a cheque to HAL for playing a constructive role under the Government's National Apprenticeship Promotion Scheme (NAPS) at 'Kaushal Mahotsava' program held in Kanpur today.
T. Suvarna Raju, CMD, HAL received the cheque on behalf of HAL. The NAPS proposes to work pro-actively with the industry to develop skilled manpower for the country. As per the scheme, 25% of the prescribed stipend payable to an apprentice is reimbursed to the employers directly by the Government of India. Rupees 1500/- per month per apprentice is given by the Government of India to the employers who engage apprentices.
HAL was appreciated for active participation and engaging maximum numbers of apprentices under NAPS by the organizations. The Prime Minister e-launched various skill development projects during his visit to Kanpur.
Rajiv Pratap Rudy, Union Minister of State for Skill Development and Entrepreneurship was present on the occasion.