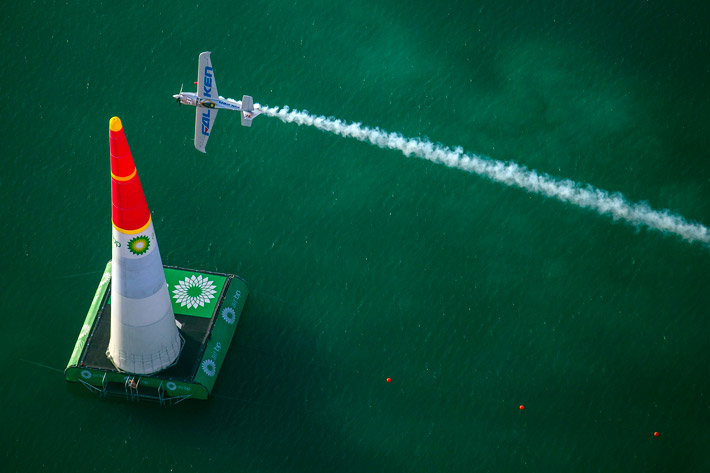 Smoke on! Race pilots must use smoke oil so judges and fans can easily see their progress
Martin Sonka of the Czech Republic dazzled the fans at the diamond 75th Red Bull Air Race in the history of the World Championship, earning the first race win of his career. Second place Juan Velarde (ESP) and third place Pete McLeod (CAN)
Air BP, the international aviation fuel products and service supplier, is delighted to announce it isan official sponsor of the 2017 Red Bull Air Race World Championship, serving as both the fuel supplier andcarbon reduction partnerfor the 2017 season.
The announcement comes as the first race of the season reached an exciting conclusionon Corniche Island in Abu Dhabi, UAE this weekend,marking the World Championship's 75th race.TheEdge and MXS raceplanes which were fuelled at Al Bateen Executive Airport (where Air BP holds a Technical Services Agreement with ADNOC), performed an amazing display of high-speed, low altitude racing to the delight of the crowd.
As part of the sponsorship deal, Air BP will work with Red Bull Air Raceto offset thecarbon emissions associated with aviation fuelduring the 2017 race season. This is achievedvia an offsetting programme managed by BP Target Neutral which supports targeted environmental projects around the world that have reduced emissions by an equivalent amount. This gives Red Bull Air Race a carbon neutral fuel footprint for the 2017 season. Environmental issues remain a growing and important feature on Air BP's agenda and through its Environmental Solutions Offer, the company provides a number of services to help customers work towards a lower carbon future.
Air BP and Red Bull Air Race share a passion for aviation and both brands share knowledge and expertise in technical delivery, safety and quality making them ideally suited to the tenth season.
Commenting on the announcement, Jon Platt, CEO of Air BP, said: "Through our new relationship with the Red Bull Air Race World Championship,Air BPisproud to be involved with one of most exciting sports in existence, one that is in perfect alignment with our core values of safety, excellence and teamwork, and our ambition to be a leader in driving down carbon emissions across the aviation industry."
"We congratulate Martin Sonka of the Czech Republic who beat the clockto win thefirst race of the season and his first race win since he joined the World Championship in 2010. We look forward to helping all of the pilots achieve extraordinary things during their remaining races this year."
"The Red Bull Air RaceWorld Championship is proud to work with an industry leader like Air BP," added Erich Wolf, Red Bull Air Race's General Manager. "At every stop of the World Championship, our pilots push themselves and their aircraft to the limit, so it's imperative we use the highest quality fuel products and services available. With Air BP, we can do this while knowing we're working to protect the environment."