Agreement includes management, maintenance and repair of EngineStands24 entire fleet of engine stands globally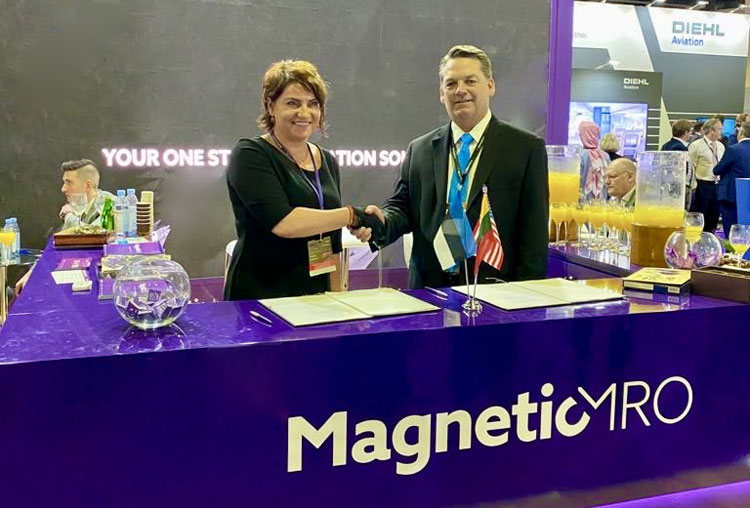 EngineStands24 and Rhinestahl CTS agreement signing
EngineStands24, a subsidiary of a global provider of Total Technical Care for aircraft operators and lessors, Magnetic MRO, and Rhinestahl CTS, authorized provider of aviation and gas turbine engine tooling to GE, CFM and Rolls-Royce, has signed an engine stand service agreement, covering the maintenance service of EngineStands24 stands pool for all company's global hubs.
The agreement was signed during the MRO Middle East exhibition which took place in Dubai on 25-26th of February and was attended by H.E. Mr. Edminas Bagdonas, Ambassador Extraordinary and Plenipotentiary of the Republic of Lithuania to the UAE. According to the agreement, Rhinestahl CTS will be responsible for managing the entire engine stand fleet including LEAP, CFM56, CF6 and CF34 and will ensure its readiness. The agreement covers service of in all of the hubs, including Amsterdam, Dubai and Guangzhou, making Rhinestahl CTS exclusive engine stands maintenance service provider for Magnetic MRO.
EngineStands24 and Rhinestahl CTS agreement signing
"From now on, all ES24 stands in all our hubs worldwide will receive the technical support from Rhinestahl who has their service stations in all the locations where ES24 hubs are located. This partnership allows us to use their extensive knowledge and experience while helping us to reach our ultimate goal – provide customers with serviced engine stands that meets the highest industry standards. In addition, it will also allow us to have stands serviced in a timely manner therefore our engine stands pool will always be updated and prepared for the lease whenever our customers need them," shared Daiva Zemaite, Head of EngineStands24.
"With this maintenance and repair agreement, we have strengthened our partnership with two world class providers of total technical care for aircraft operators and lessors, to provide solutions that cover the full life cycle of engine stands," said Director of Aftermarket Services, Brandon Lafferty. "We have expanded our facilities globally and are well-positioned for growth in the engine stand, tooling maintenance and repair market. We are very excited about this opportunity and the continued growth we will see throughout our partnership with EngineStands24 and Magnetic MRO."