Rockwell Collins offers industry-first Synthetic Vision Guidance System on Head-up Guidance System
Embraer's new midsize and super-midsize business jets will include Predictive Windshear and Vertical Weather display capability
ADS-B In delivers 'air-traffic control' like situational awareness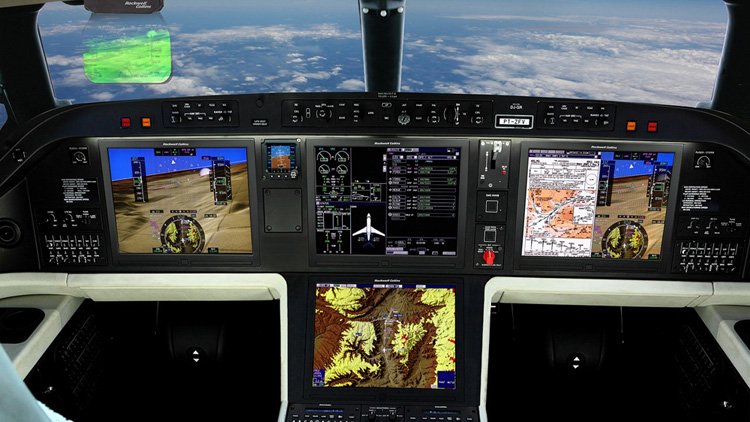 Rockwell Collins' Pro Line Fusion® avionics are featured on Embraer's new Praetor 500 and Praetor 600 business jets
Rockwell Collins' legacy of providing state-of-the-art integrated avionics to Embraer's most technologically advanced business aircraft continues with the selection of Pro Line Fusion for the new Praetor 500 midsize and Praetor 600 super-midsize business jets. The new platforms were unveiled today at an Embraer event at the Orlando Executive Airport, where the 2018 National Business Aviation Association's Business Aviation Conference and Exhibition (NBAA-BACE) will take place this week.
With this selection, Pro Line Fusion is now featured on four Embraer aircraft, including the already certified and flying Legacy 500 midsize jet and the Legacy 450 mid-light jet. Pro Line Fusion is expected to be certified on the new Praetor 500 and 600 in 2019.
"The extension of the Rockwell Collins Pro Line Fusion avionics systems onto Praetor 500 and 600 aircraft enabled exciting upgrades for not only Embraer's newest executive jet offerings but also the existing Legacy 450 and 500 aircraft," said Christophe Blanc, vice president and general manager, Business and Regional Systems for Rockwell Collins. "These four aircraft will all be equipped with notable avionics upgrade options including vertical weather, predictive windshear, ADS-B In, Synthetic Vision Guidance System and Inertial Reference System capability."
In addition to these new options, Pro Line Fusion for the Praetor 500 and 600 will feature a pilot-selectable display format on four 15-inch diagonal LCDs that allows the flight crew to view a wide range of information such as flight-critical data, synoptic diagrams of aircraft information, and navigational charts and maps on multiple presentations, significantly enhancing situational awareness. It also includes:
Head-Up Guidance with Enhanced and Synthetic Vision (EVS and SVS) to provide optimal eyes-forward situational awareness
Advanced graphical flight planning that reduces pilot workload when navigating around weather or altering complex flight plans
Paperless-capable flight deck with fully integrated, geo-referenced electronic charts, enhanced maps, and electronic checklists
"See and avoid" Traffic Collision Avoidance System (TCAS) with optional Automatic Dependent Surveillance Broadcast (ADS-B) capabilities
Dual advanced Flight Management Systems (FMS) with Wide Area Augmentation System Localizer Precision Vertical (WAAS/LPV) and Required Navigation Performance (RNP) capabilities, plus RNP AR 0.3 (optional)
MultiScan™ Weather providing full color, automatic and clutter-free storm cell tracking
DLS and FANS 1/A on-demand data link text messaging provides global access that enhances operational efficiency (optional)