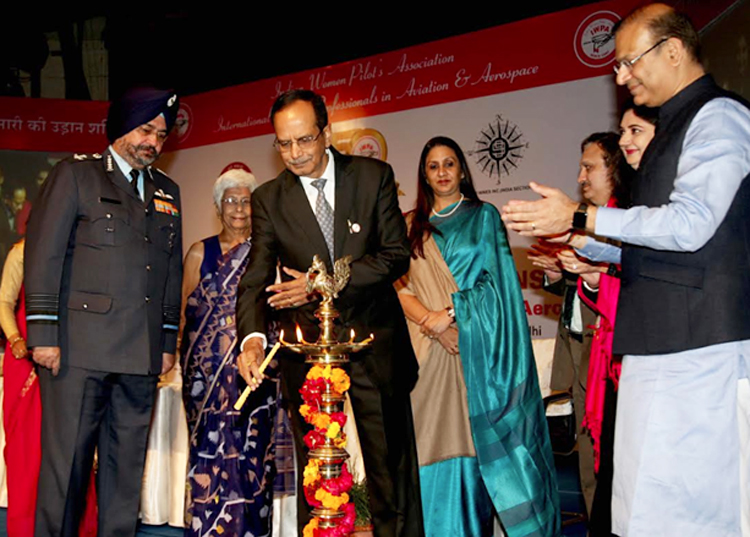 Inaugural photograph (from L to R, Air Chief Marshal B.S. Dhanoa, Ms. Mohini Shroff (founder trustee of IWPA), Dr. R.K. Tyagi, Mrs. Dhanoa (President, AFWWA), Mr. Khwaja (IOC), Ms.Harapreet A.D. Singh, President IWPA and Shri Jayant Sinha, Hon'ble Minister of State for Civil Aviation
The Aeronautical Society of India gave a call for higher participation of women professionals in the aviation and aerospace sectors in India. Dr. R.K. Tyagi, President, Aeronautical Society of India (AeSI), while speaking at 'International Conference for Women in Aviation and Aerospace' held in Delhi on December 19, 2017 called for policy initiatives and encouragement for higher participation of women professions in all the fields of aviation and aerospace including R&D and defence.
The Conference was organised by Indian Women Pilots' Association (IWPA) on the occasion of its golden jubilee celebrations. IWPA was formed in the year 1967 by Chanda Sawant, Mohini Shroff and 4 other women pilots. IWPA is a sister society of AeSI and shares a common objective of advancement in the world of aeronautics and aerospace through sharing of knowledge. AeSI was formed in the year 1948 and today has a membership of more than 13,000 aviation professionals.
The women pilots today account for 12% share among the Indian pilots which is the highest as compared to any other country in the world. However, keeping in view the Indian aviation today, a fast growing sector where investments of more than 220 billion US $ are expected in the next 10 years, the regional connectivity scheme expects to open up 70 new airports in the next one year, there is a need of more and more women professionals in the field of aviation and aerospace. For this, requisite policy initiatives need to be initiated by Ministry of Civil Aviation. Even though share of women professionals in Indian aerospace is higher than any other country in the world, Dr. Tyagi wished to see it increase from 12% to 51%.
During the conference, the women professionals from various airlines in India, Indian Air Force, Indian Navy, ISRO, DRDO, Indian Railways show cased their contributions and future plans for enhanced women participation in the related areas.