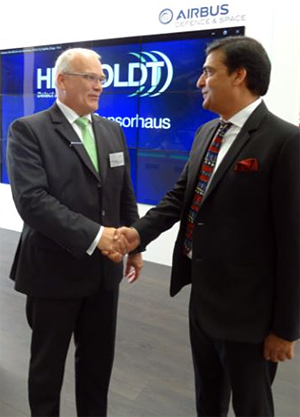 Close cooperation in India: Thomas Müller, CEO
Airbus DS EBS (left) and Ashok Sharma, Managing
DirectorLotus Aviation.
Airbus DS Electronics and Border Security (EBS), a business area of Airbus Defence and Space, and Lotus Aviation Technologies Pvt. Ltd., based in Delhi, are entering into a strategic partnership to jointly offer products of the SFERION product family to the Indian Armed Forces.
SFERION is the most advanced pilot assistance system protecting helicopters in restricted visibility conditions against the most significant causes of non-hostile losses and mission failures, such as controlled flight into terrain, degraded visual environments (DVE), object and wire strike and lack of situational awareness.
SFERION© consists of several components - SferiAdvise©, SferiSense©, SferiAssist© and SferiRec© - offering a stepped approach to customers from the sole obstacle warning function to a full situational awareness capability. Thus, it is a high grade subsystem solution providing real-time environmental, tactical and spatial awareness enabled by fusion of real-time sensor, data link and database information. This increases flight safety, decreases crew workload and extends operational scope and capabilities of the customers' helicopters.
Airbus DS EBS is now joining forces with Lotus Aviation to jointly develop and produce SferiSense© based obstacle warning systems for helicopter platforms in India. Both companies also agree to explore further business opportunities aiming at the extension of their partnership to other areas.
"Lotus is a technically oriented company with extensive knowledge of the market. Lotus considers Airbus DS EBS the best strategic partner for this cutting edge and high technology cooperation which is the right step in the direction of "Make in India" to achieve self-reliance in defence and to create high tech jobs in-country," says Ashok Sharma, Managing Director of Lotus Aviation.
"EBS capitalizes on a long-standing experience in sophisticated avionics systems and we fully support the mission of Lotus Aviation to become a centre of excellence for Mission Avionics products in India" explained Thomas Müller, Managing Director of Airbus DS Electronics and Border Security. "As proven by our track record in this area, our skills, combined with the complementary expertise that Lotus brings in, will result in optimal, cost-effective solution for our customers."