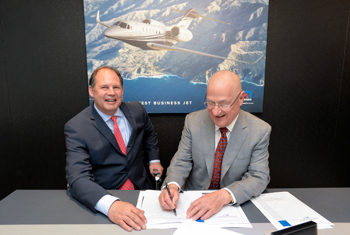 From left to right: Textron Aviation President and CEO Scott Ernest and Dr. Edmund O. Schweitzer III, President and Chairman of the Board, Schweitzer Engineering Laboratories, sign the contract for three Cessna Citation X+ business jets at NBAA 2016
Cessna Aircraft Company, a subsidiary of Textron Aviation Inc., a Textron Inc. company, today announced it has received an order for three Citation X+ midsize business jets from Schweitzer Engineering Laboratories (SEL) during NBAA's Business Aviation Convention and Exhibition in Orlando, Florida. SEL has owned and operated a fleet of aircraft exclusively comprised of Citation business jets since 1999, purchasing its first Citation X in 2002. The fleet is used to support the travel needs of operations around the globe.
"The X+ provides a total cost of ownership that makes good business sense," said Dr. Edmund O. Schweitzer III, President and Chairman of the Board, Schweitzer Engineering Laboratories. "I strive to ensure that our employee owners have access to the resources they need to get the job done. The Citation X+ is a business tool that allows us to serve our customers around the world. Over the course of our nearly 20-year relationship with Textron Aviation, we've experienced customer service above and beyond our expectations."
"SEL is a great example of a company that recognizes the importance of business aviation and the profound impact it can have on reaching a global customer base," said Scott Ernest, President and CEO, Textron Aviation. "We value the long-standing relationship we've shared with Ed and his team over the years and look forward to continuing our support of SEL and their mission."
SEL invents, designs and builds digital products and systems that protect power grids around the world. This technology prevents blackouts and enables customers to improve power system reliability, safety and cost. SEL, a 100 percent employee-owned company that is headquartered in Pullman, Washington, has manufactured products in the United States since 1984 and now serves customers in 148 countries. SEL provides unmatched technical support, customer service and a 10-year worldwide warranty.