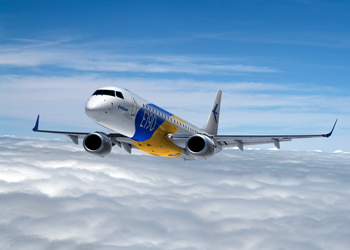 Embraer announced today that it has received a firm order for an additional E190 from Japan Airlines. Originally an option for the E170, this order conversion to an E190 was signed following the E190's Japan debut with Japan Airlines' subsidiary J-AIR in early May 2016. This additional E190 firm order adds to the existing eight E190s that airline has on backlog.
"We are grateful to Japan Airlines for their steadfast support," said Mark Dunnachie, Vice President, Asia Pacific, Embraer Commercial Aviation. "Their pursuit of excellence drives us further to ensure the high reliability and strong performance of the E170s and E190s they operate with short turnaround times. The combination of E170s and E190s in their fleet offers Japan Airlines flexibility in matching capacity to demand and growing new markets."
"Since our first revenue flight with the E190 on 10 May, we have been receiving very positive feedback from our passengers who enjoy the comfort and wonderful in-flight experience in our dual-class cabin," said Mr. Tetsuya Onuki President of J-AIR. The combination of the new E190s in our fleet and existing E170s will give us greater flexibility to match our products and services to customer needs."
J-AIR's E190 inaugural revenue flight on 10 May was from their base in Osaka (Itami) to Kagoshima. Since then, the Airline has expanded its E190 routes into cities like Sendai and Fukuoka from Osaka (Itami). The second E190 commenced revenue flights on 6 July.