The customer training centre is expected to be operational by mid-2015
Aircraft engineers and technicians from P&W customers will be trained on current and new engine models
This Pratt & Whitney training centre will be the third such facility in the world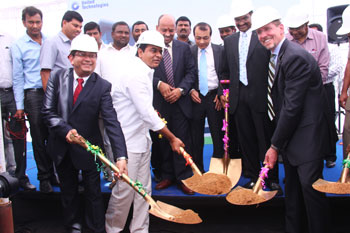 (L to R) Palash Roy Chowdhury, Country Manager - India, Pratt & Whitney; KT Rama Rao, Minister for IT & Panchayat Raj, Telangana State; Bruce Hall, General Manager - Customer Training, Pratt & Whitney
Pratt & Whitney, a unit of United Technologies Corp. today announced the ground breaking of its customer training centre in Hyderabad. The training facility, housed in United Technologies Corporation India Private Limited ("UTC India") is expected to be operational by mid-2015. It will train aircraft engineers and technicians of Pratt & Whitney's customers on current and new engine models. This Pratt & Whitney training centrewill be the third such facility in the world.
Thecustomer engine training facilityis a Pratt & Whitney initiative that addresses the shortage of skilled manpower in India's aviation industry. Initially, training would be provided on V2500 and PW1100G-JM engines, with scope for adding other Pratt & Whitney engines flying in the region and other models from the PurePower©Geared Turbofan™ enginefamily. The facility will include specialized trainings such as general familiarization, line & base maintenance and borescope inspection. It will have a capacity of 5,000 student days per year, which would gradually increase to 9,000 student days per year.
"Pratt & Whitney recognizes India's potential as a major aviation hub.The Hyderabad centre will make world-class aerospace training availablein India," said Bruce Hall, General Manager - Customer Training, Pratt & Whitney. "The specialized training at this facility willtrain engineers from airlines in India and abroad. We are proud to deliver training programs that will support India in becoming a leader in the global aviation industry."
Speaking on the occasion, Palash Roy Chowdhury, Country Manager - Pratt & Whitney, UTC India said, "This customer training facility marks a major milestone for Pratt & Whitney. We will continue to invest in talent and infrastructure to support the industry's growth here."
Over last few years, Hyderabad has emerged as a promising aerospace investment destination and is evolving as an aviation hub. Palash added, "The elements facilitating Hyderabad'srapid growth include a robust infrastructure comprising of a host of government and private manufacturers and R&D institutions. Hyderabad also has a world-class airport and associated facilities. The presence of a highly-developed education system that produces high-quality engineering and IT talent is also a contributing factor."
At present, a large fleet of aircraft in India use engines made by Pratt & Whitney and IAE International Aero Engines AG (a consortium in which Pratt & Whitney is a majority shareholder). The company will also supply the PurePower© Geared Turbofan engines for Airbus and Embraer aircraft ordered by GoAir, IndiGo and Air Costa. The GTF engines deliver double-digit improvements in fuel burn, noise and emissions with the highest level of maturity of the new generation of advanced commercial engines being developed in the industry.