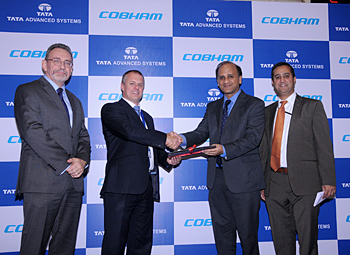 From Left - Mr. Russ Bradley (Senior Vice President, Strategic
Sourcing, Cobham Plc), Mr. Alan Ephgrave (VP, General
Manager, Cobham Mission Systems), Mr. Sukaran Singh (CEO
& MD, Tata Advanced Systems Limited) and Mr. Masood
Hussainy (Vice President & Head Aerostructures, Tata
Advanced Systems Limited), at the formal handover ceremony
where Cobham Mission Systems accepted the first 908E Air-
to-Air Refuelling pod structures assembled by Tata Advanced
Systems Limited, today, in Hyderabad, India.
Today, the first product from a new relationship between Cobham Mission Systems (CMS) and TATA Advanced Systems Limited (TASL) to build Air-to-Air Refuelling Structures, is ready for delivery from the TASL facility in Hyderabad.
TATA Advanced Systems Limited (TASL) was selected by Cobham Mission Equipmentin May of 2014, as a strategic partner for the manufacture and assembly of Air-to-Air Refuelling (AAR) pod and centreline structures. Today marks the official handover ceremony of the first two 908E pod structures assembled by TASL and destined for use on the Airbus A400M.
The ceremony, attended by Cobham Mission Systems and TASL leadership, included a contingent from the British High Commission in India, and represents a significant milestone in the relationship between CMS and TASL, reinforcing the further strategic intent for the partnership.
TASL are also currently working on 905E, 808E and 912E AAR products for the Airbus A330, Airbus A400M and Embraer KC-390 tanker programmes, due for delivery to Wimborne before the end of 2015.