Expands CFM portfolio to more than 160 engines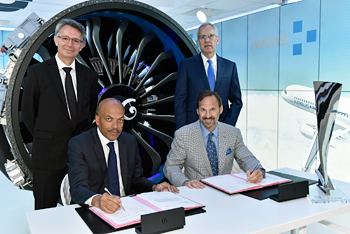 AWAS today announced that is has chosen CFM International's CFM56-5B engine to power 10 new Airbus A320ceo (current engine option). The aircraft are part of a 15-aircraft order the company announced with Airbus on June 23 and the engine order is valued at $320 million U.S. at list price.
Dublin-based AWAS became a direct order CFM56-5B customer in 2008 with an order to power 45 firm and up to 55 option A320 family aircraft. Today, the company has more than 150 CFM-powered aircraft under management.
"We have been very pleased with the CFM56-5B engines in our portfolio," said David Siegel, chief executive officer of AWAS. "Our customers really appreciate the operating economics and reliability of the engine."
"We are obviously very pleased that AWAS has elected to expand its CFM fleet," said Jean-Paul Ebanga, president and CEO of CFM International. "They have established themselves as one of the world's leading leasing companies and we are honored by their faith in our products."