The Heli-ClearVision suite offered on a variety of Leonardo commercial helicopters enables pilotsto perform missions under adverse weather and bad visibility conditions while facilitating high mission safety and success rate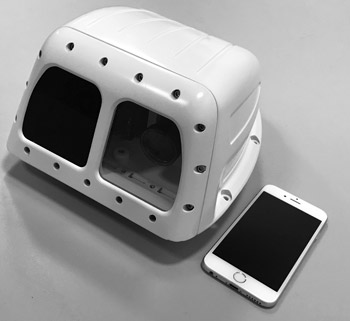 Heli-EVS
Elbit Systems has signed a long-term agreement with Leonardo Helicopters to jointly market and equip Leonardo's line of commercial helicopters with the latest Heli-ClearVision Enhanced Flight Vision Systems (EFVS).
Heli-ClearVision comprises a set of wearable Head Up Displays and Enhanced Vision Systems (EVS), along with unique synthetic vision applications specifically designed for helicopters requirements. As the core element, the EFVS system comprises the ClearVision™ EVS camerathat supports operations throughout the flight overcoming extreme weather conditions and low visibility situations, both day and night. Completing the Heli-ClearVision suite are the Elbit Systems' Skylens™ and SkyVis™ wearable displays providing unparalleled "out of the window" capabilities for the first time on commercial helicopters.
The pilot's situational awareness is also enhanced by CombinedVision System (CVS) generated by a panoramic image combining the real-world picture generated by the EVS with the Synthetic Vision System (SVS), asynthetic map based on digital terrain model database, improving pilot orientation in limited-visibility conditions. Such orientation is further enhanced by the system's ability to detect lights such as those of oil rigs, helipads and runways.
Yoram Shmuely, General Manager of Elbit Systems Aerospace Divisionsaid: "Elbit Systems is proud to be selected by Leonardo to integrate the commercial Heli-ClearVision EFVS across the line of Leonardo helicopters. Leveraging our world leading solutions of EFVS for fix-wing platforms to the helicopter market will enable pilots to fly 'eyes out' and operate safely under degraded visibility and weather conditions that prevented such operation in the past."
Daniele Romiti, Leonardo Helicopters Managing Director said:"Our teaming with Elbit Systems strongly contributes to our commitment to enhancing the flight experience of pilots flying Leonardo helicopters. By offering thesecutting-edge systems and technologieson our new generation platforms we position Leonardo Helicopters more and more as the most capable helicopter to perform any mission with high safety in all weather conditions."
Skylen test flights