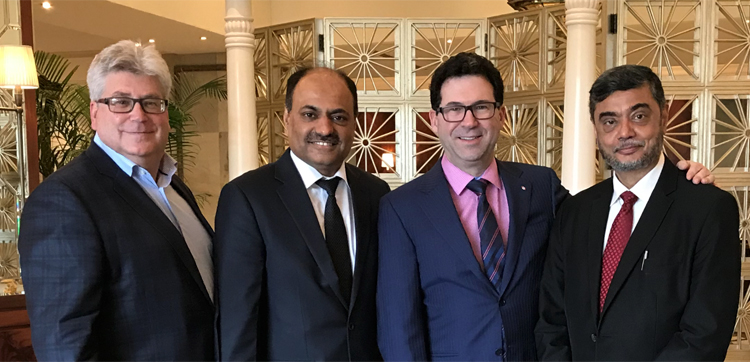 Mahindra Aerospace & Viking Air team at the MoU signing. From (Left to Right) Mr. Rob Mauracher, Executive Vice President, Sales and Marketing; Mr. Arvind Mehra, Executive Director & CEO, Mahindra Aersopace, Mr. David Curtis, Mr. David Curtis, President & CEO of Viking Air Ltd. and Mr. SP Shukla, Group President - Aerospace, Defence and Steel, Mahindra Group and Chairman- Mahindra Aerospace
Mahindra Aerospace has signed a Memorandum of Understanding (MoU) with Canada's Viking Air to "leverage their unique and complementary resources" to form a strategic alliance to exploit the upcoming business opportunities in India's regional aviation sector. The two companies will "support each other's non-competing aircraft business to boost market penetration in identified territories."
The MoU was signed during the visit of Canadian Prime Minister Justin Trudeau to India.
Speaking on the occasion, S. P. Shukla, Chairman- Mahindra Aerospace, said, "We value our alliance with Viking and are confident that the Viking Twin Otter Series 400 aircraft and our 8- and 10- seat Mahindra Airvan will offer a unique product portfolio to customers across various geographies. In India, this portfolio can address the much needed requirements of regional connectivity, where this range of aircraft offers a very suitable solution and desired boost to the UDAN scheme introduced by the Government of India."
Commenting on the alliance, David Curtis, President and CEO of Viking Air, said, "Viking sees enormous market potential for the Series 400 Twin Otter in India, with a particular emphasis on the seaplane variant as it provides an unmatched transportation solution for servicing India's thousands of kilometers of coastline and river systems."
"We are confident that our alliance with Mahindra Group, such a well-established and well-regarded company, will provide the necessary traction the Series 400 deserves in India and will offer us new possibilities to collaborate in other territories as well," he added.
As the products of both companies compliments each other, the alliance plans to offer their customers choice of aircraft based on their requirement. The two companies also intent to collaborate on other opportunities, including product development.
Viking, based in Victoria, Canada, is one of the leading global player in utility aircraft segment, produces the Twin Otter Series 400 a versatile, 19-passenger, twin-engine utility turboprop aircraft. It is also capable of operating from water.
Based in Australia, Mahindra Aerospace, currently produces the Airvan 8 - an eight seat utility aircraft that is certified in many countries and has over 240 in service. The company has also developed a 10-seat turboprop, the Airvan 10, which has been Type Certified in the USA and Australia.
In addition to aircraft manufacturing, Mahindra Aerospace also manufactures aircraft components and sub-assemblies for aircraft manufacturers at its Bengaluru facility.