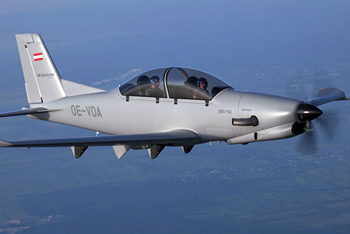 July 12, 2016: Just two months after its maiden flight, Diamond Aircraft's all-new single turboprop DART-450 made its public debut at the Farnborough Airshow 2016.
The Diamond Aircraft Reconnaissance Trainer, first announced at the Farnborough Airshow 2014, is an all-carbon fiber tandem, 2-seat aerobatic civilian and military trainer featuring:
a sidestick control system (HOTAS cockpit philosophy)
ejection seats
a preconfigured fuselage for mounted retractable surveillance camera s and sensors according to the newest standards and payload requirements
adaptive mission equipment and intelligent flight management control systems
The +7/-4g aerobatic airplane has a maximum take-off power of 495 HP and a range of 1,500 nm. It is equipped with the Ivchenko-Progress / Motor Sich AI-450S turboprop engine, a 5-blade MT propeller, and a GARMIN avionic system. Maximum endurance of the DART is 8 hours plus reserve.

Photo Credit: Diamond Aircraft