Memorandum of Understanding covers $1.4 billion expansion of TrueChoice Flight Hour agreement and the long-term provision of logistics support services to GE using Boeing 747-8F and An-124 freighters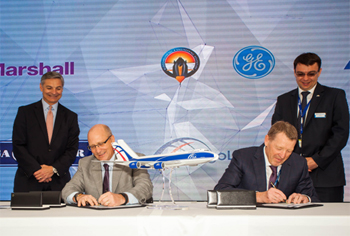 GE's David Joyce (seated left) and Alexey Isaikin of Volga-Dnepr Group signing the strategic agreement at Farnborough Airshow today.
Volga-Dnepr Groupand GE Aviation today signed a Memorandum of Understanding (MoU) to develop a strategic partnership that will utilize the two companies' unique strengths and expertise to develop collaborative solutions to benefit each company and their customers.
The partnership covers the expansion of Volga-Dnepr Group's TrueChoiceTM Flight Hour agreement with GE for the maintenance, repair and overhaul of 88 additional GEnx-2B engines that power its Boeing 747-8 Freighters. The TrueChoice Flight Hour agreement is valued at close to $1.4 billion (USD) over the life of the contract.
In addition, the MoU incorporates a long-term Logistic Support Program in which Volga-Dnepr Group's Boeing 747-8F and An-124 freighters will provide transportation support for GE Aviation.
The agreement builds on the successful 20-year partnership between Volga-Dnepr and GE and represents a strategic milestone in the development of both companies, each acknowledged specialists in the aviation industry. It aims to bring widespread benefits for customers and the global air transportation market.
'We perceive GE Aviation not just as a leading vendor of jet and turboprop engines and components. They stand out as a reliable partner of our Group ofcompanies, and our partnership has been strengthened over many years through our successful Antonov 124 charter operations and Boeing 747 scheduled services for GE companies. By signing this Memorandum, we undertake to further develop the global air transportation market by offering our customers state-of-the-art logistics solutions to deliver their goods anywhere in the world," said Alexey Isaykin, President of Volga-Dnepr Group.
"Volga-Dnepr has set itself apart in the international air logistics and cargo market, and our two companies have forged a strong relationship over the years," said David Joyce, president and chief executive officer of GE Aviation. "We look forward to finalizing this strategic partnership that will create winning solutions for both Volga-Dnepr and GE and allow each of us to take advantage of the other's core competencies to benefit our businesses and our customers."
This Memorandum of Understanding also provides for cooperation involving finance, marketing support and HR training programs.