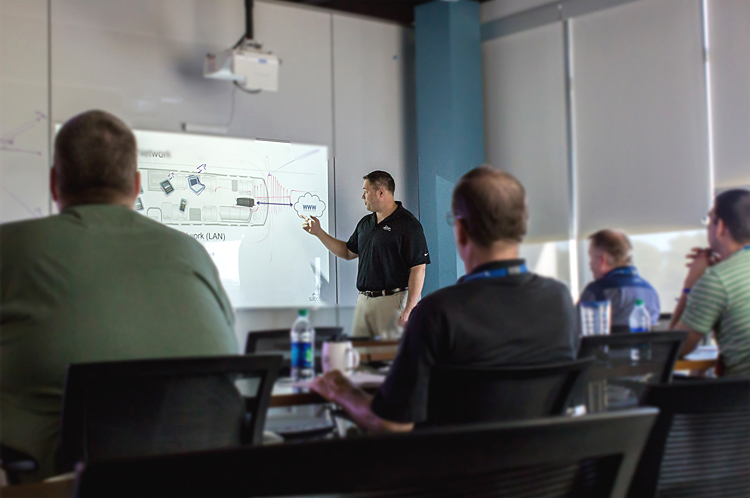 SD CyberSAFE course highlights the importance of preventive cyber security practices
The importance of preventive cyber security practices and risk mitigation strategies will be a key message delivered by Satcom Direct, the business aviation connectivity, hardware and software provider, at ABACE 2018 – booth H1214. The company will showcase the SD Threat Monitoring service, which detects and prevents intrusion attempts to aircraft in real time and provides a live view of potential threats and identified incidents via its digital flight operations dashboard SD Pro®.
The threat monitoring service implements firewalls, analyzes incoming and outgoing data traffic, and uses customised antivirus solutions to protect against malware, reducing the network's overall attack vulnerabilities. Working alongside the software are SD's highly qualified, certified, cyber security experts who proactively monitor data traffic to mitigate potential threats and block intrusion attempts, in real-time. Customers can view the current and previous network activity using the accompanying module in SD Pro.
The service complements the SD Cyber Security Solutions portfolio which combines the benefits of SD's hardware routers, software services, ground infrastructure and technical expertise, to protect business aviation data. "The sum of the whole really is greater than the individual parts. Practical solutions to protect onboard data integrity, network evaluations, risk assessments, and threat analysis are combined with the SD Private Network to enable IT departments to apply corporate compliance protocols to their fleets, just as they would in their offices," explains Nathan Andrews, SD regional director APAC.
"As the number of cyber-attacks continues to increase, we have invested significantly in our technology and our team of customer support experts to offer the international business aviation industry a rounded approach to managing cyber security," adds Andrews. "The SD Data Center provides a full end-to-end military-grade cyber security network; SD Avionics produces 90% of the business aviation industry's cabin networking routers; and through SD Pro we deliver real-time threat monitoring, management and flight operations tools. We are in a strong position to give clients the confidence needed to know their data and airborne networks are better protected from the growing potential risks."
SD will also introduce delegates to *CyberSAFE, (Securing Assets for End-users) the industry's first certified training course which teaches aviation professionals how to avoid cyber security failures. Delivered in partnership with Logical Operations, the course educates users about technology related risks, compliance considerations, social engineering, and other data-security-related concepts. Those new to cyber security in aviation will benefit from SD's free Cyber Smart Kit. The kit gives real-world scenarios, quick tips, recommended actions and suggests protocols to implement specifically designed for aviation. The kit will be available at the booth, along with demonstrations of SD's latest products and services.
Nathan Andrews will be participating in the AsBAA Cyber Security and Connected Aircraft panel session on day 1 of ABACE: 17 April, Meeting Room 1, 16.30 – 17.30.