In the political and business firmament of a resurgent India, 'Young Turks' are leading from the front. 43-year-old NAVEEN JINDAL, the youngest scion of the diversified $17 billion O.P. Jindal Group and Member of Parliament from Kurukshetra constituency of Haryana, stands tall. The young business tycoon with his thought leadership is one of the most notable captains of the Indian industry. Jindal Steel and Power Ltd (JSPL) is the flagship company of the group which has diversified interests. Right at the helm of affairs is Naveen Jindal, steering the group from one success to another. The 'Young Turk' topped the executive pay charts for listed companies in India with a package of Rs. 73.42 crore for 2011-12, earning from the $3.5 billion ( Rs. 19,250 crore) company. Here are some thoughts of Naveen Jindal on the aviation sector in the first of the 'Captains of the Industry' series.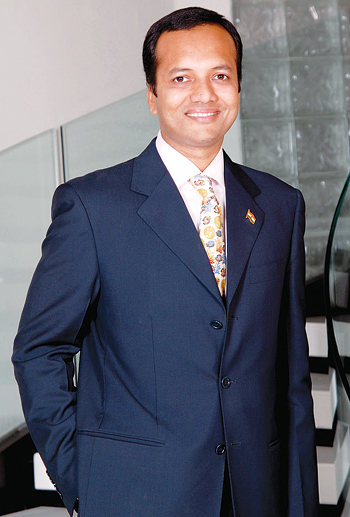 SP's Aviation (SP's): A couple of years ago there was talk of the Jindal group entering the aviation sector. Could you give us an update on the group's footprint in the aviation sector?
Naveen Jindal (Jindal): Aviation is a vertical in few of our group companies. Jindal Steel and Power Limited owns three aircraft in its inventory—Global Express BD 700, Citation 560XL and Citation Grand Caravan C 208B. We also operate few airfields and helipads, constructed in our plant locations.
A FEW FACTS
Political Leader: Naveen Jindal was elected for second term as the Member of Parliament (Lok Sabha) from the Kurukshetra parliamentary constituency of Haryana. As a Congress candidate, he won with a massive margin of 1,60,190 votes against Abhay Chautala of the Indian National Lok Dal (INLD), who is the son of the then Chief Minister of Haryana, O.P. Chautala in 2004. And in 2009, he defeated the Haryana State President of INLD, Ashok Arora, by a huge margin.
Social initiatives: He is the man who is single-handedly responsible for making the Tiranga more accessible to the average citizen. His unrelenting legal and political campaign led to a revision of the Flag Code of India which now grants every private citizen the right to fly the Indian National Flag publicly with dignity and honour on all days of the year. On January 23, 2004, the Supreme Court of India ruled in his favour and cited a new fundamental right that would allow every Indian to hoist the national flag on all days of the year.
Passionate Businessman: He is known for taking the group's business to greater heights. Adding edge to the group's business is aviation which is one of the verticals and is also among his many passions, others being polo and skeet shooting. JSPL has three aircraft—Global Express BD 700; Citation 560XL and Citation Grand Caravan C 208B.
SP's: With the aviation sector opening up fast in India, will the Jindal Group, with enormous resources at its disposal, enter the airline business or stick to its core strengths?
Jindal: Being an aviation enthusiast, I am personally keen to see the industry grow. While continuing to work towards removing all impediments to its growth, we would refrain from entering the airline business as a major player, as our core strength and expertise lies in steel and power. It is here that we would like to focus. At best, we may add a few more aircraft to our inventory.
SP's: Though there are reforms happening, it is still believed that it is not-so-conducive to the aviation environment. Do you think similarly?
Jindal: Yes, while we have taken several corrective measures, I believe that we have a long way ahead of us. We are yet to see the DGCA transform into a world-class policy-making body with appropriate infrastructure and experienced professionals on its payroll. Multiple agencies handling the sector lead to issues in coordination. There is an urgent need to consolidate as many functions as possible under one organisation. We are unable to attract skilled manpower and provide quality maintenance due to lack of effective training and maintenance infrastructure.
SP's: Coming to general aviation, do you think it makes good sense for corporate houses to own business jets? Could you give us a footprint of the group in this direction?
Jindal: The Jindal Group has come a long way from its humble beginning. Starting with just one steel and power plant, we have now grown into a big business empire. Today, while expanding our core competency in steel and power, our group has encompassed the businesses of mining and exploration. From a single plant at Raigarh, we have expanded our business to many cities in India and abroad. In the current scenario, it makes perfect business sense to have our own fleet of diverse planes to cater to the ever expanding needs of the organisation and company executives. Having our own corporate fleet offers us the inherent advantage of connecting with our plants located in remote places.
SP's: As one of the 'captains of the industry', what do you think needs to be done to give the aviation sector a push in India?
Jindal: The measures that need to be taken are:
Aircraft manufacturing in joint collaboration with world players: Unless we graduate from aircraft import/assembly to aircraft design and manufacturing, the industry would not get the impetus it requires to grow.
World-class infrastructure in training and maintenance facilities: Along with manufacturing, we also need to boost infrastructure in training and maintenance facilities. A world-class university would ensure that our crew does not have to depend on foreign universities for training. We also need to develop the skills and resources to carry out all aircraft maintenance jobs in India.
Increase the number of airports, helipads and fixedbased operations: Additional infrastructure would not only reduce congestion, it would attract more foreign direct investment especially in the field of airport maintenance and air operations.
Connectivity to Tier-II and Tier-III cities: We would benefit from the untapped business in these cities and it would be prudent to concentrate on bringing maximum cities into the air network.
Tax holidays for aviation sector: High import duties, fuel, surcharges and development fees at the airports are all impediments to the growth of the sector. The government needs to announce a tax holiday.
Single-point regulating and operating organisation: Consolidation of maximum functions under one umbrella will resolve most of the coordination issues.
Highest level of automation in functioning: Aviation is a technology-driven industry and the highest level of technosavvy integration is required for the industry to grow.