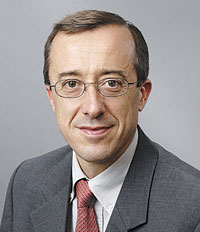 Safran (François Planaud, Executive VP, Commercial Engines), speaking to SP's Aviation, said that the show is more about celebrating deals than starting new negotiations

SP's Aviation (SP's): How was the show for you this year?
Safran: It was a really successful air show that allowed us to share and strengthen our excellent relationships with our customers and partners even more.
SP's: What all success stories you concluded at the show and if you may like to share those with us?
Safran: During these four trade days, CFM International, the 50/50 joint venture we own with GE, has announced orders for a total of 660 new engines (468 LEAP & 192 CFM56), in addition to LEAP and CFM56 services agreements, at a combined value of $15 billion ( Rs. 60,000 crore) at list price.
Till date, our 2013 orders stand at 1,654 CFM engines including installed, military and spare engines. These orders are reinforcing the hopeful perspectives we have for the upcoming LEAP engine.
During this air show, we've had the opportunity to celebrate remarkable contracts such as the AirAsia order that chose CFM to motorise its 100 Airbus A320 with CFM56-B and LEAP-1A (aircraft deal announced last December). This order shows how trustworthy AirAsia has been considering CFM for years now.
We announced the creation with Sagem of SFCO2 (a combination of specific fuel consumption and carbon dioxide), a new service to reduce airlines' operating costs. By joining our areas of expertise, our two Safran companies will help customers enhance the operational efficiency of their aircraft, and therefore reduce fuel consumption, CO2 emissions and maintenance costs.
SP's: Did the tricky weather disrupt or affect your business interactions during the show?
Safran: We take to heart to never being stopped by the weather! The Paris Air Show is more about celebrating deals than starting the negotiations. The show is the outcome of long-term work we do with our clients, so that we can meet their needs and requests best. Nevertheless we had many fruitful meetings despite the rain.
SP's: Can you tell us about the specific innovations introduced by your company at the show?
Safran: During the Paris Air Show, we had the opportunity to present our major technological innovations.
Our new LEAP engine, the benchmark power plant for the next-generation singleaisle commercial jets—developed through CFM International (our 50/50 joint company with GE)—comprehends brand-new manufacturing process such as a fan blade made of a new-generation organic composite material. This Snecma (Safran) proprietary technology has been under development for several years and will dramatically reduce engine weight while providing a more durable blade. The carbon fibres are woven in a 3D pattern, making it much stronger than current composites. The blade is then made using the resin transfer molding (RTM) process, which offers significant weight savings versus a metal blade. 3D woven RTM blades were chosen for the LEAP engine family because of their many advantages: performance, strength, lightness, reduced maintenance. In fact, this light-weight structure is proving to be incredibly durable and virtually maintenance free, thanks to the extensive testing we performed.
Using the same production concepts and techniques as those developed for the LEAP fan blade, we showed on the Safran booth a prototype of the fan blade of an open rotor type engine. This blade is about 1.4 metres long and weighing 15 kg. The central spar and skin are made of carbon composites using the 3D woven resin transfer molding (RTM) process. This prototype blade currently undergoes a series of tests to validate its design.
Finally, we exhibited a compressor guide vanes for the silver crest biz jet engine, made of Inconel 718 using an additive manufacturing process (also known as 3D printing). Additive manufacturing builds up a part layer by layer, by melting a metallic powder using a numericallycontrolled laser beam. The use of this new "eco-design" type production process offers a number of advantages: 50 per cent reduction in the guide vane production cycle; 30 per cent decrease in material requirements compared with casting; financial savings because the part is produced very close to its final dimensions; and any remaining raw material (powder) is recycled. It also offers decisive advantages in terms of the material's robustness and performance.
SP's: Which programme of your company is the most innovative one today and what kind of transformation will it bring for the market once available for the potential users?
Safran: The LEAP engine underpins the introduction of new commercial airplanes offering improved performance, cost-savings and durability. Combining the best technologies from GE and Snecma, the LEAP engine consumes less fuel, while being more reliable, quieter, more environmentally friendly and easier to maintain. In concrete terms, this means:
—15 per cent lower fuel consumption and CO2 emissions than current engines.
—50 per cent margin in NOx (oxides of nitrogen) emissions versus the CAEP/6 standard.
—Maintenance costs comparable to those for the CFM56.
—Noise footprint in compliance with the upcoming Chapter 14 standard.
The Snecma Silvercrest will also bring a great transformation for the business jet market as it deliver best-in-class performance and reliability, on the same standards as commercial aviation. It draws on Snecma's long-standing expertise in commercial and military aircraft engines. The Silvercrest will also offer the same level of aggressive environmental objectives;
—15 per cent fuel consumption and 15 per cent CO2 improvement.
—40-50 per cent NOx margin vs. the ICAO's CAEP/6 standard.
—Up to 20 EPNdB less than Stage IV or noise footprint reduction by 50 per cent.
The Silvercrest also benefits from the real time engine monitoring. Based upon what Snecma already provides for more than 5,000 commercial aircraft engines, this system uses specific advanced algorithms and includes additional features that are tailor-made for business aviation. It checks the engine performance and behaviour during flight: data is continuously sent and analysed in real time. The engineering support centre on ground performs data processing. Information, analysis and maintenance recommendations are then sent by Snecma Support Engineers back to the operator. Depending on the circumstances, Snecma is able to send a mobile repair team and dispatch the needed parts even before the end of the flight. For the operator, this means "peace of mind" through the enhanced dispatch reliability and aircraft availability.
SP's: Which part of the world looks like the most promising market at this point of time and why?
Safran: Currently, India is one of the markets looking the most promising for Snecma's segments. The Indian market also offers enormous potential for commercial jets. Aircraft manufacturers expect the country's fleet of single-aisle commercial jets to double by 2030. Snecma is well placed to meet this growing demand, with over 400 CFM56 engines manufactured by CFM, already powering Indian aircraft. Major airlines such as Jet Airways and Air India or Indian Airlines are to be counted as CFM's long-term customers.
Moreover, Snecma has demonstrated its long-term commitment to India by opening a new CFM maintenance training centre close to Hyderabad airport in March 2010 and by setting up production and service facilities dedicated to the Indian market, while forging strong local partnerships. For example, in 2005, Bengaluru-based Snecma HAL Aerospace Pvt. Ltd, a 50/50 joint venture between Snecma and the Hindustan Aeronautics Ltd began manufacturing high-tech components for the CFM56.
Snecma also believes that there is a great market potential in India for its new business jet engine, the Silvercrest. Already chosen by Cessna for its new Citation Longitude, the Silvercrest is a high-performance and reliable engine linked to a compendium of services as close as possible to the Indian business aviation customers' needs.