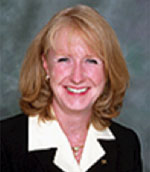 BIOGRAPHY
Susan Maraghy is the Regional Vice President for South Asia, Corporate International Business Development for Lockheed Martin Corporation. This position has responsibility for the corporate business development in the region that covers Australia, ASEAN nations, India and New Zealand. Maraghy is also the government affairs spokesman for all Lockheed Martin initiatives in South Asia ensuring priorities and advocacy.
Prior to joining Corporate International Business Development in December 2007, Maraghy served as the Vice President in Corporate Strategic Development, focused on international markets. For five years prior to joining the Corporate Strategic Development Team, she was the Vice President, Homeland Security, Information Technology and Civil Programs for Lockheed Martin Washington Operations.
She has over 29 years of business development, business operations, and government relations expertise in the Federal, Commercial, International, and State markets for defence, civil and security services and solutions.
Maraghy has attended the University of Pennsylvania, Wharton School and is a graduate of the University of Bridgeport, Bridgeport, Connecticut, where she received a Bachelor of Science in International Business.
SP's Aviation (SP's): Which are the countries you are focusing in South Asia? Where do you see yourself in the next 20 years in India?
Susan A. Maraghy (Maraghy): Our focus is on addressing the complex challenges of the region rather than on individual countries. Earlier this year, we created Lockheed Martin International, a new business organisation designed to simplify customers' access to the broad range of products and solutions, literally from the depths of the ocean to the far reaches of space.
We are closely partnered with the US Department of Defense and are intent on properly balancing our efforts and presence with global challenges and business opportunities. As the US and its allies take an increased interest in the Asia-Pacific region, Lockheed Martin is available to assist with its maritime products, energy and cyber security solutions, and a full range of aeronautics and citizens' services.
We highly value our partnership with India and have been in the country for more than 20 years. We recently named a new Chief Executive for India, Phil Shaw, and are thrilled that he will be the steward of our strategy here. He will provide our customers with quick access to Lockheed Martin and its products.
SP's: Is the US economy recovering sufficiently? There were cost cuts, but are things opening up?
Maraghy: The US economy is recovering and is on a growth trajectory in many sectors. Like most countries, the US has faced some significant economic challenges and there are still some very difficult decisions to be made by our government leaders. We believe the current sequestration is not the right solution and are offering other ideas to help approach the budget problems. We also are very aware of the need to be good stewards of our customers' investments and we put great effort into cost reduction for our products. We want our customers to find Lockheed Martin products to be innovative but also affordable and I'm confident we're succeeding on that front.
SP's: The unmanned aerial systems (UAS) market is growing and the US has an edge along with Israel. How is the money to be shared between the F-35 and UAS?
Maraghy: One of our unique strengths is our ability to share best practices across our business areas and integrate them to benefit multiple products. The F-35 is an unrivalled machine that demands the world's best design, engineering and production expertise. We've pushed the envelope in a number of areas with the F-35 programme and that's benefiting our other products with the advances we've made.
The F-35 will be the world's dominant fighter aircraft for decades to come; we expect it to be in operation for more than 40 years. We also are continuing with the research and development of unmanned vehicles, whether they are for air, land or subsea. We recognise the future includes a mixture of manned, unmanned and optionally manned vehicles and carefully balance the costs of research and development for the various types of vehicles.
SP's What is your next stake for the Indian Air Force?
Maraghy: Our C-130J aircraft is highly versatile and is a reliable workhorse for countries around the world. The IAF placed an order for six C-130J transports for special operations in January 2008. The first of these aircraft was delivered ahead of schedule on December 16, 2010, and was inducted into IAF service with the 77 Squadron at Air Force Station Hindon on February 5, 2011. Lockheed Martin also provided turnkey infrastructure for these aircraft at Air Force Station Hindon, in less than 24 months, to meet the aircraft induction requirement ahead of schedule. The Indian Ministry of Defence (MoD) is considering its option to procure an additional six aircraft. We believe the aircraft also is a perfect fit to meet the needs of the Indian Navy and, potentially, the Indian Coast Guard.
SP's: Are you talking to anyone in India, other than the defence PSUs regarding development of precision weapons, subsystems, avionics, etc?
Maraghy: We are aggressively exploring opportunities to develop joint ventures (JV) with small and medium enterprises in India. Our approach internationally is one of persistent presence, partnership and investment in the countries and communities where our employees live and work. We highly value our network of partner companies and are pleased to already have a joint venture with Tata Advanced Systems Limited (TASL) to manufacture parts for C-130s worldwide.
We also are partnered with Fly Wings Aviation, Mumbai. We were very pleased by the DGCA's recent approval of partner Flight Simulation Technique Centre Pvt Ltd (FSTC) as a Type Rating Training Organisation (TRTO) for the Airbus 320 and Boeing 737 NG family of airplanes. FSTC is a joint venture company with Fly Wings Aviation and SIM Industries BV, Netherlands, which is a Lockheed Martin company.
SP's: What is the percentage of overall business you have outside the US?
Maraghy: International business accounted for about 17 per cent, or roughly $8 billion, of our total revenue in 2012. Our strategy for international growth has us growing the international portion of our overall revenue to 20 per cent or greater in the next two to three years.
SP's: Which are the sectors you are looking at in the South Asian region other than defence?
Maraghy: Our offering of products to customers begins with an in-depth understanding of their challenges and requirements. Our portfolio of products is incredibly broad and diverse and includes solutions that are not strictly defence related. For example, our cyber security solutions help to bolster countries' cyber defence and protect their critical data and systems. Another area that is very important is governmental operational efficiency—IT outsourcing and business management.
SP's What are the future technologies and the partnerships you are looking at?
Maraghy: Innovation propels our company. We create innovative solutions to meet the world's most complex challenges so the types of partnerships we seek are with companies that can join in that effort. We routinely seek partnerships with companies that have specialised research, unique business models, or manufacturing expertise. The future technologies are varied across the areas of our company, but in every case, their development rests on creating solutions to difficult challenges.
SP's: Does the depreciation of rupee affect business in India?
Maraghy: We don't look at it from the economic perspective. We look at the mission first and see whether our solutions align with our customer's mission or the government's budget. This approach is not dependent on the value of the dollar or the rupee.
SP's: There has been a belief that the technology India is getting from the US is old and not first-hand. What is your view?
Maraghy: India is getting first-hand technology with the C-130. The USG/GoI Defence Trade Initiative is a significant positive step to help ensure it is understood that India does get top-level technology. It's important to note that the original equipment manufacturers (OEMs), like Lockheed Martin, do not control the export control mechanisms. Ultimately, the Government of India (GoI), the IAF, and others who seek imported products must identify the technology they want so it can be processed for export. If India is interested in a certain technology, we can help by working with the US Government as it evaluates the technology for export.
SP's: What are the businesses you are looking at in ASEAN countries?
Maraghy: We approach ASEAN as we do India and other international markets: we base opportunities on the country's interests. Some current areas of interest in the region are cyber security, maritime domain awareness, air surveillance, maritime patrol and airborne early warning and control (AEW&C). Some countries, including Indonesia, Malaysia, Thailand and others, also seek to modernise their air defence radars and systems. It's important to note that we partner closely with the US Government and explore opportunities with its cooperation and through its defence strategic framework.
SP's: How do you view India's decision to allow foreign direct investment (FDI) above 26 per cent in defence production on a case-to-case basis?
Maraghy: We are encouraged by the GoI's decision on FDI. We believe the decision will help to aid growth of the industrial base and create more opportunities for our partners and us.
SP's: Lockheed Martin has made its presence felt in corporate social responsibility (CSR). Is this your global practice of 'winning friends'?
Maraghy: CSR is very important to us. For the last six years, we have been involved in the Department of Science and Technology (DST)-Lockheed Martin India Innovation Growth Programme, wherein our core engineering and development team has developed a relationship with the Indian Institute of Technology (IIT), Federation of Indian Chambers of Commerce and Industry (FICCI) and the University of Texas and Stanford University. We think that the model serves the community and gives access to interesting technologies.
SP's: As the leading global defence and aerospace manufacturer, what would be your suggestions to the Indian private sector?
Maraghy: Be focused, have a vision, invest in people and provide the best technology. In every partnership, communicate well and stay focused on moving forward towards the shared goals.