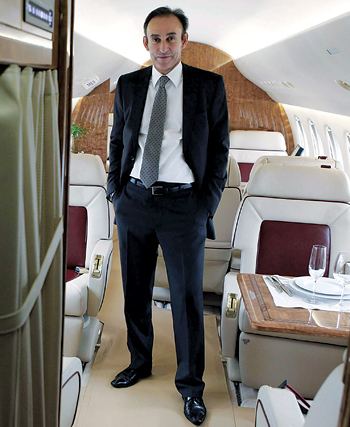 SP's Aviation (SP's): What are the unique features of Falcon 2000S?
Gilles Gautier (GC): The Falcon 2000S offers handling and airport performance, lower operating costs and a sticker price equivalent to a smaller, super mid-sized jet but with the large cabin comfort of a Falcon 2000.
SP's: How would you compare the 2000S with the 7X?
GG: The 3,350 nm Falcon 2000S is our new entry level Falcon, based on the proven Falcon 2000 twin-jet platform, launched in the mid 1990s. More than 500 Falcon 2000 jets have been delivered to date, making it the most popular aircraft in its class.
The long range 5,950 nm 7X is a tri-jet and Dassault's top-of-theline aircraft. It features a brand new wing and a digital flight control system – the first ever installed on a purpose-built Business Jet. Some 200 7Xs have been delivered since its certification in 2007.
SP's: Can you tell us what kind of price tag the 2000S comes with?
GG: The list price is $26 million for a fully equipped aircraft featuring interiors by BMW Designworks USA.
SP's: Who is the lucky Indian customer that will operate the new aircraft ?
GG: Our policy is to refrain from disclosing the names of our operators.
Specifications
Maximum number of passengers
8-10
Maximum range
3,350 nm
Maximum operating speed VMO
370/350 kias
Maximum operating Mach MMO
M .862 / M .85
Maximum operating altitude
47,000 ft
External dimensions
Length
66.33 ft
Height
23.17 ft
Wing span
70.17 ft
Internal dimensions
Cabin length
(excluding cockpit and baggage)
26.17 ft
Maximum headroom
74.00 in
Maximum width
92.00 in
Cabin volume
(excluding cockpit and baggage)
1,024.00 cu ft
Weights
Maximum takeoff weight
41,000 lb
Maximum zero fuel weight
29,700 lb
Maximum fuel
14,600 lb
Maximum landing weight
39,300 lb
Engines
Manufacturer
P&W Canada
Nbr/Type
2 x PW308C
SL-ISA Thrust
7,000 lb
SP's: How is the Falcon 2000S fairing in other markets? Which is the most promising market at this point of time?
GG: Ten Falcon 2000Ss have been delivered since its certification last March. The airplane is selling well all around the globe.
SP's: As one of the key OEMs, does the issue of pilot training concern you? Can you suggest remedies?
GG: Pilot training and safety have been at the centre of the Falcon design since the first Falcon flew 50 years ago. The EASy cockpit that equips all our new model aircraft was conceived to optimise pilot performance by simplifying flight management tasks, improving crew coordination and providing unsurpassed situational awareness. And through partner companies, we offer state-of-the-art training that ensures pilots are fully equipped to fly our aircraft at all times.
SP's: Can you indicate the maximum speed, attitude and non-stop range of the Falcon 2000S?
GG: At Mach 0.80, the Falcon 2000S can fly 3,350 nm non-stop with six passengers and can climb direct to 41,000 feet in 19 minutes. Typical city pairs include Mumbai-Singapore and Delhi-Beijing. The aircraft is equipped with winglets and full inboard slats that permit it to land and takeoff at steep angles and low speed even at high altitude and under high temperature conditions. It needs just 2,315 feet of runway to land – better than any super midsize jet and even comparable to some turboprop aircraft.
SP's: What is so special about EASy II avionics?
GC: The EASy II suite provides a number of new standard options, including a Synthetic Vision System, XM weather, dual Jeppesen charts, Runway Awareness and Advisory System and ADS-B out features and WAAS and EGNOS LPV approach capability. EASy II also offers improved display symbology and important flight management system enhancements.
SP's: What kind of sales and delivery figures do you foresee for the Falcon 2000S in India over the next 10 to 15 years?
GG: Owing to the poor global economy, fluctuation of the Indian Rupee and inflation, Falcon sales in the Indian region have not met our expectations in recent years. However, the future of both, the Indian market and Business Aviation in general look very promising. We believe that sales will pick up in the years ahead, reinforcing our leadership position in the country. We have made large investments in our customer service infrastructure so that we will be ready for this anticipated growth in aircraft sales.
SP's: How about after sales support and maintenance solutions – are you also expanding your network on this front?
GG: Dassault has established a comprehensive customer service network in India, including two authorised service centres in Mumbai; service centres in Delhi and Hyderabad; spares depots in Mumbai and Chennai and a liaison office in Delhi that provides dedicated support for both Falcon and Mirage 2000 fighter aircraft. There is also a technical office in Mumbai. Further afield, Dassault has customer service centres in Singapore, Shanghai and Dubai and a global network of nearly 50 facilities around the globe.