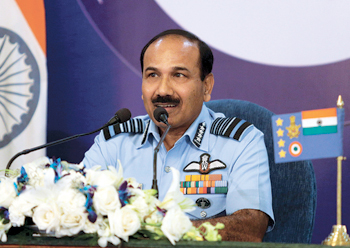 The Indian Air Force Chief (IAF) Arup Raha addresses a press conference on the upcoming Air Force Day celebration in New Delhi
This Air Force Day will see the debut of LCA Tejas and Red Arrows in the flight display, apart from the other machines adorning the sky
The Chief of the Air Staff (CAS) describes Rafale as exceptional
Jaguar upgrade in fast lane
Addressing a press conference in New Delhi, Air Chief Marshal Arup Raha, CAS and Chairman Chiefs of Staff Committee, was quite upbeat on the upgrades. He said: "Upgradation of Jaguar fighter aircraft have picked up speed. The existing engine is under power and the upgradation with Honeywell engine will render a new lease of life. We intend to use these for next two decades." Mirage 2000 and MiG-29 upgrades are already taking place.
The CAS said, "Any air force will be proud to have an aircraft such as Rafale. This medium-range fighter has exceptional features and capabilities with its weapons capability, air-to-air missiles, beyond visual range, air-to-ground, its avionics, and electronic warfare suite, it is one of the leading aircraft of the current generation." As for inducting more Rafale jets into the IAF, he said, "The decision will be taken in near future. We wish to have a thorough mix of the fighters, we have large – Sukhoi 30, medium – Rafael and light – Tejas, replacing the legacy MiG-21. IAF has finalised an order of 36 Rafale jets from France and plans to induct 106 Tejas including the upgraded version." The €7.9 billion ( Rs. 58,000 crore) deal for 36 Rafale jets was signed on September 23, 2016. The new planes will provide the IAF with enhanced air defence and strike capability.
On the Sukhoi/HAL fifth-generation fighter aircraft (FGFA) being developed jointly by India and Russia, he said, "IGA (intergovernment agreement) has been signed with the mission side for the production. FGFA has fifth-generation technology, including stealth, super-cruise, advanced sensors, networking and combat avionics. There were some anomalies in the documentation and costs, all issues are being discussed at the R&D stage. There is a lot of clarity and we are progressing well."
Answering a question on the integration of BrahMos missiles with the Su-30MKI, the CAS said, "We hope to fire a live missile in three to five months."
He also spoke about offers that India has received from Boeing, Saab and Lockheed Martin to manufacture fighter aircraft in India and said the company which offers the best deal will be selected. The IAF will be looking for a production line with a proper transfer of technology, enabling India to become a hub for manufacturing and MRO as well as offering capability and services to the other air forces.
The CAS said he hoped the government would resolve the issues related to the Seventh Pay Commission very soon.
He refused to answer any questions on the recent surgical strikes across the line of control saying it was an "operation sensitive issue". He parted with saying, "Our capability is not country specific, the capability is to deter any adversity. The armed forces are ready to deal with any challenge." The CAS said it would have been better if the IAF's wish list was rewarded.