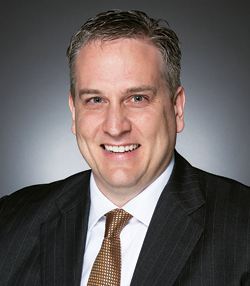 There is excitement in the air in India, thanks to the many government initiatives. The National Civil Aviation Policy and the proposed Regional Connectivity Scheme are going to prop up the aviation sector in an unprecedented manner, if not in the near term but medium term for sure. The creation of airport infrastructure across the country is going to have widespread benefits, touching all segments of aviation. The general aviation/business aviation segment sees new opportunities opening up in India and the original equipment manufacturers (OEMs) are positioning themselves to benefit from this. In the forefront is Gulfstream for which India is a 'consistent' market. Explaining this in an interview to SP's Aviation is Jason Akovenko, Regional Vice President (Asia-Pacific), Gulfstream Aerospace.

SP's Aviation (SP's): The recent policy announcements by the Indian Government with emphasis on enhancing 'regional and remote area connectivity' is expected to boost business aircraft movement. Can we expect a spurt of business aircraft activity in the short and medium term?
Jason Akovenko (Jason): We believe that in the long-term private aviation will benefit from the recent changes to the country's civil aviation policy. The changes, which include eliminating the 5/20 rule in favour of the 0/20 rule and reviving older airstrips and airports, will contribute to the country's overall aviation growth and support increased economic growth. This, in turn, should increase the aviation infrastructure and resources within the country, which would benefit not just commercial aviation but general/private aviation as well.
We do not anticipate that these changes will have an immediate effect on business aviation; however, as the number of airline passengers within India grows, so too will the appeal of private aviation, which eliminates many of the challenges commercial travellers experience, including long security lines, rigid schedules and a complicated and lengthy baggage collection process. Likewise, as Indian businesses continue to expand globally, the competitive advantages of business and private aviation will become increasingly apparent in the success of those Indian companies that have pioneered the use of aircraft in their operations.
SP's: In such a scenario, where business aircraft can be deployed under the Regional Connectivity Scheme, is there any strategy of Gulfstream to help operators address this market, develop this market?
Jason: Gulfstream will continue to focus on its core business of making state-of-the-art aircraft available to end-users, most of whom are public, private and Fortune 500 companies but also to individuals whose businesses necessitate reliabile and efficient on-demand transportation. While charter and fractional services are a small portion of our overall customer base, they are growing and we could see additional opportunities in this area as a result of the regional connectivity plan.
"BOTH INDIA AND CHINA ARE INFLUENTIAL PLAYERS IN THE WORLDWIDE ECONOMY, AND THE NEED FOR PRIVATE AVIATION BECOMES EVER SO IMPORTANT TO ENHANCE BUSINESS EFFICIENCY AND INCREASED PRODUCTIVITY."
SP's: What is your current market share in India and in which category (small, medium or large) do you command market leadership?
Jason: Over the past several decades, Gulfstream has established itself as the pre-eminent worldwide brand in private and business aviation with products that were traditionally in the large-cabin category. We expanded into the mid-size category in 2001 through product line additions. In every market space in which we compete, Gulfstream brings a premium product and superior service. Buyers have responded positively to this by granting us a leading position. Now, as always, every team member at Gulfstream is focused every day on our customers in order to maintain that leadership.
SP's: How do you perceive the market for in the Asia-Pacific region to be in the next 20 years with specific reference to India and China?
Jason: Asia-Pacific is Gulfstream's largest international market, with 11 per cent of Gulfstream's more than 2,500 worldwide fleet of aircraft based there. Both China and India have been consistent markets for Gulfstream. The company looks to these countries for sustained long-term growth because of their expanding economies, business interests and renewed confidence by business leaders. Both India and China are influential players in the worldwide economy, and the need for private aviation becomes ever so important to enhance business efficiency and increased productivity.
SP's: Can you elaborate on the differences between G600 and G650 and when is the former going to have its first flight?
Jason: The Gulfstream G500 and G600 share some similarities with the Gulfstream G650, specifically, the windows (size and location), the cabin altitude and the top speed of Mach 0.925. In the case of the G600, the cabin living area length is the same as the G650, as well. In terms of differences among the three, the G500 and G600 have a different wing, tail, fuselage, engine and avionics from the G650.
The G600 is slated to have its first flight later this year or early next year.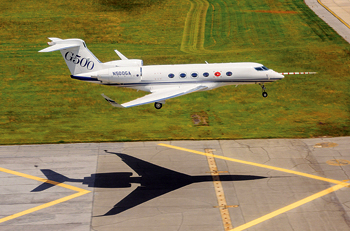 OPTIMAL BALANCE OF SPEED, MANOEUVRABILITY AND COMFORT: G500 – the first to be outfitted with a full interior – recently had its first flight, taking to the sky for 4 hours and 5 minutes
SP's: The mid-cabin market seems to have been hit where your products G150 and G280 are, understandably, positioned. What has been the marketing strategy for this segment?
Jason: We continue to focus on the strengths of these aircraft. The G280, for example, offers large-cabin features in a super mid-size package (and price point). These features include excellent range, a vacuum lavatory, auto throttles, auto braking and enhanced vision. In addition to having best-in-class fuel efficiency, the G280 is also the only super mid-sized aircraft capable of flying from London to New York at any time during the year. It can also travel from Mumbai to Moscow non-stop at Mach 0.80.
SP's: Which type of aircraft that Gulfstream is currently focused on and why?
Jason: We are focused on our full range of aircraft, because each one offers a unique performance and price point for our customers.
"GULFSTREAM CONTINUES TO MAINTAIN THE LARGEST COMPANY-OWNED PRODUCT SUPPORT NETWORK FOR BUSINESS JETS, WITH APPROXIMATELY 4,000 PROFESSIONALS OPERATING A 24-HOUR-PER-DAY/365-DAY-A-YEAR CUSTOMER CONTACT CENTRE, A REPAIR CENTRE EXCLUSIVELY FOR COMPONENTS, AND 11 COMPANY-OWNED SERVICE CENTRES WORLDWIDE WITH A COMBINED AREA OF MORE THAN 5 MILLION SQUARE FEET."
That said, the flight test programme for the Gulfstream G500 and the development programme for the G600 are extremely important to us. The first G500 production aircraft – the first to be outfitted with a full interior – recently had its first flight, taking to the sky for 4 hours and 5 minutes. The aircraft is testing the complete passenger experience for form, fit, function, noise and comfort, as well as the passenger interface with various cabin elements. Tests will include repetitive operations of all systems during many different phases of flight. The test aircraft will also be taken through a variety of missions, including overnight trips, hot and cold weather scenarios and turbulence. Overall, the G500 flight test programme has accomplished more than 1,300 hours of testing on more than 320 flights.
The G600 flight test aircraft are in production, with the first flight test article being turned over to flight test for instrumentation. Laboratory testing for both programmes has surpassed a cumulative 50,000 hours, with the G600 integration test facility and iron bird now operational.
SP's: What are the significant efforts being undertaken by Gulfstream in the use of biofuels or alternative fuels?
Jason: In 2015, Gulfstream established a three-year agreement with its fuel supplier, World Fuel Services, for a consistent supply of renewable fuels for daily flight operations in Savannah. The fuel, produced by AltAir, is a blend of low-carbon, drop-in renewable fuel and Jet-A. It provides the same performance as conventional, petroleum-based jet fuel and does not require any changes to factory-standard engines or aircraft. Each gallon of renewable fuel burned is expected to achieve a more than 50 per cent reduction in greenhouse gas emissions compared to petroleum-based jet fuel, on a life-cycle basis.
Our Savannah-based demonstration aircraft, the G500 test fleet and our Airborne Product Support aircraft have all flown on the renewable fuel blend.
SP's: If we speak about return on investment (ROI), how would you advocate your aircraft on this front for your potential clients?
Jason: Gulfstream aircraft are time machines, providing safe, reliable, flexible transportation anywhere in the world. In fact, flying at Mach 0.90 vs. Mach 0.80 saves passengers more than 50 hours of time annually. Now, add in the time you don't have to spend waiting in long security lines, or waiting to pick up your luggage, or waiting for the designated time that the aircraft is scheduled to depart and you'll see how significant the time savings can be. In a world where time is of the essence, Gulfstream aircraft are essential.
SP's: What kind of after-sales support network is being ensured by Gulfstream these days? Can you elaborate on the same?
Jason: Gulfstream continues to maintain the largest company-owned product support network for business jets, with approximately 4,000 professionals operating a 24-hour-per-day/365-day-a-year Customer Contact Centre, a repair centre exclusively for components, and 11 company-owned service centres worldwide with a combined area of more than 5 million square feet. In concert with business aviation services companies such as Jet Aviation and ExecuJet, Gulfstream has more than 20 factory-authorised service centres and authorised warranty facilities on six continents, including Air Works in India. Gulfstream also has more than $1.6 billion worth of parts and materials available through distribution points around the world. Its team of more than 50 field service representatives – including a dedicated field service representative in India – provides technical support to operators and serves as their liaison to Gulfstream at strategic locations worldwide.
SP's: Which aircraft is the best-selling aircraft in the world from the kitty of Gulfstream? And why?
Jason: Throughout 2015, Gulfstream received orders for all in-production aircraft. In fact, there were more orders for in-production aircraft in 2015 than there were in 2014. That said, we have seen particularly strong demand for the Gulfstream G650 and G650ER, which offer unsurpassed speed and range.
SP's: There is the usual perception in the government that the business aircraft is a rich man's toy not just here but also in the US which is the largest business aircraft market in the world. This factor clearly reflects on the slogan being pushed by NBAA (National Business Aviation Association) which is: "No Plane, No Gain". How do you at Gulfstream perceive this?
Jason: Gulfstream has always viewed its aircraft as vital business tools. In fact, the majority of Gulfstream customers are publicly/privately held and Fortune 500 companies, because their needs align with the capabilities business aviation provides: safe, reliable, flexible transportation almost anywhere in the world. So, we fully support the efforts of the NBAA to promote the strategic value of business aviation.