It has set a scorching pace, having produced and delivered the world's largest fleet of jet engines in the single-aisle market. To stay ahead of the growth curve, the company has modernised and expanded production facilities to ramp-up production of the new LEAP engine.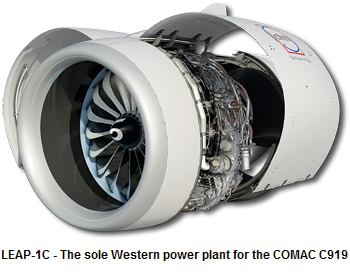 At this year's Farnborough International Airshow, CFM International set industry records when it announced orders, commitments and long-term service agreements for a total of 565 engines with a value of $8.2 billion. What does this mean? It simply means that globally airlines are placing their trust in CFM engines, engines that are benchmarks in technological advancements; engines that are highly fuel efficient; engines that are solid performers and engines that are reliable.
Euphoric about the confidence customers had placed in CFM engines, Jean-Paul Ebanga, the President and CEO of CFM International, said: "Our customers and their operations are always at the forefront of everything we do, from the technology we incorporate into our engines to the way we support the fleet. And we could not be more honoured by the confidence they continue to show in our products. We have just produced our 30,000th CFM56 engine and still have a backlog of more than 2,900 to be delivered. For our LEAP product line, it is incredible to realise that we have sold more than 11,100 engines even before we have delivered one to our first customer. This level of trust is humbling for us and we strive every day, by word and by deed, to earn it.
Three pillars
Ebanga has said that the company has been working for four years on the three pillars of the LEAP programme: right product, right supply chain and having the right product support. "We decided to do all this work in-house and to build new factories in New Hampshire and France to make all the major parts as part of our risk mitigation mindset. At peak rates of production we'll be making 1,700 engines per year; that's 36,000 fan blades."
Post the Farnborough Airshow, CFM had logged orders and commitments for 11,500 LEAP engines (all models). Not for nothing, CFM nternational, a 50/50 joint company between GE and Safran Aircraft Engines, is the world's leading supplier of commercial aircraft engines, having delivered over 30,000 CFM56 engines to 550 operators around the globe.
It has set a scorching pace, having produced and delivered the world's largest fleet of jet engines in the single-aisle market. To stay ahead of the growth curve, the company has modernised and expanded production facilities to ramp-up production of the new LEAP engine. The partners, GE and Safran, have invested heavily in new manufacturing capabilities at the plants in US and France, making a combined capital investment of over $1 billion.
New technologies
These investments are to ensure technological advancements benefit the air travel sector on many counts – efficiency, environment-friendly, fuel conservation and above all extended life. There is a concerted move to make air travel cleaner and quieter and CFM is not leaving any stone unturned to make this happen. As the producer of the world's most best-selling engine, CFM has invested in and introduced new technologies into mature fleets, helping customers improve fuel efficiency, reduce impact on the environment and reduce life-cycle costs. The newest LEAP (leading edge aviation propulsion) engine meets today's environmental expectations, delivering a 15 per cent fuel improvement, 50 per cent lower NOx emissions and a 75 per cent reduction in noise versus today's aircraft. CFM has estimated that a LEAP engine can save an airline as much as $1.6 million in fuel costs per plane per year, that is huge when fuel costs account for anywhere between 30 and 40 per cent of operational costs.
LEAP features
A lot has gone behind the engine which has a high bypass ratio (for optimum propulsive efficiency); high tech compressor (for optimum thermal efficiency); 3D carbon fibre composites (lightweight and increased durability); debris rejection system (airfoil protection against erosion); new generation combustor (lean burn, low temperature) and other features. The LEAP engine is built for 99.98 per cent dispatch reliability which means more time in the air and less maintenance time, a feature airlines are always looking at.
The LEAP engine features are revolutionary with secondgeneration Twin-Annular, Pre-Mixing Swirler Combustor (TAPS II). TAPS II reduces NOx emissions by 50 per cent versus CAEP/6 standards. Unlike traditional combustors that mix fuel and air inside the combustion chamber, the LEAP nozzle pre-mixes these elements to provide lean burn combustion. As regards 3D printing, the LEAP is the first engine to use additive manufacturing to "grow" complex, fully dense yet lighter engines. Its fuel nozzles are 25 per cent lighter than previous models and five times more durable than parts manufactured conventionally.
The LEAP engine's fan blades are manufactured from 3D woven RTM (resin transfer molding) carbon fibre composite, an industry first for CFM. This technology results in fan blades that are not only lightweight but so durable that each individual blade is strong enough to support the weight of a wide-body airplane like the Airbus A350 or Boeing 787.
Pushing beyond limits
CFM engineers have not only been pushing themselves to limits but also the engines. During the test phase of the LEAP programme and on its way to engine certification, CFM has invested hugely in terms of money and time to meet the performance and reliability expectations made to its customers. A total of 60 LEAP engines were built to execute the most extensive ground and flight test certification programme in the company's history. The LEAP-1A and LEAP-1B engines have been jointly certified by EASA (European Aviation Safety Agency) and FAA (Federal Aviation Administration) of the US.
The LEAP-1A engine entered commercial service on August 2, 2016. A total of 10 aircraft have been delivered to date and the in-service fleet has logged nearly 3,000 flights to date. The LEAP-1A powers the Airbus A319neo, A320neo and the A321neo aircraft. The engine is delivering the promised 15 per cent improvement in fuel efficiency, along with an equivalent reduction in CO2 emissions; a 50 per cent margin to new emissions regulations; a dramatically lower noise signature; and CFM's industry-leading reliability and low overall operating costs.
The LEAP-1B engine is the sole powerplant for the Boeing 737 MAX family, The LEAP-1C powers the COMAC C919 from China. According to media reports, the engines powered up for the first time on the C919 prototype (serial number 10001) on November 9 this year. CFM International is the exclusive supplier to the Chinese aircraft which is expected to have its inaugural flight by the year end or early 2017.
World's best selling jet engine—CFM56
It is the world's best selling jet engine. It has set the standard for single-aisle commercial jet engines. And this has not happened overnight, it has built the high performing engine over four decades of experience and technological excellence. Having delivered over 30,000 CFM56 engines, the programme is still going strong. It has reached record production rates and production will continue until all current aircraft orders are filled. GE and Safran Aircraft engines will continue to provide spare engines and parts, and comprehensive through-life support during the CFM56's remaining service lifetime of over 30 years.
In June this year, CFM56 fleet became the first high bypass turbofan engine family in history to achieve over 800 million engine flight hours in service. The CFM56 fleet is logging one million flight hours every eight days and at any given moment, there are over 2,400 CFM56-powered aircraft in the air. At this rate, the CFM56 family will achieve one billion flight hours by the year 2020. For the year 2016 up to June it had logged further orders for 700 engines.
The CFM56-5B has been the engine of choice for the A320 family, having been selected to power nearly 60 per cent of the aircraft ordered. Today, it is the only engine that can power every model of the A320 family with one bill of materials. The engine's broad-based market acceptance has been because of its simple, rugged architecture, which gives it the highest reliability, durability and reparability in its class.
Similarly, the CFM56-7B is the exclusive engine for the Boeing Next-Generation single-aisle airliner. In total, over 8,000 CFM56-7B engines are in service on 737 aircraft, making it the most popular engine-aircraft combination in commercial aviation.