The cultural shift is required amongst all stakeholders of the industry, in fact some amount of shift is also required in how the nation perceives "air travel"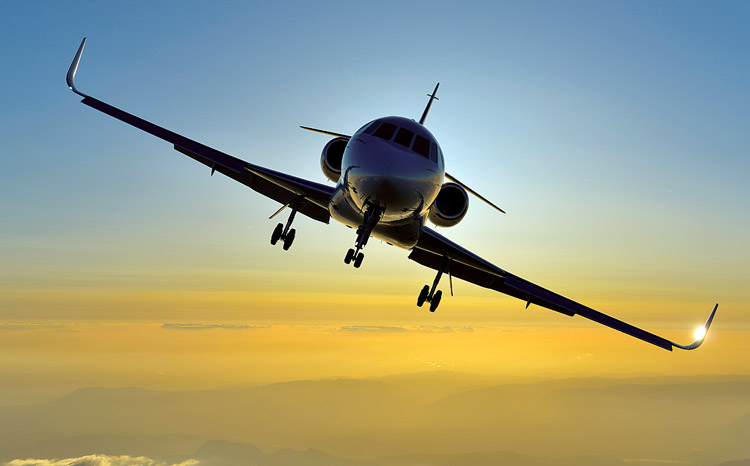 There are vibes of change. The Ministry of Civil Aviation has envisioned an ambitious expansion plan by way of charting a new National Civil Aviation Policy (NCAP) and Regional Connectivity Scheme (RCS). The initial reception of the plan has been of excitement, with many predicting the recurrence of an aviation boom. Amongst all the enthusiasm lie doubts of whether this scope of expansion is actually sustainable. Harmonious growth makes ideas happen, but lack of it can be the undoing of any great idea. Unless the environment of the industry is readied in such a fashion, implementation will be threatened. While some may term this uncertainty as scepticism, there are many pertinent questions that throw light on how realistically well received the industry is for this expansion.
Expansion Envisaged. According to NCAP, the government envisions 30 crore domestic ticketing by 2022 and 50 crore by 2027, with international ticketing to increase to 20 crore. It also estimates cargo volumes to increase to 10 million tonnes by 2027. It aims to improve connectivity through RCS. The projection for 2020 is to have about 500 brownfield and greenfield airports.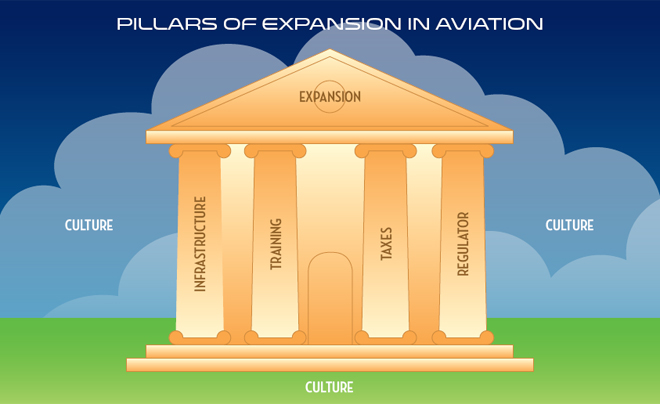 The Pragmatic Questions. With such a large scope of expansion being envisioned, it is only natural to wonder if as a nation we have stepped our foot on the accelerator a little too soon without first changing the environment needed to absorb this change. There are many questions at the top of everyone's mind. Some of them are:
Whether this expansion will threaten to impose an even longer processing time than what the industry currently painfully endures. Approvals for training, CAP 3100, FATA (Foreign Aircrew Temporary Authorisation) security clearance, all already have few months long lag-times, leading to financial losses due to delays. Will these delays, increase further?
An increase in connectivity through RCS, while great for catering to increased passenger traffic, will invariably overload the exceptionally busy airspaces. Delhi and Mumbai airports have at present a routine holding of up to 20 minutes. Are we to expect longer holds over Delhi and Mumbai?
The policy talks of encouraging development of airports, however no proposal has been made for the protection of operator interests within the monopoly of private or public-private partnership airports. Fixed base operators (FBO) have monopolised space in the Delhi International Airport Limited and the Mumbai International Airport Limited, forcing Business and General Aviation aircraft to either switch to the higher priced FBO for maintenance or move out and carry out maintenance at other airports, will the Business and General Aviation aircraft be totally shifted out of Delhi and Mumbai airports?
And last but not the least, with profit margins being cut even finer in the competitive market, will the huge shortfall of trained manpower lead to inflated salaries?
Infrastructure, training, taxes and regulator being the four major stimulants to the expansion, there are glimpses of addressing these four pillars of change in the NCAP. Few suggestions on how to figuratively plough the field and ready it for sowing can be accessed at page 5 of the article titled "From 10 to 180: The RCS Canvas across 2026" (published in BizAvIndia magazine issue 3, 2016). The recommendations with respect to each of the above pillars are summarised in a box. However, this article focuses on the cultural aspects of the environmental change that is required to promote this expansion. The cultural shift will help improve standards of service and ease of doing business, which are collectively the single most important hurdle in the path to expansion. Once there is a cultural shift, all four pillars can be easily addressed and in fact will cause all recommendations given to naturally fall into place.
CULTURAL SHIFT NECESSARY TO ABSORB THE EXPANSION
The cultural shift is required amongst all stakeholders of the industry, in fact some amount of shift is also required in how the nation perceives "air travel". If the expansion is initiated while retaining the present cultural outlook of the stakeholders, then there is good reason for further scepticism. The following list elucidates the inherent dichotomy in the intentions versus the current ideologies under which the various stakeholders, especially the regulators, function.
Grounding of Aircraft. There is a prevailing lack of empathy towards aircraft being grounded. The Directorate General of Civil Aviation (DGCA), in an excuse of maintaining standards, have not shown sensitivity towards their role in financial losses incurred by fully serviceable aircraft being grounded due to want of paperwork. The desperation of operators and the skewed, top-heavy bureaucratic system has continued to harbour favouritism, nepotism and other ills of poor governance.
Summary of Recommendations
Additional VG F support, 50 per cent to 10-19 seater aircraft, 25 per cent to 40 seater aircraft.
Underwriting of seats by state governments.
Enhance capacity of small aircraft and permit single pilot operations in single engine commercial aircraft.
Government to offer loans at low rates of interest and ease foreign leasing norms.
Remove disparity within three categories of commercial air transport operators.
Facilitate opening of private training institutes.
Utilise retired defence aviation professionals to address shortage of technical manpower.
Inter-ministerial council in the ministry to process cases for approvals by other ministries.
Rules and procedures to be made; simple, encouraging and implementable.
Quick implementation of GAGAN.
Simple and liberal tax regime.
Institutionalised Interaction with all stakeholders.
Follow World Standard Practices and avoid imposing additional restrictions.
Early implementation of eGCA System.
Review of standards of service and strict implementation.
Outsourcing work.
Decentralising authority.
Follow the principle: Keep aircraft in the air.
'Keeping the aircraft in the air' mantra needs to be adopted. This requires a shift in the mindset, wherein the regulator empathises with the operator and collectively they view an aircraft sitting on ground as a loss of national revenue. There should be no compromise in this philosophy and the regulator needs to take accountability for any delays incurred from their end.
Poor Standards of Service in Obtaining Clearances. The system operates in its own labyrinth manner that is hard for anyone to negotiate as evidenced by the need to employ dedicated 'liaison' personnel whose only job is to understand, handle and continually follow up on the clearance process. As an example, the FATA clearance takes three months, security clearance six months, CAP 3100 six months, one-time approval 45 days, new airport approval two years.
Single-window Concept Should be Adopted. There should be no reason for dedicated liaison personnel let alone pilots or company employees to waste time lining up at DGCA every day to find out the status of their applications. A method should be constituted to set up a dedicated appointment where one-time discussions and briefings of inadequacies in the documents can be held, instead of being called multiple times along the document trail. A scrutiny cell consisting of representatives from all departments can best do this. Thereafter through eGCA or through SMS, the operators could be informed of the progress of their applications.
Centralisation of Authority. Spinning of files as a result of over analysis by multiple levels for decision-making leads to either the file getting lost or contributes to poor standards of service. There are many layers of 'analytics' through whom the documents go through for verification and checking, but despite being qualified, they do not have any executive power or 'decision making' authority. The lack of distribution of power, and hence its concentration to the very few people on top, leads to accountability only at the top and resultant delays due to 'work overload'.
Decentralisation and Delegation of Authority. There should be only two levels of approval to take a decision. Few powers could be considered for delegation from DG/JDG to CFOI/DDG/Director. Likewise, few powers could be delegated from CFOI/ DDG/ Directors to Dy CFOI/Dy Directors/ FOI. This would prevent heavy workloads all reaching only one-man's table. To improve efficiency, regulators at various levels need to be first given discretionary powers and then opportunities to execute them.
Over-regulated Regime. While the economic boom in 1994 has brought in a forward-step with more operators in the market, the rules on how to operate are aplenty. The idea that more stringent rules for the operator is the safer bet has put operators on a back-step, and prevented a more flexible growth. Post downgradation by FAA, few changes have been witnessed which did manage to enforce good quality of documentation, streamlined procedures and slightly improved the safety standards of operators. However, it also managed to increase grounding of aircraft, delay approvals and put the operators under additional stress. Repeated requests for changing regulations as per "world standard practices" have not been headed. Hence the industry has been forced to deal with the some of the most stringent rules, training requirements and restrictions in the world, all contributing to a retarded growth of the sector.
Deregulate. It is imperative that we pursue flight safety by simplifying rules into easily accessible checklists which can be effortlessly grasped by the industry. Thereafter, compliance needs to be ruthlessly enforced by having spot checks and exemplary punishments. The industry must appreciate that "breaking rules" will never help the cause of aviation and therefore stern but unbiased action by regulator against erring individuals and organisations would not only contribute to "flight safety" but also help us change the culture of "jugaad", "political pressures", and "favouritism".
Trust Deficit between Stakeholders. All the above, especially the lack of ease of transactions has induced a general trust deficit within the government and between government and the operators. Most of the existing culture described above is in fact borne out of this trust deficit. Lack of trust leads to centralisation of authority, both within the government (already covered above) as well as within the industry.
Outsource Work to the Industry. If the trust deficit between regulators and the industry is suitably addressed, a lot of work at DGCA can be outsourced. There are five major areas for outsourcing, viz:
Examiners for Flight Standardisation Department (already in vogue).
Medicals (already in vogue).
DAR/ DER for airworthiness inspections.
Evaluation agencies for audits or initial evaluation of applications especially for CAP 3100.
Civil aviation think tanks for policy / regulation making and review.
Likewise, government needs to encourage private players who wish to invest in infrastructure, training and building private airports. This will complement the efforts of the government and address the shortage in infrastructure and training requirements significantly, especially now when it is looking for a major expansion.
Turf War within the Ministries. The culture of protecting own's turf prevents wholesome development and progress. For instance, a RCS airport development can easily be stalled by either the Ministry of Defence, Home, Urban Development, etc who may not be as enthusiastic of an aviation boom because it does not effect their ministry's performance. As a result, we end up building castles in the air, because almost all such ambitious projects fail as a result of lack of support from other ministries and departments.
Cooperation/ Co-opted Organisations. Culture of cooperation, though difficult to achieve, can give fillip to the growth of aviation in the country. As an out of the box solution to infrastructure delays or delays in award of security or the Ministry of Defence clearances or for that matter delay in frequency clearances by the Ministry of Telecommunications or delay in cases projected to the Ministry of Finance, all sensitive and infrastructure related ministries should have an inter-ministerial window/council within their organisation whose functional accountability would be towards the ministry where they are posted and the administrative accountability would be to their parent ministry. In this regard, the ministries can learn from the defence forces who have cashed-in on some handsome dividends through such an arrangement.
NOW THAT A GRAND VISION HAS BEEN SEEN, A REFORM WILL FOLLOW ONLY IF AN ACTION PLAN IS MADE AND EXECUTED
Dissatisfaction amongst Regulators as a Result of Poor 'Terms of Employment'. In developed countries, a regulator or a government official is viewed with utmost awe and respect, mainly because of favourable and good terms of his employment with the government. An unhappy staff at the government's office is bound to provide fractured decisions with far-reaching ramifications for the industry. If we have to switch aviation growth to its "top gear", then we must create an environment where the regulators are happy with their working conditions and empowered to take action.
Empowering the Regulator and Creating Attractive Terms of Service. The initiative of establishing a Civil Aviation Authority lost steam and over the years it died down a natural death. A cultural shift in the government's control over DGCA is needed as explained further, in the following paras:
A careful review of DGCA's organisation with a healthy mix of technocrats and bureaucrats, who are given near autonomy to run the organisation, will arm the DGCA with the teeth needed to bring in the change. It needs to be further empowered with financial authority, hire and fire powers, freedom and executive powers to run the organisation with minimal interference.
A major reason for poor attitude of employees in DGCA is the gross mismatch in the industry, between salaries of pilots and engineers (endorsed on aircraft) on one side and the technocrats and bureaucrats (who hold the executive powers in DGCA) on the other. If you study this comparison in FAA and EASA, there is hardly any mismatch. We need to address this mismatch by narrowing the gap. The reason for high salaries of pilots and endorsed engineers (these salaries are comparable to US and UK) is deficiency of trained personnel. By keeping higher levels of training requirements than rest of the world, we are only adding fuel to the fire. Therefore, as a first step to bridge the gap, we need to create training infrastructure and make endorsements easier by further keeping our training standards at par with the rest of the world. Thereafter, the Central Government needs to sanction a technical allowance to those pilots and engineers or technocrats, who are employed in the executive branch of the government, as sanctioned for the pilots, engineers and doctors working in defence. Additional perks and privileges, facilities, good working conditions, good terms of service, welfare, insurance, pension, special amenities, etc. would further help.
Nation's Perception of Aviation as a Mode of Luxurious Travel. Other ministries and hence the nation views aviation, especially General and Business Aviation as a mode of luxurious travel or a superfluous entity. As a result, the industry is overtaxed, making it in competitive with rest of the world. There should be no reason for foreign airlines coming into India to pick indian passengers and flying to a third country. For any other ministry, this would be a matter of shame and reasons to introspect, but, perhaps the nation's perception of aviation as a mode of luxurious travel, or lack of understanding the enormous benefits of air travel, are responsible for this apathy towards the industry.
Change the Perception of the Nation towards Aviation. Just as the railway is responsible for industrialisation in the country, aviation is responsible for bringing economic supremacy. The associated growth in industrial towns or businesses due to charter flights and the lifeline that aircrafts provide during national calamities cannot be overstated. This sector needs to be given infrastructure status and thereby receive subsidies rather than being levied heavy taxes. An argument can be made for it to receive a greater importance than even the railways since two places that are 1,000 km apart would need 1,000 km of steel whereas aviation can do the same job with a few km long airstrips. For the growing middle class, air travel has ousted railways as their primary mode of travel. Nation needs to recognise this. The exercise of dis-spelling the falsity and educating all on how a healthy aviation industry (especially the General/ Business Aviation sector) is not a luxury but in turn reflects on a healthy economy needs to be undertaken by the ministry through the media and target the common man's perception about aviation.
CONCLUSION
"Vision without action is merely a dream. Action without vision just passes the time. Vision with action can change the world". Now that a grand vision has been seen, a reform will follow only if an action plan is made and executed. Only by adopting the measures above, the industry stands a chance towards seamless efficient execution. Immense foresight, identification of impediments to expansion and initiating a paradigm shift in the way aviation is approached is the way forward. A coordinated team effort is essential now more than ever, where the regulators and the operators work together and remain sensitive to each other's constraints in an effort to jointly reach mutually advantageous solutions. Open, inclusive and continual conversations need to be had, so that there is operator feedback at the ministerial level, and by doing so, a cultural environment needs to be created on ground to foster growth and ensure that airplanes spend the most time where they are meant to be – in the air!

—The writer is CEO of India Flysafe Aviation Limited and Vice President of BAOA