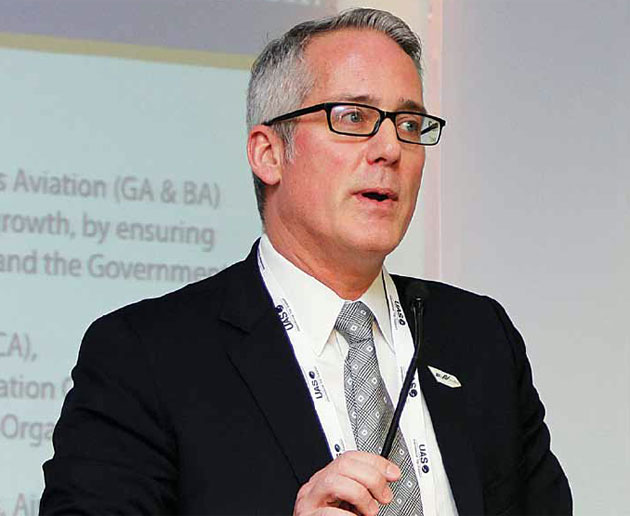 Kurt H. Edwards: Brief Profile
Kurt Edwards has been Director General of International Business Aviation Council since September 1, 2012. Edwards has substantial experience in international aviation issues. Previous to coming to IBAC, he served in high-level capacities with the International Affairs and Environment Offices of the US Federal Aviation Administration (FAA). He also led FAA outreach efforts while based in Brussels and Paris, as well as at ICAO on environmental matters.
The International Business aviation Council (IBAC), the global voice of business aviation since 1981, is based in Montreal, Canada. It is a non-profit organisation led by the Director general Kurt Edwards. IBAC provides a single powerful voice for business aviation.
As the global coordinating forum for regional and national business aviation associations, IBAC actively promotes the growth of business aviation, benefiting all sectors of the industry and all regions of the world. IBAC's activities are focused around three key drivers: representation; advocacy and Communications; and Promotion of Safety and Best Practices. as the official observer organisation for business aviation at the International Civil aviation organisation (ICAO), IBAC is a highly influential force in all ICAO forums that affect business aviation. Policy makers and media increasingly understand business aviation to be an important component of the international air transport system. IBAC plays a global role in communicating the benefits of business aviation. IBAC-developed International Standards, such as IS-Bao and IS-Bah, are the industry standards for business aviation safety, globally recognised as essential quality brands.
The 14-member organisations are Australian Business Aviation Association (ABAA); Associaçao Brasileira de Aviáçáo geral (ABAG); Asian Business Aviation Association (AsBAA): Business Aircraft Operators Association (BAOA); Canadian Business Aviation Association (CBAA); European Business Aviation Association (EBAA): German Business Aviation Association (GBAA); Italian Business Aviation Association (IBAA); Japan Business Aviation Association (JBAA); Middle East Business Aviation Association (MEBAA); National Business Aviation Association (NBAA) and Russian United Business Aviation Association (RUBAA).
IBAC also promotes and manages the industry-leading standards for safety and best practices — International Standard for Business Aircraft Operations (IS-BAO); International Standard for Business Aviation Handling (IS-BAH); Safety Management Tool Kit; SMS e-Learning training and The Aircrew Identification Card.
IBAC's first objective is to ensure that the needs and views of business aviation on a global scale are clearly presented to, and understood by, those national and international authorities and organisations which influence the safety and efficiency of economic use of business aircraft operating internationally.
Jayant Barnwal (JB): How do you perceive the global business aviation scenario?
Kurt Edwards (Edwards): Around the world, there is much potential for business aviation. While growth varies from region to region, there is overall a growing demand for business aircraft use, albeit perhaps not as robust as in the early 2000s.
JB: What exactly are the differences between business aviation and general aviation? Can you kindly elaborate a little?
Edwards: The International Civil Aviation Organisation characterises general aviation as non-commercial aircraft operations. Some business aviation activity falls into this broad community. However, on-demand charter operators, another important business aviation constituency, are considered commercial air transport. Non-commercial business aviation is a subset of general aviation. Whereas general aviation is typically recreational or for private enjoyment and transportation, non-commercial business aviation is typically professionally operated or owner operated with a view to advancing business interests.
JB: Which country in Asia, do you think, is the most happening business aviation market?
Edwards: The Asia-Pacific region is one of the fastest growing areas for business aviation, albeit from a small base. Despite austerity policies, China will continue to see decent growth, and the countries of Southeast Asia are expected to see increased business aviation activity as well.
JB: How do you perceive India as a market and the potential?
Edwards: India has terrific potential as a business aviation market. It is a large, populous country with remote and underserved cities and towns. The example of Raigarh in the BAOA Industry Report is instructive about how business aviation can contribute to the development of economic activity in small, remote, or underserved towns. There is no reason why other localities in India could not experience similar benefits.
"THIS (PRESUMPTION THAT BUSINESS JETS ARE RICH PEOPLE'S TOY) REFLECTS AN UNFORTUNATE VALUE JUDGEMENT. IT IGNORES THE FACT THAT THE VAST MAJORITY OF BUSINESS AIRCRAFT OPERATIONS ARE CARRIED OUT TO ADVANCE THE INTERESTS OF COMPANIES."
JB: What are your views on the role being played by BAOA in India?
Edwards: Among the member associations of the International Business Aviation Council, BAOA is one of the youngest, but it is quite active in seeking to inform government officials about the needs of business aviation and in encouraging favourable policy developments in order to foster access and growth.
JB: How do you perceive the status of business aviation in India? What all corrective measures are needed to be taken by the government authorities in India to encourage and to ensure growth for business aviation?
Edwards: My impression is that business aviation is less familiar to government officials and regulators than commercial, scheduled air transport, and, as a result, the sector is constrained by inappropriate policies and regulations. Before going on, allow me to point out that this is not unique to India. We see similar situations in countries all around the world. Over time, as BAOA informs the government and as business aviation becomes more visible, a greater understanding of the sector will enable application of a more reasonable policy and regulatory framework that will allow India to benefit from the growth of business aviation.
JB: What is the most crucial reason and statement that would advocate that business aviation is really the necessity for any country in the world?
Edwards: Business aviation provides connectivity between financial and government capitals, on the one hand, and remote or underserved regions, on the other. Business aircraft allow businesses to thrive in small towns and medium-size cities and contribute to the employment of local residents, while remaining connected to commercial centres. In short, business aircraft contributes to the economic and social development of regions around the world. India is poised to take advantage of the benefits of business aircraft operations.
"INDIA HAS TERRIFIC POTENTIAL AS A BUSINESS AVIATION MARKET. A GREATER UNDERSTANDING OF THE SECTOR WILL ENABLE APPLICATION OF A MORE REASONABLE POLICY AND REGULATORY FRAMEWORK THAT WILL ALLOW INDIA TO BENEFIT FROM THE GROWTH OF BUSINESS AVIATION."
JB: Why, according to you, business aviation should not be treated as the toy of richest people?
Edwards: This question reflects an unfortunate value judgement that some may have about business aviation. It ignores the fact that the vast majority of business aircraft operations are carried out to advance the interests of companies, whether to close a deal or to support company operations.
JB: Sudhir Nayak, who heads the Reliance's aviation department, has been appointed as the treasurer on the board of IBAC? We find this immensely exciting and encouraging development. How do you view this event? What kind of roles are perceived on the part of Sudhir Nayak as the treasurer?
Edwards: I am very pleased that Sudhir Nayak was willing to become the IBAC treasurer on the Governing Board. He is respected by the Board for his financial and business aviation knowledge, and his election by the Board reflects BAOA's growing prominence within IBAC. He will participate as part of the Executive Committee that includes as well the chairman and vice chairman, who advise me regularly on IBAC's direction.
JB: As you may be aware, an extensive BAOA report was recently launched. How do you find the efforts that have gone in to create this and what role such a document is supposed to play in the Indian scenario?
Edwards: BAOA's first industry report is a comprehensive, compelling document that I commend to all policy makers and regulators. I certainly hope it will be viewed as indispensable reading for anyone interested in business aviation in India.