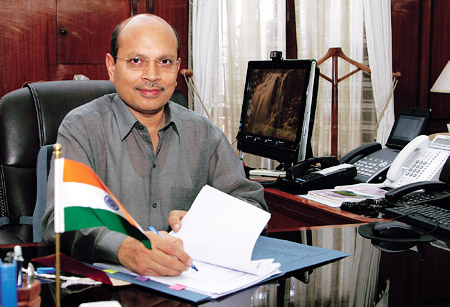 SP's Aviation (SP's): The new DPP 2016 is being referred to as game changer for the sector. How do you see it altering the Indian defence growth story?
Secretary: The new Defence Procurement Procedure (DPP) 2016 has come into effect from April 1, 2016. It focuses on achieving the 'Make in India' vision by according priority to 'Buy (Indian-IDDM)' and 'Buy (Indian)' categories. It also mandates increased indigenous content. The 'Make' procedure has been simplified with provisions for funding of 90 per cent of development cost by the government to Indian industry and earmarking projects not exceeding development cost of Rs. 10 crore (government funded) and Rs. 3 crore (industry funded) for the micro, small and medium enterprises (MSMEs).
This would create an ecosystem in defence manufacturing by harnessing the capabilities of Indian private sector specially MSMEs and inculcate the R&D culture in the sector.
SP's: In your opinion, what are the new key points of DPP 2016 for a foreign original equipment manufacturer (OEM) looking at Indian market?
Secretary: India is in the midst of modernising its armed forces and it is estimated that $250 billion will be spent on capital procurement in the next 10 years. In the new Defence Procurement Procedure 2016, 'Buy (Indian-IDDM)', 'Buy (Indian)', 'Buy & Make (Indian)' are the most preferred categories which means that increasingly request for proposals (RFPs) will be issued to the domestic industry. The only way for the foreign OEMs to leverage domestic demand is to tie up with domestic companies either for collaborative R&D followed by production or through transfer of technology for production through joint ventures or they can set up their own manufacturing base.
In addition, a numbers of potential 'Make' projects have been identified by the department; which are likely to follow 'Make' procedure for development-cum-procurement. The foreign OEMs can collaborate with the Indian vendor, the prime contractor, for development for defence equipment.
Provisions have also been introduced to allow foreign OEM to select Indian production agency of its choice for transfer of technology for maintenance infrastructure.
Moreover, offset implementation process has been made flexible by allowing change of Indian offset partners (IOPs) and offset components, even in signed contracts. Foreign OEMs are now not required to indicate the details of IOPs and products at the time of signing of contracts.
Services as an avenue of offset have been reinstated with certain conditionalities.
"INDIA IS IN THE MIDST OF MODERNISING ITS ARMED FORCES AND IT IS ESTIMATED THAT $250 BILLION WILL BE SPENT ON CAPITAL PROCUREMENT IN THE NEXT 10 YEARS"
SP's: The biggest pain point of foreign OEMs today is the time that India takes to decide on any defence procurement. What is being done to cut this time down and expedite the whole procurement process?
Secretary: The Ministry has introduced many provisions in DPP 2016 in order to address the issues of pendency/delays in procurement process. Some of them are:
Provision for requirement of draft RFP to be submitted along with proposal for seeking acceptance of necessity (AoN).
Reduction in validity of AoNs from one year to six months in 'Buy' and 'Buy and Make' categories and from two years to one year in 'Buy & Make (Indian)' category.
Stages of approval for accord of AoN of procurement proposals have been reduced.
Proposed timelines of procurement process have been further reduced in DPP 2016 as compared to earlier versions.
The complaints received by the government in respect of defence contracts was one of major hurdles in progressing the cases. Guidelines for handling of complaints have now been notified.
Provision for change of name of vendor/entity have been incorporated.
Use of certifications and simulations as much as possible is recommended in DPP 2016.
Provisions have been made to allow foreign OEM to select Indian production agency of its choice for transfer of technology.
Single vendor cases at the bid submission and Technical Evaluation Committee (TEC) stages will not be automatically retracted; they can be processed with due justification and approval of DAC.
SP's: Another major sticking point with foreign OEMs is cancellation of tenders, even after announcing the L-1. Why does it happen so frequently and what are the solutions so that these can be avoided in the future?
Secretary: Does not pertain to defence production, so I won't be able to comment on this.
SP's: There have been series of clearances of various programmes however actual contracts being signed are still not that many. Hence the sense still persists that the concrete modernisation process is still something that remains a pipe dream. How do you respond to this?
Secretary: Defence procurement cycle has typically been longer on account of various factors such as long and exhaustive allweather trials, small vendor base, etc. Therefore, the AoN acorded by government takes three to four years to fructify into contracts.
Nevertheless, 108 contracts with total value of Rs. 1,12,736.81 crore have been signed for capital procurement of defence equipment during the last two financial years (2014-15 and 2015-16), out of which 73 contracts involving a value of Rs. 72,303.34 crore were signed with Indian vendors. Therefore, it shall suffice to say that the government is committed towards defence modernisation with maximum participation of Indian vendors.
SP's: Blacklisting of companies! What is latest on the policy of banning companies for presumed wrongdoing? And how do we plan to address the scenario of single vendor situation?
Secretary: The guidelines of the Ministry of Defence for penalties in business dealings with entities applicable for both capital and revenue procurement of goods and services have been approved by the Defence Acquisition Council (DAC) in November 2016 and promulgated on the Ministry of Defence (MoD) website. MoD is reviewing the existing cases of suspension/ban/blacklisting, etc., against vendors in the light of the guidelines.
With regard to single vendor situation, DPP 2016 has been suitably amended as per which single vendor cases at the bid submission and TEC stages will not be automatically retracted.
SP's: What are your expectations from the upcoming Aero India 2017?
Secretary: Through Aero India, the government provides a common platform to leading national and international manufacturers/suppliers of aerospace sector to share their business plan on various topics related to the sectors such as integration of Indian aerospace industry into global supply chain, creation of infrastructure, enhancing rural-regional connectivity, empowering and incentivising Indian MSMEs in defence and aerospace sector, etc.
Bolstering 'Make in India' would be the major theme of Aero India 2017. The government expects to have maximum participation of all stakeholders specially foreign OEMs, Indian states and leading Indian defence companies during Aero India 2017 and to have successful B2B or G2B meetings, fructifying into joint ventures/tie-ups/technology sharing agreements in the near future.
For the complete interview, refer to SP's Military Yearbook 2016-2017