It is suggested that there should be a fare cap at both ends — minimum as well as maximum — enabling the basic rationalisation of the cost plans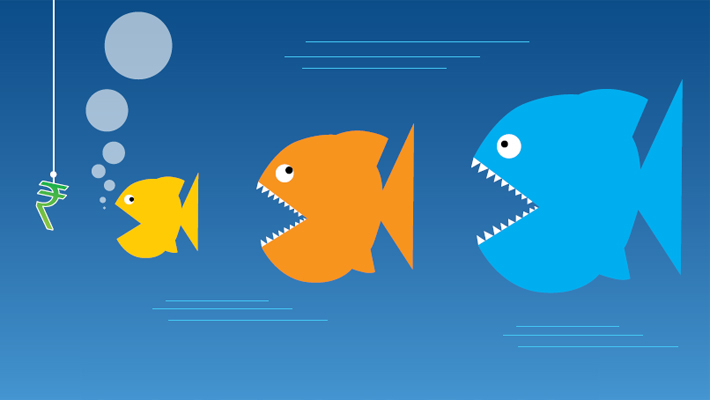 The airline industry is a service industry but with a perishable product, the seat on the aircraft. The moment the aircraft takes off, there is nothing that anyone can do to fill up vacant seats. A seat filled is a seat filled and a seat vacant is a seat vacant, as simple as that. So before the aircraft door shuts, it is up to the operator to fill the available seats, either by a regular sale, discounted sale, complimentary offer or any other method.
It is this perishable seat which makes up the market dynamics of an airline, be it a low-cost carrier, a full-service airline, a regional operator, or a non-scheduled operator (NSOP). The profitability of an airline/NSOP primarily depends upon how it manages to get the seats filled, while there could be other sources to shore up airline revenues.
In this scenario, airlines around the world adopt an approach of revenue management, playing on supply-demand economics. Is this predatory pricing? It depends on who you ask. If a mainline airline drops fares to 'astounding levels', the airline may hurt a regional player or a smaller player's business, but the air traveller is happy. For the smaller/regional player this could be predatory pricing. The large airline operators in India are offering almost zero-level pricing on smaller routes, thus ensuring that their seats get filled while leaving the regional player stranded. The regional players consider this predatory pricing as the mainline airlines are eating away the market meant for smaller players. The issue is of mainline airline's overcapacity and the survival of a regional airline with limited seats or just about the right capacity on that sector. The regional players term this huge discounted pricing as incorrect practice and even question the mainline airlines' 'ethical' necessity. The argument is that smaller routes should be for smaller players with smaller routes, thus allowing them to survive. The smaller players are suggesting that there should be a fare cap at both ends — minimum as well as maximum. Some of the smaller players have been forced to exit certain routes because of discounted pricing and are hoping that there would be a check on it.
Revenue Management
While the debate goes on, it was airline deregulation that introduced the practice of revenue management, an approach that minimises consumer surplus by charging each passenger what the passenger is willing to pay, as opposed to a blanket single fare from one destination to another. This approach has become common with competition increasing, particularly with the entry of low-cost carriers which essentially have low fares. Considering the demographics in India and many other countries where the middle class dominates, pricing becomes critical to attract passengers onboard. A drop in airfare is more than welcome.
Cheap Fares Galore
In India there are three full-service airlines (Air India, Jet Airways and Vistara); four low-cost carriers (IndiGo, SpiceJet, GoAir and AirAsia) and four regional players (Air India Regional, Air Costa, Air Carnival and TruJet). Right now, the mainline airlines are offering hefty discounts to attract passengers. India's number one LCC, IndiGo, has on offer lowest fares starting at Rs. 888, of course with certain riders. The booking period is till February 5 and travel period is from February 9 to April 27, 2017. The offer is valid on select sectors and select non-stop flights only. The airline offer has a limited inventory which only the revenue management team will know. Air India had a New Year sale of Rs. 849 for travel between January 15 and April 15. SpiceJet has a similar Rs. 888 offer except the travel period is from February 19 to April 12. GoAir offer is Rs. 949 on limited seats for travel up to April 15. AirAsia, an airline which often has one sale or the other, has limited seats priced at Rs. 899 for travel between July 1 and November 30, 2017. These limited seats on different airlines are available on first-come, first-served basis. The passenger has to be lucky to get this fare.
Regional player Air Carnival is offering Rs. 750 discount vouchers for frequent flyers. TruJet has a 'kites and discounts in the air' promotion with fares starting at Rs. 999 for travel in February and March this year.
December peak period, February low season
So it is not just the mainline player who is offering these discounts but also the already squeezed regional player, the latter may be forced to do so to stay in the competition. Also it is happening around the months when leisure travel is low considering it is crucial time in schools and colleges and parents stay put at home. It is the business traveller who accounts for the airline business around this time and if he or she is lucky gets the discounted fare. Is it predatory pricing? The answer, according to airline watchers, is a no. The months of January, February and March have less travellers as indicated in the Table.
From the Table it can be seen that the peak travel period is December and the lowest travel period is February. The fares in December skyrocket while the fares in February are 'traincheap', if one can coin a phrase.
Passenger Throughput on Rise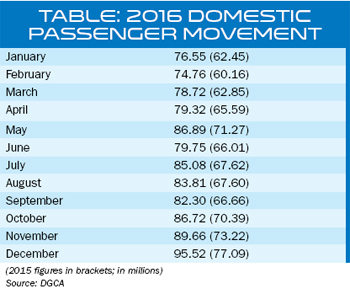 The Indian air travel market is growing phenomenally and is expected to touch 370 million by 2020, with domestic traffic constituting around 80 per cent of the total throughput. Year-on-year, passenger growth is on the rise and airlines are creating capacities on different routes, while some sectors may have overcapacity which is when the airlines start offering discounts to attract travellers, preferably a conversion of train travellers to air travel. There are sectors where airlines with large aircraft need to create capacities and there are thin routes where regional players, if existing, are just about right for the route, if not there would be overcapacity. It is then such fare gimmicks may come in handy.
Predatory pricing is when the dominant airlines try to discourage entry of low-cost competitors or regional players. This issue has cropped now and then.
Last-minute deals
Recently, the government-run Air India rejected the charge that it was driving air fares down by offering cheaper ticket prices for last-minute travel against the industry's practice of increasing them manifold. "We are not driving down air fares. We are only filling empty seats by lowering last-minute air fares to the level of AC II-tier ticket prices of Rajdhani trains," said Air India Chairman and Managing Director Ashwani Lohani. The national carrier had announced dropping its last-minute fares to the level of AC II-tier fares of Rajdhani trains to four key destinations from Delhi to Kolkata, Bengaluru, Hyderabad and Mumbai, to begin with. Later, it extended the offer on seven other routes, giving jitters to the private airlines, which jack up their last-minute fares to astronomical sums. The move by Air India, however, had attracted criticism from the industry. Lohani said that since only 2-3 per cent of the bookings are made in the last 6-7 hours of flight departure, the drop in fares for last-minute travel instead of jacking them up was unlikely to have any adverse impact on yields.
The issue of fare hike otherwise crops up now and then. In fact, in 2015, the Prime Minister Narendra Modi had expressed serious concern over the practice of predatory pricing by domestic airlines and had said a solution needed to be worked out. "It [predatory pricing] is a concern of a majority of Parliamentarians, including the Prime Minister, and needs to be addressed," the then Minister of State of Civil Aviation, Mahesh Sharma had said and that the airlines need to reduce fares and not hike them particularly when it comes to emergency travel like in medical emergency.
Sharma had then suggested that the airlines had to be taken into confidence and also a mechanism worked out through the Directorate General of Civil Aviation (DGCA) to deal with the issue. Concerns have been expressed in various quarters, including by parliamentarians, over drastic fluctuations in air fares. In May, a group of parliamentarians, led by BJP leader Kirit Somaiya, had met the Competition Commission of India Chairman Ashok Chawla and lodged a complaint against carriers on the issue of air ticket pricing.
The Ministry of Civil Aviation had last year circulated a note for internal discussion wherein it suggested steps to cap economy class air fares at minimum and maximum levels. While this is understandable from a perspective of the consumer, the regulatory bodies too need to look at the operators who want to fill the vacant seats on the flight. Simply put, it is revenue for the airline.