On the group of aircraft people were booking with PrivateFly, the maximum was with Small jets — 50 per cent; Medium jets — 18 per cent; Long-range jets — 16 per cent; Small prop aircraft — 15 per cent; and Large and regional airliners — 1 per cent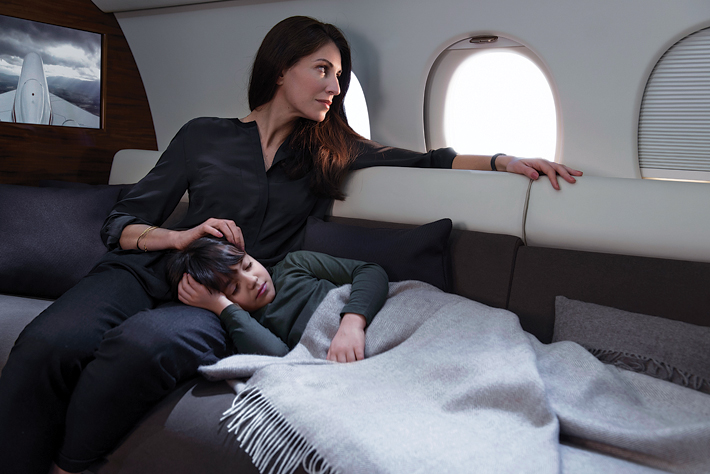 COST EFFECTIVE: High end jet manufacturers such as Dassault offer great value for money with their Falcons
Big data analytics throws up interesting statistics, almost instantly. In airline business, whether it is for the big commercial airliners or the private jet operators, analytics helps in understanding the business and strategising accordingly, and if necessary making course correction. One such charter company from the United Kingdom which is making waves is PrivateFly. PrivateFly uses technology to disrupt the traditional jet charter brokering model having launched a website with online estimates and quotes and also offering apps for iPhone, iPad and Android devices. Using analytics, it has come out with a report on private charter trends for its company which gives an insight into what the larger picture could be.
Business travel demand returns
The CEO of PrivateFly, Adam Twidell, states, "The final quarter of 2016 completes our first year of Private Jet Charter Trends and the insights have a distinct 'back to business' theme. Over the spring and summer months, a significant proportion of private aviation is leisuredriven (particularly in Europe), but October to December (Q4) sees business travel demand return more strongly."
THE GENERAL PROFILE OF THE PASSENGERS WAS 74 PER CENT MALE AND THE AVERAGE AGE OF PASSENGERS WAS 42 YEARS. ABOUT 11 PER CENT OF THE PASSENGERS WERE BELOW THE AGE OF 16, THE REPORT NOTED
We analysed PrivateFly's search and booking data from hundreds of flights worldwide during this period to give a unique insight into the behaviours of the private jet customer. As this is our final quarterly report of 2016, we've also produced an infographic Who Flew By Private Jet In 2016? to give a snapshot of the whole year."
316 airports used worldwide
As per the Q4 findings, just 132 different airports were used in Europe versus 245 in the previous quarter — with more business usage driving a more tightly-focused choice of destinations. The report tracks the airports used around the world and this quarter 158 different airports were used in Europe, 87 airports less than Q3. The number was 119 different airports in North and Central America, 63 airports more than Q3. The number of airports used worldwide was 316. Different European airports are down in Q4, reflecting the change from leisure to business flights, while lots of Caribbean hops led to an increase in different airports used in North & Central America.
The lead times were slightly longer with more customers booking a little further ahead of their departure date, compared to the summer months. Morning departures, specifically 11.00 was again the most popular take-off time, with Friday continuing to be the peak day of the week in the quarter overall.
London, Paris and Zurich most popular destinations
PrivateFly's most popular destinations are London, Paris and Zurich. The Ski destinations Zurich, Chambery & Sion make an appearance in the charters most popular destinations this quarter. "And we also see a move back to business, with flights to New York, Munich, Geneva and Frankfurt proving popular."
Average spend per flight
How much do private jet customers spend? PrivateFly said the average spend per quarter in Q4 was:

The example price for one-way from London to New York City on a Gulfstream G400 12-seater jet is £59,500, thus costing almost £5,000 per passenger. The average price for a one-way flight from London to Paris on a Citation Mustang was £3,500. The average legs per trip for Q4 was 1.60 whereas it was 1.50 in the previous quarter. The report states that there was an increase in private jet spend evolution this quarter with more long haul flights being flown in Q4 compared to small summer hops in Q3.
Small jets popular
On the group of aircraft people were booking with PrivateFly, the maximum was with Small jets — 50 per cent; Medium jets — 18 per cent; Long-range jets — 16 per cent; Small prop aircraft — 15 per cent; and Large and regional airliners — 1 per cent. The most used aircraft from PrivateFly were Cessna Citation Mustang; Cessna Citation XLS; and Embraer Phenom 100. "Two small jets and one medium jet round up our top 3 aircraft this quarter — mainly due to their charter availability in the market. And coming a close fourth was Piaggio P.180 Avanti. The 'posh prop' Avanti is extremely cost-effective and continues to prove a popular choice for charter customers," the report noted.
Quick decision making by passengers
How long does it take to book a flight from driveway to runway? The fastest time from inquiry to take-off in Q4 was 1 hr 35 mins 49 secs, while PrivateFly's speed record has been 54 mins 12 secs in the previous quarter. An interesting point on how fast the decision making process of the passengers also crops up in the report. In Q4, the time between inquiry and booking was 39 per cent — same day; 22 per cent — next day; 12 per cent — 2 to 3 days; 12 per cent 4 to 7 days and 15 per cent above 7 days. The time between booking and take-off was that 54 per cent booked within a week of their flight. The report said that December holiday trips brought the percentage of customers taking off within a week of booking down this quarter, as they book their trips further in advance. While bookings remained consistent throughout the work week, it was Fridays that saw a spike compared to Q3 stats. Weekends remained the least popular days to both fly and book a private jet.
74 per cent male travellers
As regards the general profile of the passengers, the report noted that 74 per cent of the passengers were male and the average age of passenger was 42 years. This quarter saw 11 per cent of the passengers were below the age of 16, while 1 per cent used for Medevac purposes. Four per cent of the passengers had pets on flights. PrivateFly's flights had an average of 4.5 passengers on board.
Devices used
With technology driving bookings, the overall trend points to growing mobile usage. However, Q4 bucked the trend, seeing a slight increase in desktop usage compared to Q3. Bookings from desktops topped at 64 per cent; mobiles 31 per cent and tablets 9 per cent.
PrivateFly is the leading global booking platform for private jet charter, making it faster, easier and more cost-effective to compare and book private jets. With over 7,000 aircraft integrated worldwide, PrivateFly combines innovative technology with a VIP multilingual flight team, available 24 hours. PrivateFly was awarded certified broker status by ARGUS in May 2016, the second company in Europe to achieve this audited accreditation for best practice.