Embraer has been extending its reach with airliners, thanks to the benefits the airliners see in the E-Jet E2 family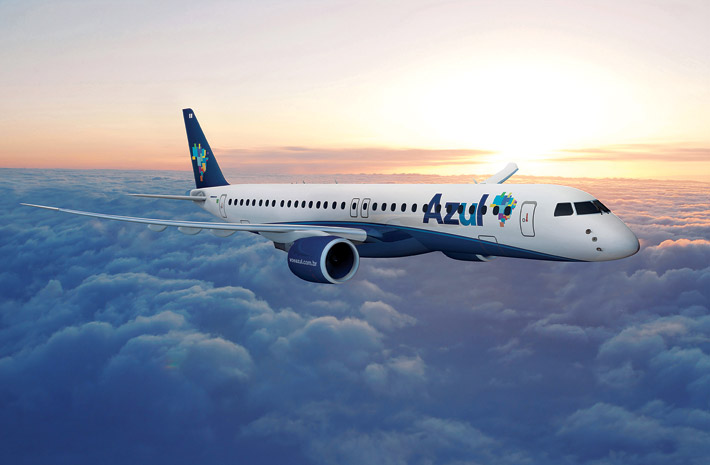 Brazilian aerospace and defence major Embraer is firmly set on achieving its aircraft production targets and that is not at all surprising. Recently, Embraer announced that it was on course to delivery of its first E195-E2 jet in the first half of 2019 to Brazil's Azul Linhas Aéreas. In 2014, Azul placed an order for up to 50 E195-E2s. The carrier is both the launch customer and launch operator of the aircraft. This endorsement by Azul goes a long way to boost airline operator confidence, not just in Brazil, but across continents. Since it acquired its first E-Jet back in 2008, Azul has captured one-third of Brazil's domestic market. Today, it flies more than 70 E-Jets and is the carrier with the largest fleet of E195s in the world.
Embraer has been extending its reach with airliners, thanks to the benefits the airliners see in the E-Jet E2 family. The E195-E2 is the largest aircraft in that family, the others being E175-E2 and E190-E2, giving airline operators the flexibility of positioning their fleet for short to medium haul operations.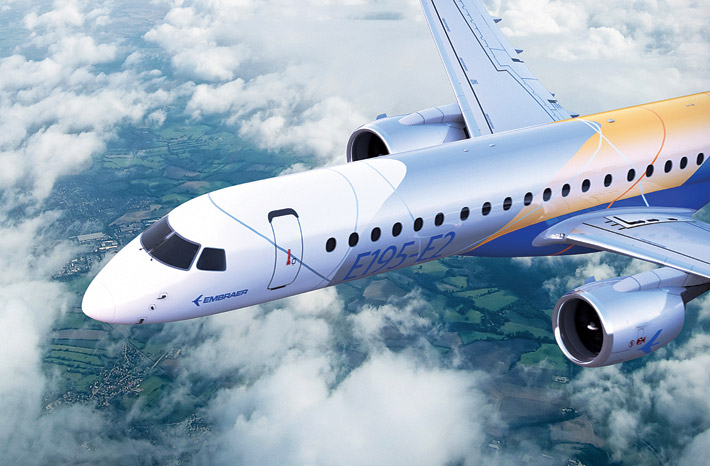 Low fuel burn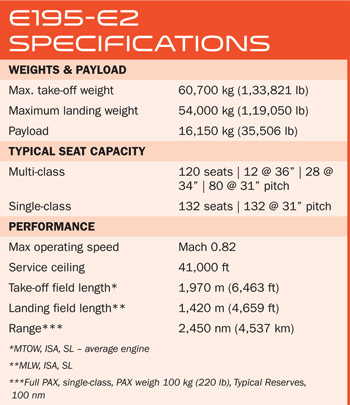 The E195-E2 has been designed to maximise returns and efficiency on high-density routes. With its high-aspect ratio wings and swept tips, combined with other aerodynamic improvements, the E195-E2 achieves double digit lower fuel consumption compared to current-generation E-Jets. It is ideally positioned between larger, new-generation, single-aisle jets and smaller capacity equipment. Flying in mainline, regional or lowfare environments, the operating economics of the E195-E2 are the best among aircraft in this category. Compared to E195 with 106 passengers, the E195-E2 with 120 passengers has -24 per cent per seat less fuel burn.
Fourth-Gen Full Fly-by-Wire
The E195-E2 is a fourth-generation full fly-by-wire digital closed-loop control on the E2 which improves flying qualities and boosts fuel efficiency. A full fly-by-wire system saves weight, increases pilot control, improves aircraft performance and provides complete envelope protection in all phases for a smoother flight. Embraer has a long history using fly-by-wire technology. The current generation of E-Jets, the mid-size Legacy 450/500 (which were the first full fly-by-wire aircraft in their class) and the KC390 military transport used FBW. Previous experience with these three aircraft helped to introduce mature fourthgeneration fly-by-wire control on the new E-Jets E2s.
AHEAD-PRO
It is a computational web-based platform to continuously monitor the health of the fleet, providing timely maintenance information in a friendly and straightforward way. With AHEAD-PRO aircraft systems health condition is systematically assessed and unplanned maintenance of monitored systems is avoided by means of failures occurrence prediction. Moreover, the activities of fault identification, troubleshooting and resources planning occur before the aircraft lands its destination, optimising airline turn-around time between flights.
AHEAD-PRO offers functionalities to optimise all steps to execute health monitoring process in the airline, from data acquisition to time-to-failure prognosis.
Cockpit layout
E2's advanced integrated avionics system provides exceptional situational awareness enhanced by large landscape displays and reduced pilot workload.
Innovative technologies such as synthetic vision and advanced flight management support more fuel-efficient direct approaches to airports. Cockpit commonality with current-generation E-Jets allows for a smooth transition to the new E2 platform.
New Features
The E195-E2 has wireless connectivity; enhanced central maintenance computer; and SmartView. It will be known for improved navigation thanks to its Graphical flight planning; Next-generation FMS; INAV and GBAS & GLS. Another key aspect which will help pilots is improved situational awareness due to its Cockpit Display of Traffic Information (CDTI); IntuVue 3D Weather Radar; SmartRunway & SmartLanding.
THE E195-E2 IS THE LARGEST AIRCRAFT IN THAT FAMILY, THE OTHERS BEING E175-E2 AND E190-E2, GIVING AIRLINE OPERATORS THE FLEXIBILITY OF POSITIONING THEIR FLEET FOR SHORT TO MEDIUM HAUL OPERATIONS
Commonality
The best part of Embraer's E2 family is the commonality which allows easy transition for type rating between current generation E-Jets and the E2s. All that a pilot requires is a maximum of three days of training. Pilots complete self-instruction and classroom modules before reviewing cockpit procedures in a trainer. High-level flight training systems and time in a full-flight simulator are not necessary for E-Jets pilots to qualify on the E2.
High-aspect ratio wings
The E2s sport high-aspect ratio wings with swept tips that, combined with redesigned pylons and other aerodynamic improvements — coupled with our enhanced fourth-generation full fly-by-wire — achieve double digit lower fuel consumption compared to current-generation E-Jets. The wing and engine combination for the E175-E2 and a common larger wing and engine for the E190-E2/E195-E2 are optimised to deliver maximum performance.
Geared to save fuel
Pratt & Whitney PurePower Geared Turbofan Engine E2's new GTF engines — the PW1700G (E175-E2) and PW1900G (E190-E2 and E195-E2) — have an advanced gear system that allows the engine's fan to operate at a different speed than the low-pressure compressor and turbine. They work in combination with new aerodynamically advanced wings and other advanced controls and systems to create double-digit improvements in fuel burn, maintenance costs, emissions and external noise.
Interior design for a new-generation
A look inside E2 reveals thoughtful, well-conceived design that has the power to please from all perspectives. A totally new environment far exceeds the norm and thoughtfully addresses the varied needs of passengers, crew, airlines and leasing companies alike. As within a fashionable hotel or restaurant, a prevailing sense of quality begins with the welcoming atmosphere of the boarding point and continues with such elements as style and tone of lighting, contemporary materials, quality fabrics, and glass partitions. Within these surroundings passengers enjoy their own physical and emotional 'space within a space' — their 'personal territory'.
This 'bubble' with control is achieved through the coming together of small things that deliver a larger benefit — elements such as clarity of seat signage, individual PSUs, seat back screens, and additional legroom in economy.
The passenger-preferred 2x2 configuration gives a perception of wider aisles while simplifying movement through the cabin. The position of bin doors when open, coupled with dramatic ceiling illumination, creates a sense of height and space above the aisle.
Premium seating further conveys a feeling of openness. Overall, the E2 interior generates a smoothing-out effect on the passenger journey experience — reducing the traditional stress points of boarding, inflight activity, and disembarking.
The new overhead bins are IATA 22"x18"x10" (56x45x25cm) recommended cabin baggage on 'wheels–first' position. There is over 40 per cent volume/pax increase over current E-Jets. It is expected to maximise the number of cases and expedites boarding.
Personal PSU Concept
Individual PSUs help improve use of personal space on the aircraft which has a modular building and common parts minimising part numbers. There is common PSU for economy and first class with quick release and facilitating re-configuration. The first class has 2+1 seating configuration with maximum seat width with 23" seat pan. The typical seat pitches from 36" to 40". It is a staggered concept in first class, thus giving individual seats with increased legroom.
The economy class has a slim profile, robust and lightweight. It is compatible with up 12" IFE screen; in-built optional features flexibility and upper literature pocket maximising legroom.
Cabin layouts
The cabin layouts are ideal for mainline or low-fare applications. The E195-E2 can be configured in single, dual or multiclass layouts. And for those high-volume routes low-seat mile/kilometre cost is critical, the E195-E2 with its slim seats can maximise passenger capacity. On the E2, no one is ever stuck in the middle. All seats are either by the window or on the aisle.
Range
Short haul routes, long sectors, feeding hubs, opening new markets — whatever the mission, E-Jets E2 go the distance. The E195-E2 can easily fly Bangkok to Delhi; Bangkok to Shanghai and other routes with great performance.