The LEAP delivers 15 per cent improvement in fuel consumption, compared to today's best CFM56 engines and maintains the same level of dispatch reliability and life-cycle maintenance costs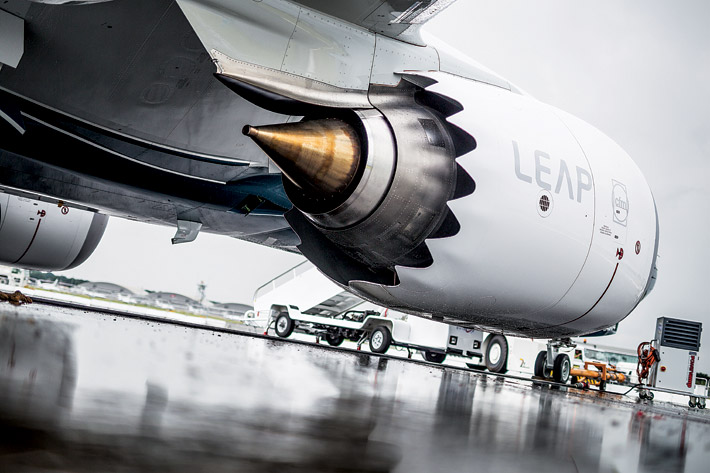 Boeing this month announced that the US Federal Aviation Administration (FAA) has certified the 737 MAX 8 airplane powered by CFM International LEAP-1B engines for commercial service. Boeing is now in the final stages of preparing for the first 737 MAX 8 delivery to customers in the coming months. "Our relationship with Boeing on the 737 goes back to more than 35 years and we are proud and honoured to be part of the MAX programme," said Gaël Méheust, CFM President and CEO. The LEAP-1B-powered Boeing 737 MAX began flight tests in January 2016 and the engine has performed exceptionally well in more than 2,200 aircraft flight hours. CFM achieved engine certification in May 2016.
Earlier in the first week of March, Airbus announced that the A321neo powered by LEAP-1A engine had received Type Certification from the European Aviation Safety Agency (EASA) and FAA, paving the way for delivery of the first A321neo equipped with the LEAP engine later this year.
"The LEAP-1A entry into service on the A320neo has been incredibly smooth," said Gaël Méheust. "Our customers really love the fuel efficiency, reliability and low noise the engine is bringing to their fleets. We are proud to be a part of this great programme." The LEAP-1A-powered A320neo entered commercial service in August 2016 and nine airlines have taken delivery of a total of 72 engines to date.
In December 2016, CFM International's advanced LEAP-1C integrated propulsion system was simultaneously awarded Type Certificates by both the EASA and FAA, paving the way for entry into commercial service on the Comac C919 aircraft. CFM is unique in that it is the only engine manufacturer to gain dual original certification from both agencies, rather than one lead agency issuing a type certification and the second agency validating that certification. This reflects CFM's 50/50 design and production structure between parent companies GE and Safran, which has been so successful for more than 40 years. The LEAP engine was officially launched in December 2009 when Comac selected the LEAP-1C as the sole Western power plant for its 150-passenger C919 airplane. The engine incorporates a unique fully integrated propulsion system (IPS).
On its way to engine certification, CFM pushed its LEAP test programme to the limit. To meet with the performance and reliability expectations made to its customers, a total of 60 LEAP engines were built to execute the most extensive ground and flight test certification programme in the company's history. To date, the LEAP-1A, LEAP-1B and LEAP-1C engines have all been jointly certified by EASA and FAA. The LEAP-1A — Airbus A320neo has a 24,500 to 35,000 pounds thrust at altitude; the LEAP-1B — Boeing 737 MAX has 23,000 to 28,000 pounds thrust and the LEAP-1C — Comac C919 delivers 27,980 to 30,000 pounds thrust.
The LEAP-1C thrust reverser was developed by Nexcelle, a joint venture between Safran Nacelles and GE Aviation's Middle River Aircraft Systems (MRAS). In addition to the IPS, the LEAP-1C engine features some of the industry's most advanced technologies, including 3D woven carbon fibre composite fan blades and fan case; a unique debris rejection system; fourth-generation three-dimensional aerodynamic designs; the Twin-Annular, Pre-Swirl (TAPS) combustor featuring additively manufactured fuel nozzles; ceramics matrix composite shrouds in the high-pressure turbine and titanium aluminide (Ti-Al) blades in the low-pressure turbine.
CFM HAS LAUNCHED ITS MOST COMPREHENSIVE READINESS PLAN EVER, ENSURING SMOOTH, SUCCESSFUL ENTRIES INTO SERVICE FOR ALL LEAP OPERATORS
The first LEAP-1C engine successfully completed a flight test programme in late 2014 on a modified 747 flying test bed at GE facilities in Victorville, California. In November 2015, the first C919 rolled out at Comac facilities in Shanghai. More recently, Comac successfully started the engines for the first time in early November 2016, running them for 10 minutes at ground idle power at the company's Shanghai Pudong International Airport facility.
The LEAP engines currently in commercial service are providing operators with double-digit improvements in fuel consumption and CO2 emissions compared to today's best CFM engine, along with dramatic reductions in engine noise and exhaust gaseous emissions. All this technology brings with it CFM's legendary reliability and low maintenance costs.
CFM has launched its most comprehensive readiness plan ever, ensuring smooth, successful entries into service for all LEAP operators. It has dedicated expert field service engineers (FSE) network; entry-into-service road map customised for each client; reactivity or support stress tests; opening of a new 24x7 customer support centre (CSC) for LEAP and new dedicated LEAP Maintenance Training Centres.
It has a proven global support network in place with 60 plus customer support managers; over 250 global field service engineers; five training centres on three continents; and three customer support and diagnostics centres.
To ensure the ramp-up in production for the new LEAP engine, CFM is modernising and expanding production facilities. Both GE and Safran Aircraft Engines have added new manufacturing capability at sites throughout the US and France, making a combined capital investment of more than $1billion.
Large Orders
In 2016, CFM International achieved near record orders with the company booking a total of 2,677 engines, including 876 CFM56 engines (commercial, military and spares) and 1,801 LEAP engines (including commitments and spares). 2017 is already off to a good start, with more than 580 engine orders received in January. At the same time, the LEAP engine has now garnered more than 12,200 total engine orders and commitments excluding options, at a value of more than $170 billion at list price.
CFM production remains at historic rates with the company delivering a total of 1,693 CFM56 engines and 77 LEAP engines in 2016. The LEAP-1A engine had a very successful entry into commercial service with Pegasus Airlines in August 2016, when CFM began the transition to LEAP production. The total number of CFM56 engines produced will drop beginning this year and the full transition is expected to be completed by the year 2020, at which time the company expects to be producing engines at a rate of more than 2,000 LEAP engines per year.
15 Per Cent Fuel Improvement
The LEAP delivers a 15 per cent improvement in fuel consumption, compared to today's best CFM56 engines and maintains the same level of dispatch reliability and life-cycle maintenance costs.
Leveraging the successes and unrivaled experience of the CFM56 programme, the LEAP engine is built for 99.98 per cent dispatch reliability — which means more time in the air and less maintenance time.
Aerodynamically Eficient
The fan blades for the LEAP engines are manufactured from 3D woven RTM (Resin Transfer Molding) carbon fibre composite, an industry first for CFM. This technology results in fan blades that are not only lightweight, but so durable that each individual blade is strong enough to support the weight of a wide-body airplane like the Airbus A350 or Boeing 787.
Lighter Yet Stronger
The LEAP engine is the first engine to use additive manufacturing to 'grow' complex, fully dense yet lighter engines. Its fuel nozzles are 25 per cent lighter than previous models and five times more durable than parts manufactured conventionally.
Lean Burn, Low Emissions
The LEAP engine features the second generation Twin-Annular, Pre-Mixing Swirler Combustor (TAPS II) which reduces NOx emissions by 50 per cent versus CAEP/6 standards. Unlike traditional combustors that mix fuel and air inside the combustion chamber, the LEAP nozzle pre-mixes these elements to provide what our engineers call "lean burn combustion".
The unique LEAP debris rejection system provides the best erosion protection, preventing sand, dirt and other harmful items from reaching the core. As a result, the highly durable, more efficient LEAP engine stays new for longer periods.