Honeywell's weather information services app can depict weather 330 nm ahead of the aircraft and lightning at 60 nm away thus enabling the pilots to take appropriate decisions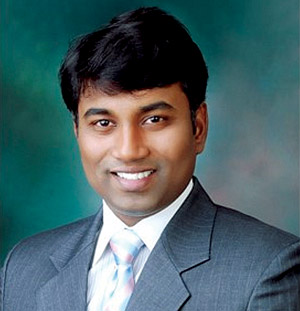 Sasi Kancharla, Honeywell Aerospace
For 80 years, Honeywell has been delivering solutions to India's aerospace and defence industry and continues to see the nation as an important hub for manufacturing and for maintaining components. The company's investments and partnerships in India have only grown stronger with its presence in the country. Today, Honeywell has grown from 1,000 employees to more than 15,000 and its business is spread across 50 cities which also include seven manufacturing locations and five design centres. Around 6,000 Indian engineers help Honeywell deliver advanced technology solutions and tackle some of the toughest challenges faced by India and the rest of the world.
At Aero India 2017, Honeywell Aerospace did exactly that. The company showcased what all it could do with Indian talent and what it could do to improve the experience in the skies. In an interaction with SP's Aviation, Sasi Kancharla, Customer Business Leader, Air Transport & Regional, India, Honeywell Aerospace, talked about different products and solutions the company was working on to be deployed in India and elsewhere.
While it has deployed a number of solutions in the Indian aviation space, going forward, it is pitching with airlines for 'Weather Information Services'. Kancharla explained "the weather information services app on an iPad can depict weather 330 nm ahead of the aircraft and can detect lightning 60 nm away thus enabling the pilots to take appropriate decisions." The service helps in optimising the flight path with such clear weather information. The Weather Information Service which runs on iPad along with Windows desktops and Microsoft Surface tablets, helps reduce pilot workload, increases situational awareness, reduces fuel use and emissions, improves alternative route planning among other benefits.
Lightning Strike Data
Kancharla mentioned that the lightning strike feature is new on the app that allows pilots to identify areas affected by lightning and to take alternative routes. When combined with observed satellite cloud cover data, the flight crew and dispatchers can better plan routes through areas with weather hazards. The service can also be used by cabin crew, he said and added that the company was working on 'connected weather radar' which would integrate and share information on weather conditions detected by other aircraft in flight on a projected route. He said this would be of much use to helicopter pilots and dispatchers, including oil and gas operators who fly over water where ground radar coverage does not exist. It will also be of help to those who fly in remote and rugged terrain where radar signals get blocked by natural obstacles.
AS THE INDIAN AVIATION MARKET WAS EXPLODING, HONEYWELL SEES DEPLOYMENT OF MORE SOLUTIONS TO MAKE FLYING SAFER AND EXPERIENTIAL
Kancharla said that a number of solutions had been deployed in India and the most recent was Jet Airways selecting 'GoDirect Fuel Efficiency software of Honeywell, realising the importance of fuel savings to the company's bottom line. The software, he said, provided a full range of data analysis, reporting and monitoring tools for enhanced fuel conservation.
Honeywell's GoDirect Fuel Efficiency software analyses data from more than 100 reports that integrate with existing airline systems through a user-friendly data interface. The service offers fuel-saving recommendations, which airlines can quickly deploy into existing or customised analytics reports and dashboards. Honeywell's technology also helps lower carbon emissions from international flights, in accordance with recent changes to the Paris Agreement on reducing greenhouse gases. Existing users of the software have reported fuel savings of more than 2 per cent annually.
As the Indian aviation market was exploding, Honeywell sees deployment of more solutions to make flying safer and experiential. He said that Honeywell's 131-9 auxiliary power unit (APU) is standard on Boeing aircraft while it is a choice of nearly 80 per cent of Airbus operators. IndiGo which is on a major aircraft buying spree, has selected Honeywell APUs. The Indian aviation market, he said, was getting exciting and a number of OEMs are talking about offsets. Honeywell continues to look for partners to expand its services here in India.