The journey for the Brazilian aerospace conglomerate that produces commercial, military, executive and agricultural aircraft and provides aeronautical services has been one which has made Brazilians proud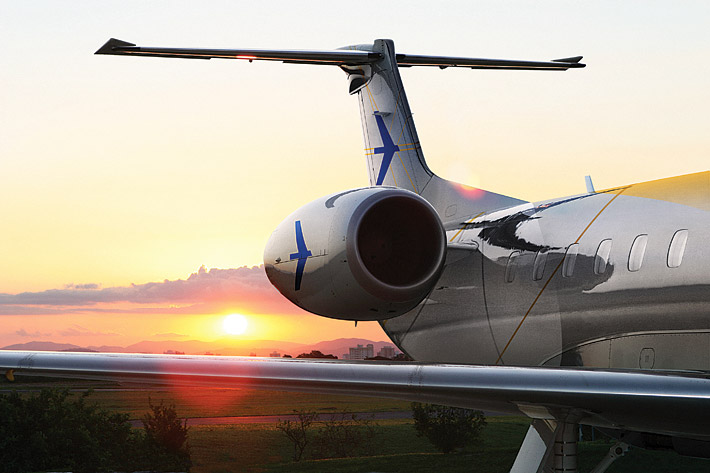 Embraer Commercial Aviation is the third largest commercial plane maker in the world, behind Airbus and Boeing. This has come about in less than five decades, thanks to the foresight and determination of the leaders in Brazil who envisioned an aerospace business that would go beyond the shores of Brazil. The journey for the Brazilian aerospace conglomerate that produces commercial, military, executive and agricultural aircraft and provides aeronautical services has been one which has made Brazilians proud. The several investments the Brazilian Government made in the 1940s and 1950s to develop a domestic aircraft industry has not only paid rich dividends but also created a segment for the world which was getting seamlessly networked.
EMB 110 Bandeirante debut
From 1969 when Empresa Brasileira de Aeronáutica (Embraer) was created as a government-owned corporation, and initially producing the Embraer EMB 110 Bandeirante, the Brazilian aerospace behemoth has come a long way. With offices and factories around the world and over 5,000 aircraft sold on every continent, Embraer is the market leader in commercial jets with up to 120 seats. It is also the fifth largest manufacturer of executive jets in the world and the largest defence and security solutions company in Brazil.
The Bandeirante, a turboprop aircraft, intended for dual civilian and military use, with a capacity for transporting 15 to 21 passengers, has been the solid starting point for the Brazilian aerospace industry. At the end of the 1970s, Embraer had moved on to a new technological and industrial plane with new products such as the EMB 312 Tucano and the EMB 120 Brasilia. The huge success achieved by the ERJ 145 platform and the E-Jet family and now the E-2 series has firmly entrenched the company as a global aerospace leader. Embraer Commercial Aviation has been responsible for EMB 110 Bandeirante; EMB 120 Brasilia; Embraer/FMA CBA 123 Vector (cancelled after two prototypes were built); Embraer Regional Jets (ERJ 135 — 37 passengers; ERJ 140 — 44 passengers; and ERJ 145 — 50 passengers); Embraer E-Jet family (E170 — 80 passengers; E175 — 88 passengers; E 190 — 110 passengers; and E195 — 122 passengers); and Embraer E-Jet E2 family (E175-E2 — 80 to 88 passengers; E190-E2 — 97 to 106 passengers and E195-E2 — 120 to 132 passengers).
E-Jets Programme, solid performance
The E-Jets programme has been the most satisfying for the company having notched up over 1,300 E-Jets orders. Since they first entered revenue service in 2004, over 100 airlines and leasing companies have added E-Jets to their fleets and asset portfolios. The family of aircraft has accumulated over 27 million flight hours and 23 million cycles. Embraer is celebrating April 2017 its 20th anniversary of the first commercial flight of the ERJ-145, an airplane that took to the skies under the weight of expectation and has been delivering ever since. It is a true runway legend. Today, Embraer E-Jets are flying on every continent, transforming the regional aviation landscape. In 2003, Embraer set up a factory in China — the Harbin Embraer Aircraft Industry Company Limited with the line of business being manufacturing or assembling of complete aircraft. It manufactures the ERJ family for the Chinese market.
EMBRAER IS ON A FIRM WICKET AND WITH REGIONAL CONNECTIVITY EXPANDING IN MANY COUNTRIES, THE AEROSPACE MAJOR HAS POSITIONED ITSELF TO FIT THE BILL
Born from a Brazilian Government plan and having been state-run from the beginning, Embraer began a privatisation process during the government of Itamar Franco. Embraer was sold on December 7, 1994, which helped it avoid a looming bankruptcy, though the government retains interest through possession of golden shares. In the mid-1990s, Embraer pursued a product line more focused on commercial planes over military aircraft, thus helping to expand rapidly.
Embraer Commercial Aviation ended 2016 with 108 total commercial aircraft deliveries meeting the guidance for the year and the revenues for the overall company was $6,217.5 million. It has released the 2017 guidance for total revenues of $5.7 billion to $6.1 billion, driven by expected deliveries of 97 to 102 jets in commercial aviation and 105 to 125 executive jets.
E-Jets E2, going futuristic
of its E-Jets E2 family — the first E195-E2, a roll-out that happened before 7,000 employees, customers, VIPs and company executives at its São José dos Campos facility. Paulo Cesar, President of Embraer, and John Slattery, President of Commercial Aviation, addressed the audience before the E195-E2 was officially welcomed with a traditional dousing of champagne. The E195-E2 is the second of three new-generation E-Jets E2s. It has three more rows of seats compared to the current E195 and can accommodate up to 146 passengers in highdensity, single-class configuration. The E195-E2 will deliver up to 20 per cent lower cost per trip compared to aircraft of similar size. In addition to the high-density configuration, the E-Jet's most popular arrangement will likely feature 120 seats in two classes. The E195-E2 has 800 km (450 nm) more range than its predecessor so that it can fly up to 4,500 km (2,450 nm) nonstop. Two E195-E2s will be used in the certification campaign — one prototype for aerodynamic testing and the other to validate maintenance tasks and the interior. The first flight is scheduled in the second half of this year. The first customer delivery is on target for 2019.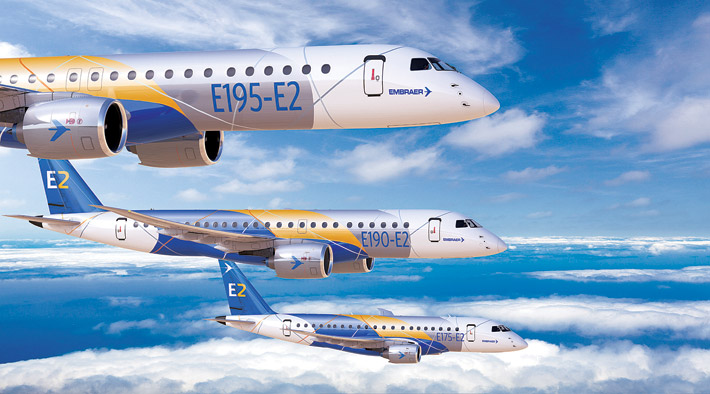 GREAT ECONOMICS: Family in flight
In 2014, Brazil's Azul placed an order for up to 50 E195-E2s. The carrier is both the launch customer and launch operator of the aircraft. Since it acquired its first E-Jet back in 2008, Azul has captured one-third of Brazil's domestic market. Today, it flies more than 70 E-Jets and is the carrier with the largest fleet of E195s in the world.
Criss-crossing the world
Embraer E-Jets are criss-crossing the world, thanks to the many operators on all the continents. In the Americas, the operators are Copa Airlines (Panama), United Express, Delta Connection, JetBlue Airways, and American Eagle (all USA); Aero Mexico Connect (Mexico); Air Canada; TAME (Ecuador); Satena and Avianca (Colombia); Azul (Brazil); Austral (Argentina) and Conviasa (Venezuela).
In Africa and the Middle East the airlines are Saudi Arabian; Royal Jordanian; Oman Air; EgyptAir Express; Kenya Airways; Arkia Airlines (Israel); LAM (Mozambique); Borajet (Turkey); Royal Air Maroc; Punto Azul (Equatorial Guinea); Mauritania Airlines (Mauritania) and Air Burkina (Burkina Faso).
IN THE SEGMENT OF COMMERCIAL JETS WITH 70 TO 130 SEATS, EMBRAER MAINTAINS ITS LEADERSHIP WITH MORE THAN 50 PER CENT OF THE SALES AND 60 PER CENT OF THE DELIVERIES ON THE WORLD MARKET
In Asia, the operators are Mandarin Airlines (Taiwan); Tianjin Airlines, China Southern, Hebei Airlines, GX Airlines and Colorful Guizhou Airlines (all China); J-Air and Fuji Dream Airlines (Japan); Air Astana (Kazakhstan); Myanma Airways (Myanmar); Kalstar Aviation (Indonesia) and Air Costa (India — the airline has suspended operations since March due to financial problems).
In Europe, the operators are LOT Polish Airlines (Poland); Alitalia and Air Dolomiti (Italy); Flybe and British Airways City-Flyer (UK); Finnair (Finland); Hop (France); Montenegro Airlines (Montenegro); KLM City Hopper (Netherlands); Air Europa (Spain); Lufthansa Cityline (Germany); Air Moldova (Moldova); People's Vienna Line (Austria); Bulgaria Air (Bulgaria); Belavia (Belarus); JetAirFly (Belgium); Ukraine International (Ukraine); Azerbaijan Airlines (Azerbaijan); Aurigny Air Services (Channel Islands); Saratov Airlines (Russia); Austrian Airlines; Anadolujet (Turkey) and Helvetic Airways (Switzerland). In Oceania, the operators are AirNorth; Virgin Australia and Cobham Aviation Services/National Jet (Australia).
The company has disclosed new contracts with Airlink (South Africa), People's ViennaLine (Austria) and Eastern Airways (United Kingdom). Embraer's pool programme is currently supporting more than 50 per cent of ERJ customers and 65 per cent of E-Jets customers worldwide. In the segment of commercial jets with 70 to 130 seats, Embraer maintains its leadership with more than 50 per cent of the sales and 60 per cent of the deliveries on the world market.
Embraer is on a firm wicket and with regional connectivity expanding in many countries, the aerospace major has positioned itself to fit the bill.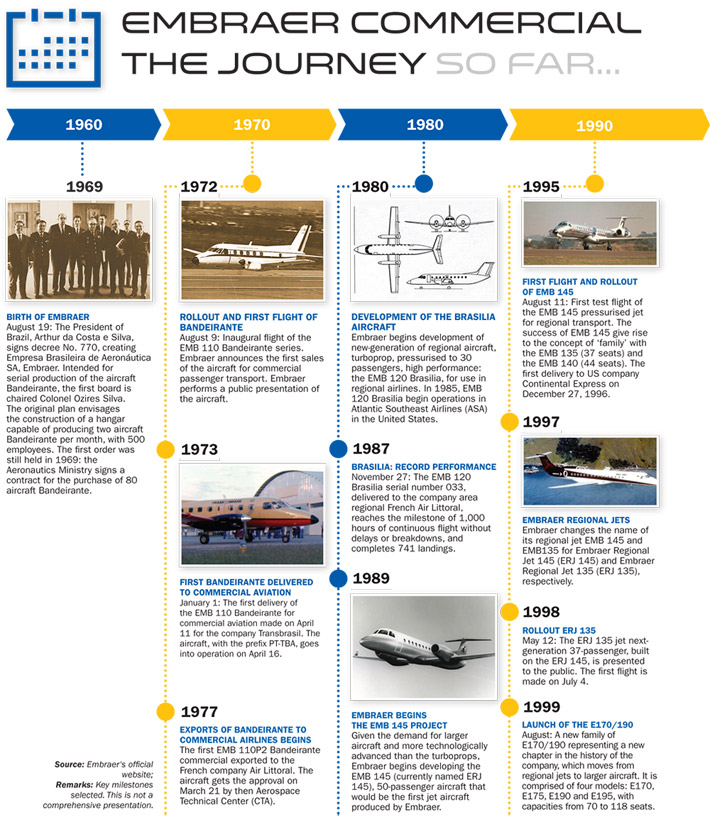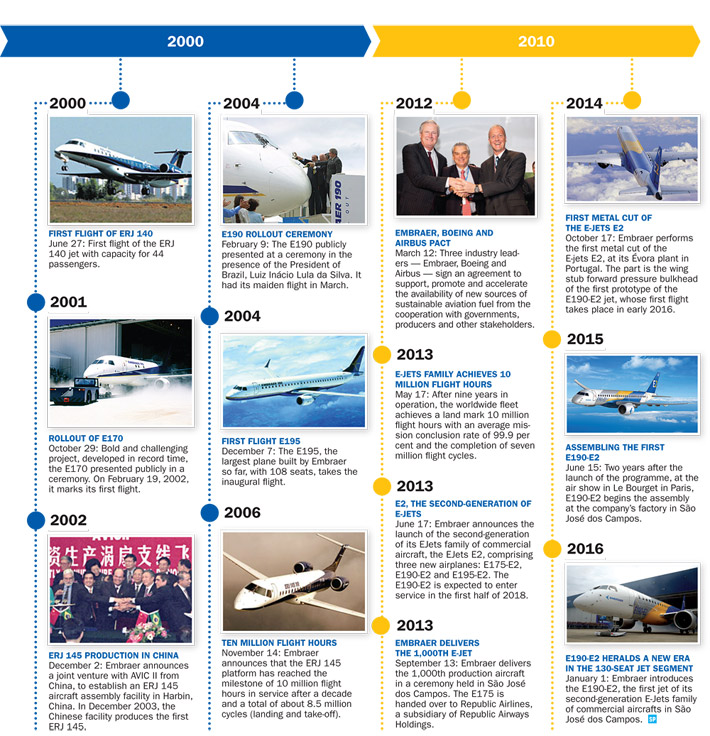 Click to enlarge