Till date, over 2,250 Falcons have been delivered to 82 countries around the world and the Falcon fleet has surpassed 16.2 million hours of flight time – testimony to the reputation for quality and performance that the Falcon family has acquired within the aviation community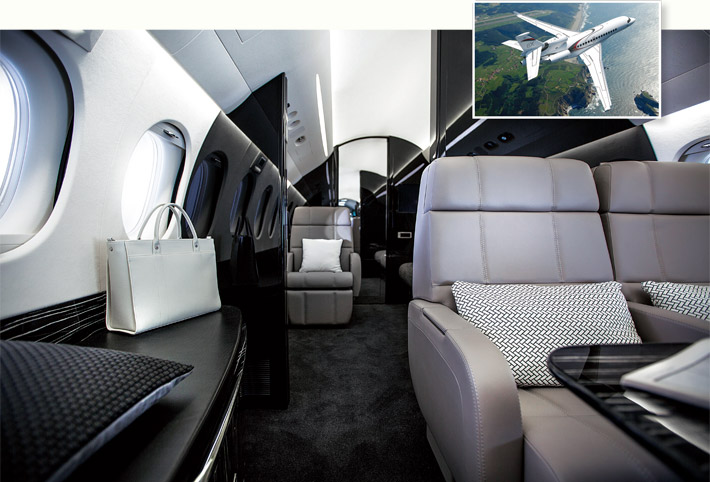 Falcon 8X Cabin: With over 30 possible layouts, this is the industry's most flexible cabin and the one most likely to offer an interior solution that meets your exacting requirements. (Inset: In Flight)
Five decades ago, Dassault conceived and launched the Mystère-Falcon 20, its first true purpose-built business jet. Twenty different models have followed in the years since, each with the same sleek lines, smooth handling and peerless reliability and efficiency inherent in that first Falcon. From then to now, the Falcons have soared higher and higher, offering customers around the world business jets par excellence. Till date, over 2,250 Falcons have been delivered to 82 countries around the world and the Falcon fleet has surpassed 16.2 million hours of flight time – testimony to the reputation for quality and performance that the Falcon family has acquired within the aviation community.
But numbers alone fail to convey the breadth and depth of that reputation. For more than anything, business aviation operators are attracted to Falcon by the passion for excellence that the Falcon brand represents. A passion shared by the engineers, factory technicians, skilled craftsmen and other specialists who design, build and service Falcon aircraft. A passion handed down by company founder Marcel Dassault and carried on to this day.
Proudly stating this is John Rosanvallon, the President & CEO of Dassault Falcon Jet, "Our company has always been a leader in this industry and we will continue to set the pace in the years ahead. Moreover, the best is yet to come."
Dassault Falcon website traces the genesis of the Falcon family and how they have come to dominate the skies. The first Falcon business jet, the Mystère 20, was born on the pages of a notebook belonging to Paul Déplante, Engineering Director of Dassault's plant in Bordeaux-Mérignac. In November 1961, Déplante drew a simple ink sketch, a cutaway of an aircraft cabin, with two rearmounted engines. Two years later, in April 1963, s/n 001, the Mystère 20 prototype, rolled off the production line. It was the first Falcon introduced to America. When Charles Lindbergh and a delegation from Pan Am saw s/n 001, Lindbergh called the airline's chairman, Juan Trippe, and said, "I've found our bird." The same aircraft, piloted by famous French aviator Jacqueline Auriol, broke several world speed records in 1965.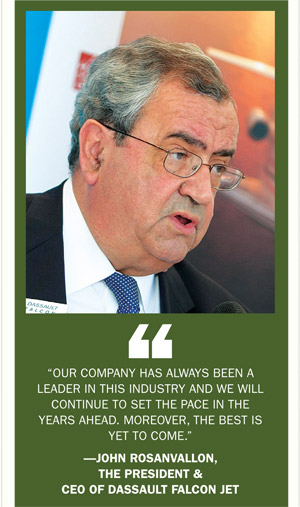 Marcel Dassault gave the goahead for production of an eightor ten-seat executive jet or military liaison aircraft the Dassault-Breguet Mystère 20. The Mystère 20 was a low-wing monoplane with two rearmounted Pratt & Whitney JT12A-8 engines. The prototype, registered F-WLKB, first flew on May 4, 1963, at Bordeaux-Merignac. Under the influence of Pan American the aircraft was re-engined with two General Electric CF700 engines and some dimensions were increased. Pan American signed a contract to distribute the Mystère 20 in the western hemisphere and ordered 40 aircraft with options on 120. The reengined aircraft first flew on July 10, 1964. The first production aircraft flew on January 1, 1965, and both French and American certification was awarded in June 1965. A total of 473 Falcon 20s and 35 Falcon 200s were built by the time production ended in 1988.
Presently, Dassault has six aircraft models, beginning with Falcon 2000S; Falcon 2000LXS; Falcon 900LX; Falcon 5X; Falcon 7X and its new flagship the ultra long range Falcon 8X.
Falcon 8X, ultra long range jet
Its ultra long range connects Hong Kong and Paris, London and Cape Town, Los Angeles and Beijing. Its cabin — the longest in the Falcon family — provides more comfort and a stunning choice of more than 30 distinct layouts. And thanks to overall design enhancements, the 8X is every bit as fuel efficient as the Falcon 7X. The Falcon 8X continues Falcon traditions of efficiency, performance, flexibility and comfort, while saving millions in total life-cycle costs versus any rival. With 6,450 nm (11,945 km) range and outstanding short-field performance, the 8X links important city pairs non-stop and accesses 500 more airports in the United States alone than its competitors.
The Falcon 8X can land at 85 per cent of its maximum takeoff weight. The aircraft can fuel up at home base and make a short hop before flying a longer leg of 4,650 nm (8,612 km) without refuelling. Thanks to its three engines, which shorten transoceanic routes, the Falcon 8X flies faster. They also contribute to the 8X's slow and stable approach speed — a mere 107 knots (198 kmph). And its three-engine performance margins allow take-offs from shorter runways.
Falcon 8X direct operating costs are as much as 35 per cent lower than those of competing jets. And thanks to its optimised airliner-type MSG-3 maintenance programme, time between 8X major inspections is 800 hours or 12 months, giving greater use of the operator's airborne asset.
Falcon 7X, revolutionary aircraft
From its inception, the Falcon 7X was destined to be a revolutionary aircraft, introducing business aviation to the industry's first Digital Flight Control System. Like so many other aspects of the aircraft, its DFCS drew on Dassault's 30 years of military experience, especially its Rafale and Mirage 2000 programmes. The 7X is the first business jet to use fighter jet technology with an elegant, whisperquiet executive cabin.
Today, over 200 Falcon 7X aircraft are in service in 32 countries. The fleet has performed some 2,50,000 flight hours and presents excellent dispatch reliability. And a growing number of operators worldwide are discovering they need not compromise small-jet agility and efficiency for long-range comfort and capability. Now a mature and proven aircraft platform, the Falcon 7X is still the most advanced — still the business jet benchmark for the 21st century. And with fuel consumption 15-30 per cent lower than other jets in its class, it dramatically lowers operating costs.

When it comes to landing, slower is safer. At typical landing weight, the approach speed of the 7X is only 104 knots (193 kmph). It can land and stop in just 2,070 feet (630 metres). As a result, it can access hundreds of airports other jets cannot, including those with hot and high conditions, steep approaches and stringent noise restrictions. The 7X is the only aircraft in its class able to reach New York, from London City Airport. The Falcon 7X is designed to fly 5,950 nm (11,019 km), linking city pairs such as Paris-Tokyo, Shanghai-Seattle, New York-Jeddah, and Johannesburg-London, with a payload of eight passengers and three crew. With a 0.90 Mach maximum operating speed (MMO), the Falcon 7X can also cover shorter distances quite fast.
Falcon 5X, most advanced fly-by-wire system
It is the biggest, most advanced Falcon yet. It has an impressive six-foot, six-inch cabin height, the tallest in business aviation; a wider cabin than previous Falcons; a top speed of 0.90 Mach; a range of 5,200 nautical miles and the short-field capability of much smaller jets. Yet all this performance and capability is achieved with the lowest fuel consumption in its category. The 5X is as much as 50 per cent more efficient on short missions.
The Falcon 5X has business aviation's most advanced fly-bywire system. The ultra-efficient Silvercrest engines extract maximum power from every precious pound of fuel. The cabin cradles on 11-hour flights, making the flight very comfortable. With a balanced field length of 5,035 feet (1,535 metres) with 8 passengers, and the ability to use much shorter airfields, the Falcon 5X can access significantly more airports than its competitors.
Falcon 900LX, over 500 delivered
The latest in the immensely popular Falcon 900 series, this largecabin trijet stands alone in its class for performance, comfort and efficiency. Over 500 Falcon 900 aircraft have been delivered till now, each generation refining and building on the strengths of the previous, establishing an industry benchmark for longevity, durability, reliability and long-term value retention. With high-Mach blended winglets extending its range to 4,750 nm (8,800 km), the 900LX crosses any ocean or continent, and sometimes one of each, traveling routes like London-Seattle with non-stop ease.
Falcon 2000LXS, ultra cost-effective
More than 550 Falcon 2000 series aircraft are in service today. Robust, ultra cost-effective and super capable, this is one of the most popular and successful Falcons ever. Each iteration has built on the platform's many significant strengths, and today you will find them optimised in the Falcon 2000LXS. The Falcon 2000LXS is a widebody aircraft offering 4,000 nm (7,410 km) range, unrivaled efficiency, and the ability to access short and challenging runways other jets run away from. Designed to please even the most demanding of world travelers, it also offers exceptional mission flexibility, allowing one to hop between cities, cross continents, span oceans.
Falcon 2000S, One of the world's favorite Falcons
Dassault launched in May 2011 the Falcon 2000S is known for its high efficiency, productivity and performance and low direct operating costs. With its certified altitude of 47,000 feet and its power to climb directly to 41,000 ft, the Falcon 2000S goes above most traffic and bad weather. It can fly 3,350 nm (6,200km) non-stop. Due to its excellent short-field capabilities, the jet can take-off and land at smaller, more convenient airports. The Falcon 2000S can land at 95 per cent of its maximum takeoff weight. The jet can comfortably navigate a 6 degree steep approach, twice as steep as the competition.