The best of these new technologies is that they have interoperability of systems, electronic flight bag, connectivity and data analytics that will help airlines in air traffic management, fuel management and day-to-day operations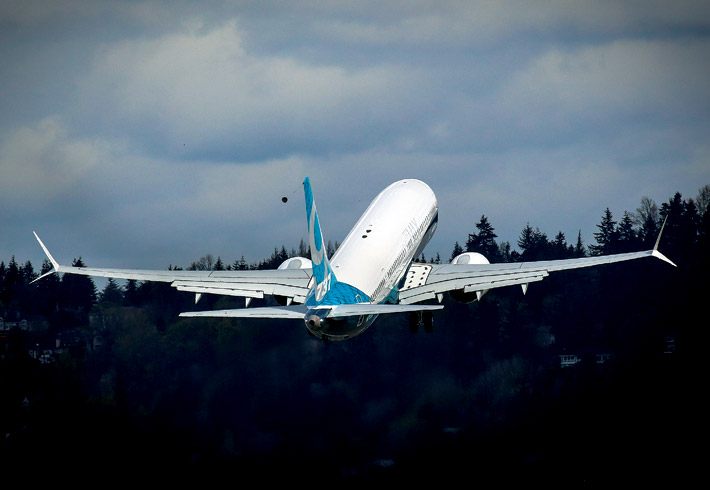 Apt for today's airline market: Boeing 737 MAX 9 take-off
The aviation industry is poised for a period of unprecedented technological change, providing significant opportunities and challenges for airlines and suppliers alike. Airliners are already going seismic technological changes as to help airlines improve performance, fuel efficiency and passenger comfort. There is going to be an accelerator effect of these technologies on the bottom line of airlines and new technology aircraft will inevitably challenge the competitive landscape of the industry. These new technologies are centred around operational efficiency which will facilitate improved schedule reliability and passenger services.
The best of these new technologies is that they have interoperability of systems, electronic flight bag, connectivity and data analytics that will help airlines in air traffic management, fuel management and day-to-day operations. We look at some of the new technologies in upcoming aircraft from different airframers and how they are going to make a difference to the bottomline of an operator.
Boeing 737 MAX family leads single-aisle market with technology
The Boeing 737 MAX family of aircraft is already changing the face of the single-aisle market. Every airplane will feature the new Boeing Sky Interior, highlighted by modern sculpted sidewalls and window reveals, LED lighting that enhances the sense of spaciousness and larger pivoting overhead stowage bins. The 737 MAX family is designed to offer the greatest flexibility, reliability and efficiency in the single-aisle market.
The 737 MAX incorporates the latest technology CFM International LEAP-1B engines, advanced technology winglets and other improvements to deliver the highest efficiency, reliability and passenger comfort in the single-aisle market.
The 737 MAX 8 reduces fuel use and CO2 emissions by an additional 14 per cent over today's most fuel-efficient single-aisle airplanes. The 737 MAX 9 is the second member of Boeing's industry leading 737 MAX family, with a maximum capacity of 220 passengers and a range of 3,515 nautical miles. The 737 MAX 9 is scheduled to enter service in 2018. The 737 MAX 8 is on track to deliver to customers in the second quarter of 2017.
Airbus A320neo family innovation at its best
The market-leading A320neo (new engine option) Family is the world's best-selling single-aisle aircraft product line – providing unbeatable efficiency and comfort to its global customer base. As a reference for traditional airlines and low-cost carriers alike, NEO aircraft benefit from Airbus' reputation for continuous innovation. Among the enhancements incorporated on A320neo Family jetliners – which comprise the A319neo, A320neo and A321neo – are two latest-generation powerplant choices (Pratt & Whitney's PurePower PW1100G-JM and the CFM International LEAP-1A), the incorporation of sharklets wingtip devices and additional cabin optimisation. These improvements will result in 20 per cent fuel savings per seat compared with current engine option (CEO) aircraft by 2020, along with two tonnes more payload, up to 500 nautical miles additional range, lower operating costs, and reductions in engine noise and emissions.
FACTOID

Boeing 737MAX

First flight on January 29, 2016.
Boeing delivered single-aisle jet 737 MAX, on May 16, 2017, to Malaysia-based Malindo Air, which will be the first customer to put the MAX into commercial service.

Airbus A320neo

First flight of September 25, 2014 in Toulouse, France.
The Lufthansa Group takes the delivery of the first A320neo on January 20, 2016.

Airbus A350 XWB

First flight of A350 XWB on June 14, 2013.
On December 22, 2014, A350 XWB was delivered to the launch customer Qatar Airways.

Embraer E-Jets E2

First flight on May 23, 2016, from São José dos Campos, Brazil.
Deliveries to start in 2018.

Bombardier CSeries

First flight on September 16, 2013 in Mirabel, Quebec, Canada.
Bombardier delivers first C Series aircraft to launch operator SWISS.
In January 2016, this new era in single-aisle efficiency officially opened with the delivery of the first A320neo family aircraft – and A320neo equipped with Pratt & Whitney PurePower Geared Turbofan engines – to launch operator Lufthansa. As of March 2017, the A320neo Family had received more than 5,000 orders from over 90 customers.
The A320neos boast the very latest engines, large wingtip devices (sharklets) and an innovative cabin and continue to go from strength-to-strength as the most comfortable, fuel-efficient and environment-friendly single-aisle aircraft.
Airbus remains at the cutting edge of the aviation industry; leading the way in terms of innovation and progress. The desire to continuously improve technology is embedded within the heart of the company, which allows Airbus to constantly deliver proven new technological advancements that push the boundaries of what is possible. This means that all stakeholders can benefit from proven high quality improvements in design, manufacturing, operations and maintenance. Such advances include the introduction of full fly-by-wire flight controls technology, employing modern materials in its airframes, and developing cockpit designs that improve pilot workload and efficiency.
A350 XWB going that extra mile
The A350 XWB flight deck features maximum commonality with Airbus' comprehensive market-leading product line. In the A350 XWB's 'front office', its flight deck has been updated – built around an arrangement of six identical, interchangeable large displays. This is a continuation of Airbus' philosophy for creating ergonomic flight decks that combine commonality and innovation.
Providing maximum commonality with Airbus' other jetliner families, this flight deck configuration is fully aligned with the company's unique Cross Crew Qualification concept – which gives pilots the possibility of transitioning from one Airbus aircraft type using digital fly-by-wire controls to another via difference training instead of full type rating training. In addition, the concept allows for full interchangeability of the A350 XWB flight deck's large displays in cases of failure.
With its state-of-the-art Rolls-Royce Trent XWB engines, the A350 XWB is able to outperform competitors in terms of fuel economy, emissions and overall efficiency. These lightweight, three-shaft powerplants – the latest in Rolls-Royce's Trent family – is produced using advanced manufacturing techniques for a lighter, more capable and highly efficient engine. It features high-tech materials, coatings, engine architecture, and cooling technologies – including a third-generation low-speed fan and contra-rotation operation.
With a single engine type for the complete A350 XWB jetliner family, the Trent XWB provides commonality across the product line – at thrust ratings of up to 97,000 lb. Additional benefits include module weight savings of 15 per cent, along with aerodynamic efficiency improvements through the use of compressor blisk (bladed disk) technology.
Revolutionary digital mock-up
The A350 XWB's revolutionary digital mock-up is a 'gamechanger'. Airbus has created a bridge between the virtual and real worlds with its A350 XWB digital mock-up, which provides a high-definition representation of the aircraft — right down to the smallest parts — on computer screens. It also reinforces Airbus' role as an integrator, and capitalises on the company's decades of experience from previous programmes.This very realistic digital version of the A350 XWB has literally changed the way aircraft are conceived, as it allows an accurate visualisation of where systems are located during design, how they are installed in production and what access is available for maintenance during the jetliner's operational lifetime.
Embraer E-Jets E2 truly innovative
The Embraer E-Jet E2 family is a family of three narrow-body medium- range twin-engine jet airliners developed by Brazilian aerospace company Embraer, replacing the predecessor Embraer E-Jet family. The three variants share the same fuselage cross sections with different lengths and three different new wings, Pratt & Whitney PW1000G geared turbofans in two sizes, fly-by-wire controls with new avionics, and an updated cabin with 40 per cent enlarged baggage bins. Announced improvements per seat are 16 to 24 per cent lower fuel burn and 15–25 per cent lower maintenance costs. The E2 features a closed loop fly-by-wire control, which – according to Embraer – reduces weight, increases fuel efficiency, enhances control and increases safety by full envelope protection in all flight phases.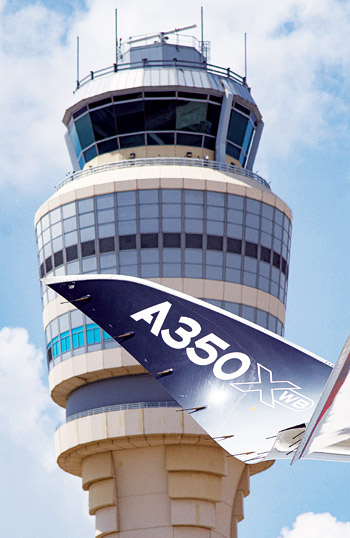 Shaping Efficiency: Airbus A350 XWB
Analysts account the fuel savings of the now closed loop fly-by-wire control at 1.5 per cent because of design changes possible due to the enhanced flight stability and the resulting increased lift (lower tail downward force) and weight savings and drag reductions related to the 26 per cent reduction in the horizontal tail size. The E2 family has a new wing and landing gear In the E190-E2, of the 16 per cent better fuel burn, 11 per cent comes from the geared turbofan, 3.5 per cent from the improved aerodynamics of the new high aspect ratio wing and 1.5 per cent from the fly-by-wire, enabling a 250 ft horizontal stabiliser from 280 ft on the E190/ E195.
The E2 family has AHEAD-PRO, which is a computational web-based platform to continuously monitor the health of the fleet, providing timely maintenance information in a friendly and straightforward way. With AHEAD-PRO aircraft systems health condition is systematically assessed and unplanned maintenance of monitored systems is avoided by means of failures occurrence prediction. Moreover the activities of fault identification, troubleshooting and resources planning occur before the aircraft lands its destination, optimizing airline turnaround- time between flights. AHEAD-PRO offers functionalities to optimize all steps to execute Health Monitoring process in the airline, from data acquisition to time-to-failure prognosis.
THE NEW TECHNOLOGIES ARE CENTRED AROUND OPERATIONAL EFFICIENCY WHICH WILL FACILITATE IMPROVED SCHEDULE RELIABILITY AND PASSENGER SERVICES
E2's advanced integrated avionics system provides exceptional situational awareness enhanced by large landscape displays and reduced pilot workload. Innovative technologies such as synthetic vision and advanced flight management support more fuel-efficient direct approaches to airports. Cockpit commonality with current-generation E-Jets allows for a smooth transition to the new E2 platform. The new features are wireless connectivity; enhanced central maintenance computer; SmartView; improved navigation; next generation FMS; improved situational awareness (cockpit display of traffic); IntuVue 3D weather radar; SmartRunway and SmartLanding.
The wing and engine combination for the E175-E2 and a common larger wing and engine for the E190-E2/E195-E2 are optimised to deliver maximum performance. Pratt & Whitney PurePower Geared Turbofan Engine E2's new GTF engines — the PW1700G (E175-E2) and PW1900G (E190-E2 and E195-E2) — have an advanced gear system that allows the engine's fan to operate at a different speed than the low-pressure compressor and turbine. They work in combination with new aerodynamically advanced wings and other advanced controls and systems to create double digit improvements in fuel burn, maintenance costs, emissions, and external noise.
The world's leanest aircraft from Bombardier
The Bombardier CSeries is a purpose-designed and built from the ground up. The CSeries aircraft's cutting-edge design, coupled with the Pratt & Whitney PurePower PW1500G engine, creates an aircraft that is the perfect balance of proven methods, materials and leading edge technology.
The aircraft are ultra-modern, from engines to engineering, ensuring that operators enjoy value today and growth tomorrow. The aircraft is equipped with an advanced flight deck, flyby-wire controls, advanced materials, and aircraft health management system (AHMS). The C Series AHMS has the power to change how airline maintenance crews manage their activities, resulting in fewer mechanical delays and superior dispatch reliability. The cutting-edge flight deck includes large LCD displays as well as dual flight management systems with optimized control and display functions, dual cursor control devices, datalink, Cat IIIa autoland and sidestick controls as baseline. The result is an integrated avionics experience that increases pilot situational awareness and reduces workload.