It all boils down to understanding your business needs and carefully selecting the right aircraft, turboprop or a jet, that matches these needs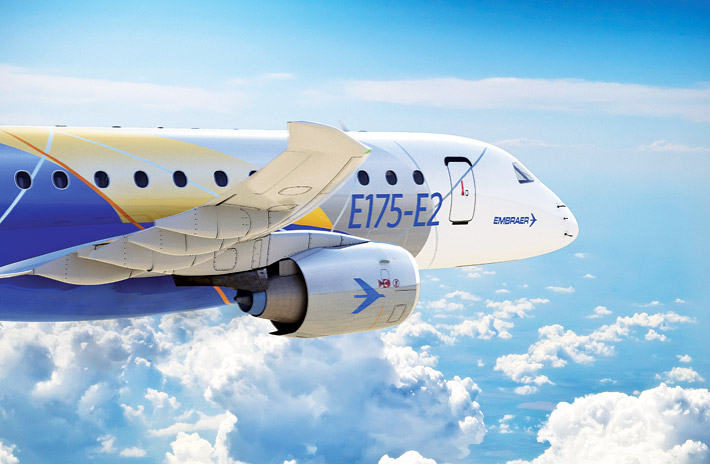 Ideal for medium and long haul: Second-generation Embraer E-Jets E2
One thing is clear that 'one size does not fit all' in airlines business. There are solo planes to jumbo jets such as the Airbus A380, the world's largest commercial airliner. There are broad seat segmentations and also the distance that the aircraft can fly in commercial aviation which go to determine the business model of the operator. The question, however, here is what kind of room exists for turboprop aircraft and jets and the answer to that is certainly 'one size does not fit all,' hence both turboprops and jets have their own play.
It is very clear that turboprops are for short haul flights, while jets are for medium and long haul flights. An operator with a judicious mix of aircraft can capture both the short and medium and long haul markets. That is what India's largest low-cost passenger carrier IndiGo is planning to do. Presently, it has market share of 41.4 per cent as of April 2017. Since its inception in August 2006, IndiGo has grown from a carrier with one plane to a fleet of 135. And now IndiGo has announced a provisional order for 50 ATR 72 planes, turboprop aircraft which is highly suitable for short haul markets. Low-cost airlines which have been successful and IndiGo is certainly one of them, have placed their faith in the economics of a turboprop to capture further market share, using the huband-spoke model. IndiGo is looking at regional routes which are typically 200-300 nautical miles and these kind of routes are just waiting to be opened up.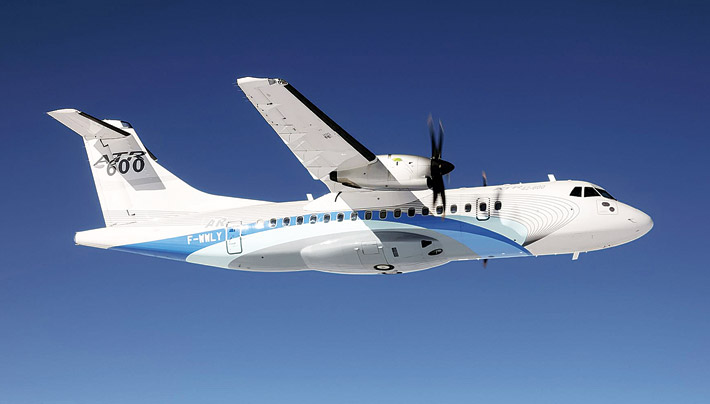 Highly suitable for short haul markets: IndiGo has announced a provisional order for 50 ATR 72 aircraft
Turboprops slow but steady
Turboprops fly at optimal speeds on short distances while jets spend lesser time at the most efficient altitudes and speeds. When compared to pure-jet aircraft, it is clear that turboprops do not fly as fast. However, a turboprop aircraft can use grass airfields whereas most jets require a concrete runway for takeoff and landing. Modern twin-turboprop aircraft are as comfortable and well equipped as jets. Overall, turboprops have a lower cost of operation and, for companies flying fairly short sectors of maybe 300 or 400 nautical miles, the time penalty compared with jets is negligible.
FOR REGIONAL JETS, THE MARKET IS TRENDING TOWARDS LARGER 100/150-SEAT SEGMENT LIKE THE SECOND-GENERATION EMBRAER E-JETS E2 AND THE C SERIES
As regards regional jets, the market is trending towards larger 100/150-seat segment like the second-generation Embraer E-Jets E2 and the C Series blurring the boundaries between regional and mainline. In our earlier issues we have pointed out how regional aviation aircraft initially powered by piston engines were replaced by turboprop aircraft that provided higher reliability with equivalent or better operating economy. As turbofan engines improved in efficiency, jetliners with similar capacity as turboprop regional aircraft, narrowed the operating economy gap while emerging as preferred option as these provided better comfort, higher speed and better aircraft utilisation rate. This spawned the birth of the regional jetliner.
Hub and spoke model
The first set of 50-seat regional jetliners, the CRJ100/200 from Bombardier and EMB135/145 from Embraer, made way to larger capacity jetliner namely the Embraer ERJ170/175 and the CRJ700, both had taken to the skies in 1999. With the expansion of airlines, the hub-and-spoke model was challenged with these aircraft of regional capacity (70-80 seats) and mainline range (1,000 to 2,000 nm), which promised direct regional airfield connectivity as "long, thin routes", whereas the ATR 72 regional turboprop with 72 seats, could fly only 800 nm.
To bridge the gap between these new regional jet offerings and the turboprop, Bombardier introduced the DHC-8-400 which in 1999 became the Q400. This aircraft provided slightly greater range, speed and capacity but with the unrivalled operating economics of a turboprop. The longer range of the regional jets, 1,000 nm to 2,000 nm, is sold as "lending flexibility" to routes and network. No customer the world over has ever complained of additional range. However, with most regional routes not exceeding 300 nm, due to the popularly adopted hub-and-spoke model, the benefit of longer range is not sufficient to attract operators.
Operating Economics
The ATR 72, as we have mentioned in our earlier issues, is the lesser of the two turboprops in performance, but displays better fuel economy. For a typical Bengaluru-Hyderabad sector, which is 250 nm, the aircraft consumes approximately 770 kg of fuel. The Q400 consumes close to 1,000 kg, the CRJ-700 consumes close to 1,200 kg, and the Embraer E-170 1,300 kg; all three aircraft carrying 78 passengers. Fuel consumption for the regional jets will operationally be lower, as even with a full passenger load, the fuel burnt for a 250 nm trip is just 10-13 per cent of the tank capacity, keeping the aircraft close to 4,000 kg lighter than the maximum take-off weight and thus burning lesser fuel. Fuel is the largest cost differentiator between turboprops and regional jets. Being in similar weight categories, operating similar sectors, landing and parking fees are similar. Considering that the faster turboprop and the much faster jets can squeeze in extra flights per day, the maintenance costs go up, but so does revenue generation. Thanks to engine developments there are significant incremental benefits for airlines. Geared turbofan engines (GTF), which will power the Bombardier C Series, the second generation Embraer EJets and the Airbusneo, offer greater fuel economies. However, no GTF airplane in the 70-90 seat segment is expected in the coming few years and even a GTF powered aircraft cannot outperform the turboprop's economics.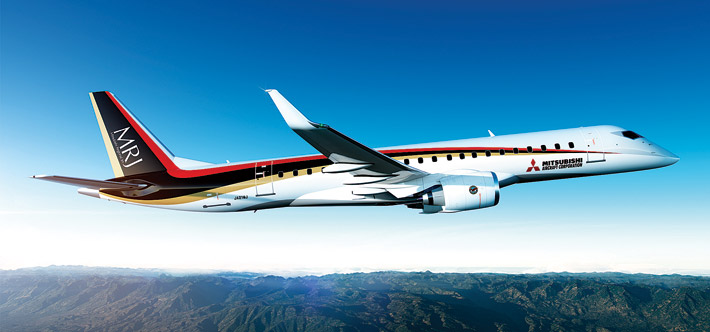 Game-changing efficiency: Thanks to MRJ's Geared Turbofan engine technology and advanced aerodynamics, it costs less to fly
The turboprop market is modestly big with the yearly growth in sales that only validates the operating economics of such aircraft. However, with two manufacturers selling close to 100 turboprops, the market is not big enough to accommodate a third manufacturer: Embraer had, at one point of time, mulled a return to the turboprop market but gave up.
Markets open up
Forecast International in a study on "The Market for Regional Transport Aircraft" had projected that 3,817 regional aircraft will be produced from 2016 through 2025. This total includes both regional jets and regional turboprop airliners.
THE TURBOPROP MARKET IS MODESTLY BIG WITH THE YEARLY GROWTH IN SALES THAT ONLY VALIDATES THE OPERATING ECONOMICS OF SUCH AIRCRAFT
The regional aircraft market is stabilising following a period of several years of erratic swings in yearly production. The study predicted that annual output will remain relatively flat in 2017 at just over 340 units. The longer-term outlook, though, is more bullish, as annual production is projected to reach more than 420 units by the year 2025.
This growth will be fuelled by the production ramp-ups of such new regional jetliner models as the Bombardier CS100, the Embraer E2 family, and the Mitsubishi MRJ90. According to Forecast International senior aerospace analyst Raymond Jaworowski, "Overall demand in the regional jet market is already moving towards larger capacity aircraft, but the overall potential of the segment continues to be hampered by scope clause restrictions in the US market."
The Forecast International study also includes manufacturer market share projections. Based on unit production, Embraer, ATR, Bombardier and Mitsubishi are projected to be the leading regional aircraft manufacturers during the 2016-25 forecast period. Embraer is projected to build 959 regional jetliners during the time frame. ATR is expected to produce 783 regional turboprops. Bombardier, which produces both jets and turboprops, is forecast to build 591 regional aircraft. Mitsubishi is projected to produce 437 regional jets. ATR further consolidated its position in 2016 as the preferred choice of regional airlines. The modern ATR 600s ranked first among all regional aircraft sales of the year, with orders for 36 aircraft (34 ATR 72-600s and 2 ATR 42-600s). ATR confirms its leading position in the segment of 50- to 90-seat aircraft with a market share above 35 per cent since 2010.
Turboprop or jet depends upon
It primarily depends on the business model of the operators as an aircraft is designed around mission requirements, namely passenger capacity, required range, airfield accessibility and operating economics. Really, it all boils down to understanding the operators' business needs and carefully selecting the right aircraft that matches these needs.