Capitalising on the modern trend of digitalisation to provide more advantages to customers, Airbus optimises the use of data to allow insightful, fast and accurate decision making through innovative e-solutions and Airbus Smarter Fleet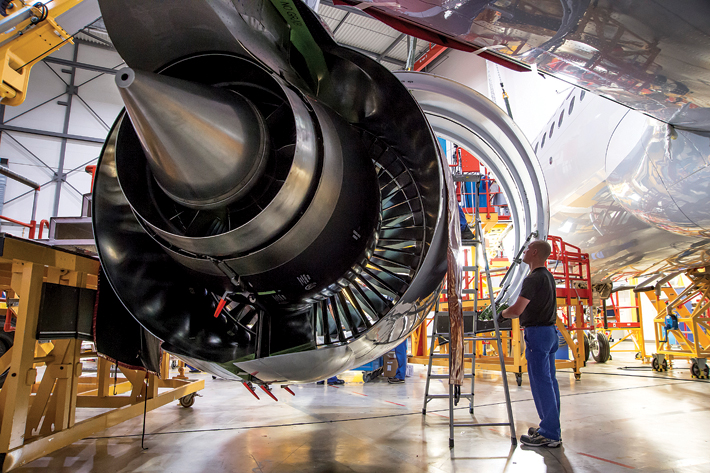 State-of-the-Art: Lufthansa Airbus A320neo with PW1100G engine
As of June this year, the Airbus A320 family is the most successful and versatile family ever from the European aerospace giant. With total orders of 13,243 aircraft (7,660 delivered), the A320 family is a runaway hit among operators as it is a global short range workhorse and it has a well-earned reputation for low maintenance requirements.
The A320 family (A318, A319, A320, and A321 and now with new engine options – neo) has proved to be an efficient operator for several reasons. Many airlines, as per data available on the internet, have achieved annual utilisations of 3,100 flight hours (FH) and 1,670 flight cycles (FC). This results in an average FH:FC ratio of 1.86FH. Annual utilisation influences the utilisation of FH and FC intervals between calendar limited checks and thus the economics of the A320's maintenance costs.
The A320 has a relatively simple maintenance schedule with corrosion prevention and control programme being an integral part of its airframe checks. Besides airframe checks operators have to consider line maintenance and the usual removal of heavy components, line replaceable unit (LRU) components and interior work. The A320s schedule consists a simple system of three line checks, a three multiple A check system, a fourmultiple C check and two structural checks. Line maintenance is broken into pre-flight, daily and weekly checks. The original intervals for these checks were at each FC, every 24 hours and every seven days. The intervals for the daily and weekly checks have been extended by some operators to between 36 and 48 hours and eight days. These three checks can all be performed on the ramp and incur minimal downtime.
Simple Check Schedules
The A320's A check cycle consists of three A check multiples. The 1A multiple job cards package has an interval of 50 days and 500FH. There are also the 2A and 4A multiples with intervals of 100 days and 1,000FH and 200 days and 2,000FH. The C check has four multiples: the 1C, 2C, 4C and 8C. The basic 1C tasks have an interval of 15 months and 4,000FH. However, that figure is rarely achieved because of most operators' annual utilisation. In this analysis, 3,875FH will be generated between C checks if performed every 15 months. Like all other Airbus aircraft, the A320 family has two structural checks, the first performed at five years and the second at nine years.
The general consensus is that the A320 family has a better quality of construction than the 737 and that the A320 experiences a lower defect ratio. The A320 is also expected to experience a lower rise in defect ratio as it ages. According to Airbus, A320 operators adjust maintenance intervals to suit their own schedules. For example, one has adopted a 20-month C-check cycle, distributing six-year tasks between 60- and 80-month checks to ensure maximum aircraft availability, while another operator uses 24-month C checks to save one heavy-maintenance shop visit every six years.
Extension of Scheduled Maintenance Hours
Recently, the Federal Aviation Administration of the US and also the European Aviation Safety Agency (EASA) approved the extension of hours between scheduled maintenance for the A320 family. Now time between A checks will increase by 100 hours, to 600 hours from 500 hours and C checks will be every 20 months or 6,000 flight hours, up from 15 months. And the heavy check has gone up from five years to six years, while the 10 year heavy check will be now done in 12 years. Airbus has said that it would help reduce the overall maintenance costs.
In response to the increasing demand for MRO (maintenance, repair and overhaul) capabilities during the coming two decades, the company has launched the Airbus MRO Alliance (AMA) – which is to become an important element in the company's strategy to develop efficient and highquality services worldwide. The AMA will bring together MRO members with high standards and proven expertise in airframe heavy maintenance from around the world, with participants' selection based on specific and demonstrated criteria in terms of industrial capabilities, capacities, performance and quality.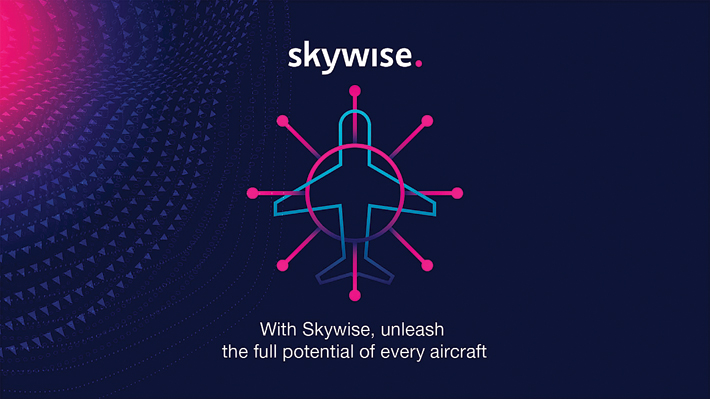 Airbus' new open digital aviation data platform is called Skywise
To ensure maximum aircraft availability and reliability, Services by Airbus offers a wide range of services and consultation on maintenance and engineering and material management to operators, OEMs and MROs. Airbus has the flexibility to offer a full range of services that can be tailored for any potential customer – covering everything from tools, consumables and expendables to proprietary and standard part management and distribution through SATAIR Group; as well as full maintenance solutions with Airbus Flight Hours Services and Tailored Support Package, which includes components, airframe and engineering.
Capitalising on the modern trend of digitalisation to provide more advantages to customers, Airbus optimises the use of data to allow insightful, fast and accurate decision making through innovative e-solutions and Airbus Smarter Fleet. With a worldwide presence, Services by Airbus offers local solutions with a global reach; limiting the time aircraft are on the ground for maintenance. The Airbus Technical Aircraft-on-ground Centre (AIRTAC) is a state-of-the-art facility with dedicated specialist engineers and innovative technology, operating 24 hours a day, 365 days a year. AIRTAC is part of a wider customer service approach that provides all Airbus operators with global aroundthe-clock assistance for all aircraft-on-ground matters.
Leveraging Digital Technologies
At the recent Paris International Airshow, Airbus showcased how it is going to leverage digital technologies to enhance MRO service. A note said "In applying digital technologies that are bringing major transformation across all of its operations, Airbus increasingly is asking: "What if? "What if" the company could digitally connect every tool in each of its factories? "What if" substantially more data could be accessed aboard aircraft in service around the world on a more regular basis than today? "What if" most instances of component failure could be predicted on its jetliners, helicopters and spacecraft?
AIRTAC IS PART OF A WIDER CUSTOMER SERVICE APPROACH THAT PROVIDES ALL AIRBUS OPERAT ORS WITH GLOBAL AROUND-THE-CLOCK ASSISTANCE FOR ALL AIRCRAFT-ON-GROUND MATTERS
The answers, according to Airbus Digital Transformation Officer Marc Fontaine, lead to what he terms "360-degree aerospace data:" a way of using emergent technology in improving nearly every aspect of Airbus operations. Fontaine sketched out a future in which additive manufacturing, augmented reality glasses, robotics that amplify human users' capabilities, and the intelligent use of advanced data analytics are the norm.
Harnessing Processing Power to Track Aircraft Data
Using an A320 Family jetliner from Airbus Commercial Aircraft as an example, he noted that the aircraft's onboard systems typically track approximately 400 parameters for the pilots and maintenance crews – less than 2 per cent of all the data available. Ubiquitous connectivity, and the processing power to manage this data, would enable some 24,000 parameters to be tracked. Such improvements in data acquisition and analysis are reflected in Airbus' new open digital aviation data platform called Skywise – powered by Palantir Technologies, a pioneer in big-data integration and advanced analytics. With Skywise, Airbus operators can leverage the power of 20,000 Airbus engineers in following the performance of each aircraft throughout its entire operational life. Until now, this deep reservoir of information was accessible only during the few years of development, flight tests and certification prior to an aircraft's entry-into-service.
The new digital aviation platform was unveiled at Paris, where details also were provided on how seven "early adopter" airlines are working to harness the power of Skywise – positioning it as "the beating heart of aviation." These carriers are AirAsia, Hong Kong Airlines and Peach in Asia; Delta Air Lines and jetBlue in the United States; Emirates in the Middle East, and easyJet in Europe. They are benefitting from Skywise through multiple developments, including integrating data for large-scale fleet analyses and maintenance capabilities, developing advanced predictive digital solutions to boost and deliver airline efficiency and implementing real-time health monitoring and predictive maintenance. Other steps include developing a new data analytics tool that helps airlines avoid fuel overconsumption on descent and approach flight phases; evolving new capabilities encompassing engineering investigations, component reliability analyses, and enhancing maintenance operations; as well as automating quality monitoring and interactively visualising flight paths.
Airbus provides various packages to operators to help them keep the aircraft up and flying. Indian carrier Vistara recently signed up for the Flight Hour Services (FHS) package, wherein the OEM will provide full airframe maintenance and engineering services, as well as components supply and repair. A team of Airbus staff will also perform day-today maintenance activities, including line maintenance, aircraft checks and spare parts management. The contract covers the airline's forthcoming fleet of 20 leased A320 aircraft, the first of which entered service in September and the remainder will be delivered over the next five years.
This is just one example of how the airframer works with the airline to optimally put the aircraft up and flying.