Highly reliable and efficient, the wide-body, multi-role tanker can refuel all US, allied and coalition military aircraft any time, on any mission. It can also carry passengers, cargo and patients whenever and wherever needed. With unmatched operational flexibility, the KC-46A is a mobility "game changer."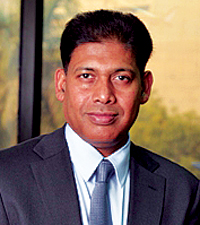 Pratyush Kumar
Boeing's KC-46A Pegasus tanker is ushering in a new era of efficient combat aerial refueling. With the US Air Force on the verge of receiving its first tanker aircraft and Japan announced as the program's first international customer, other countries are taking a closer look at the KC-46's unique capabilities and the benefits of adding a more capable and versatile tanker to their fleets.
The US Air Force is very excited about the KC-46 and the benefits it will bring to the fleet — it will be an outstanding aircraft for decades to come. Highly reliable and efficient, the wide-body, multi-role tanker can refuel all US, allied and coalition military aircraft any time, on any mission. It can also carry passengers, cargo and patients whenever and wherever needed. With unmatched operational flexibility, the KC-46A is a mobility "game changer."
With improved refueling capabilities, superior situational awareness and flexible multirole capability, the KC-46 is the perfect fit for customers looking to add a more capable and versatile tanker platform to their fleets.
On January 27, 2017 the US Air Force awarded Boeing a $2.1 billion contract for 15 KC-46A tanker aircraft. The order was the third low-rate initial production lot for Boeing. The first two came in August 2016 and included seven and 12 planes respectively. The US Air Force initially plans to purchase 179 KC-46 aircraft to replace its KC-135 fleet.
Currently, Boeing has six aircraft conducting test flights. Those aircraft have completed more than 1,800 flight hours to date and successfully refueled with F-16, F/A-18, AV-8B, KC-10, C-17 and A-10 aircraft. The KC-46A also has demonstrated the ability to receive fuel in-flight from another tanker, which adds increased flexibility to Air Forces who will be operating it.
The KC-46 is the ideal tanker for today's modern defense forces based on the following factors:
The KC-46 is built as a combat tanker from day one– the KC-46 is delivered with a robust suite of defensive systems and self-protective measures.It iselectromagnetic pulse-hardened for missions in a nuclear environment for the high-end fight as well as incorporates flight-deck armor for protection against small arms. Additionally the KC-46 is equipped with chemical-biological protective systems. All of these systems are incorporated into the aircraft as it is being produced, not as a retrofitted modification. The KC-46 also has the ability to launch from a 'ready state' within 10 minutes and coupled with its threat awareness and avoidance system, allows the Pegasus to truly fuel the fight.
The KC-46 has improved refueling capability– the KC-46 can refuel both hoseand-drogue as well as boom receptacle receiver aircraft on any sortie. It utilizes 21st century centerline and wing-mounted hose and drogue systems as well as an advanced sixth-generation fly-by-wire boom. Simultaneous air refueling of two fighter aircraft is supported through wing air refueling pods (WARPS). All of these systems are built to international refueling standards. That means the KC-46 can refuel the IAF fleet now, on day one. From refueling India's front line fighter force to direct support of its C-17 fleet, the KC-46 enables allied and coalition refueling of all fixed-wing receiver aircraft anytime, on every mission, including simultaneous multi-point refueling.
The KC-46is based on a proven platform– based on a commercial 767 with more than 1,000 767s built to date, it is a proven commercial airliner, freighter and tanker.The 767 platform bears a 99.7 per cent dispatch reliability rate, absolutely essential for protecting sovereign airspace. Additionally, the KC-46 has the lowest lifecycle costs of any of its current competitors in the market, making it the most efficient and effective tanker available today.
The KC-46 has superior situational awareness– large Boeing 787 15-inch displays allow KC-46 pilots to quickly optimize flight parameters for critical decision making and mission success; and it also incorporates a Tactical Situational Awareness System, which provides dynamic, battle-space awareness to the aircrew.
The KC-46 offers a flexible multirole capability– the KC-46 can be rapidly reconfigured in two man-hours for any mission — carrying passengers, cargo, aeromedical or any combination of the three, while still performing its main air refueling role. With its unique main cargo deck door, the KC-46 has 7,800+ square feet of cargo space to accommodate up to 18 full-size 463L pallets, which is more than any other tanker aircraft. The KC-46 also has a fully integrated capability that enables crews to perform aeromedical evacuation on any flight.
The KC-46 will deliver tremendous savings over its lifetime through lower maintenance, depot and repair costs. It benefits from the advanced avionics, aerodynamics, materials and propulsion incorporated on the Boeing 767 passenger and freighter aircraft (more than 1,000 are currently flying today). The proven combination of light, durable aluminum alloy and composite structure help make it lighter and more fuel efficient. Similar to the Indian Navy's P-8I aircraft, Boeing is building the KC-46 "inline" which is more efficient and helps expand the life of the aircraft.
As India expands its Air Force and increases its defensive capabilities, the KC-46 is the perfect choice. The most reliable and economical tanker to operate, the KC-46 will provide India with the combat capability it needs for sovereign operations. Pegasus is the best choice for today and the decades to come.